Portillo's Coming to Lady Lake Opening in 2024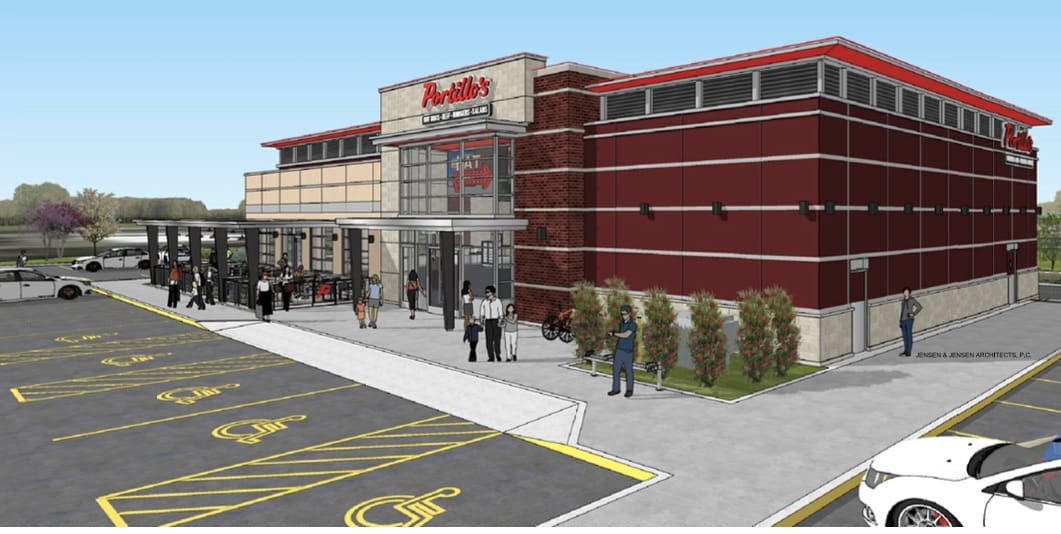 OMG! It's finally happening! Portillo's is coming to Lady Lake! Villages residents have been asking for this for years and now we know exactly where the new restaurant is going! Just south of Tire Kingdom in Lady Lake is a large parcel of land off Hwy 27-441 where the new restaurant will be built. The new location will be highly popular and a big parking lot is planned.
The renderings look terrific. We have been told that the site will be created on at least 7,800-square feet and will seat up to 226 guests. There also appears to be some outdoor patio seating that will be provided. Chick-Fil-A in The Villages recently renovated its building but some people were disappointed at the lack of outdoor seating and a focus more on the drive-thru. This location will certainly offer outdoor seating that rivals Culvers outdoor seating.
The restaurant will have a massive drive-thru. Ever since the days of Covid, fast food establishments have focused more of an effort on drive-thru rather than in store service. This will be highly evident as you pull up to Portillo's. The drive-thru will be the biggest one offered in Lady Lake.
Residents will need to get used to the cashless operations in the drive-thru. Much like Chipotle locations, everything is done with credit, debit, or gift cards. Online options should be available as well. Cash is still accepted in all Portillo's locations inside the establishment.
As far as construction is concerned, a timetable has not been announced yet. However this is a huge project which will bring a ton of business to the Lady Lake Community. Residents are very excited about this new edition to Lady Lake and it should be an instant success when it opens.
The location is along a stretch of road which used to house a bypass bridge. That bridge has been demolished in favor of an at-grade intersection. The Portillo's should be easily accessible when it opens up and will be highly visible from the passing Hwy 27-441. The property is large and we are not aware of any other businesses that will populate this property.
We look forward to continuing to follow the progress of this very popular establishment as they get closer to a construction date.
Kyle Coppola was born in Newton, Massachusetts and received his Bachelor of Fine Arts in Communications from Curry College in 2016. After traveling to Florida on a family vacation, he decided he could not get enough of the warm weather and made the move from snowy Massachusetts to central Florida 8 years ago.
For the last decade Kyle has gained valuable experience in social media content creation, marketing and sales, writing, video production, sports announcing and even broadcasting for local radio stations, such as FM 102.9 in The Villages and FM 91.5 in Massachusetts. Every year he volunteers at The Villages Charter High School as a play-by-play sports announcer for the football games as well as a public address announcer for the basketball games, including the annual Battle at The Villages Tournament.
Outside the office Kyle is a husband and father to two beautiful girls along with their cat. In his spare time he likes to spend time with his family, travel, play golf and swim. He is also a huge sports junkie and even bigger motorsports fan and loves to attend racing events when he can.
Share This Story!