Prime 3 Serves Up Food That is Well Done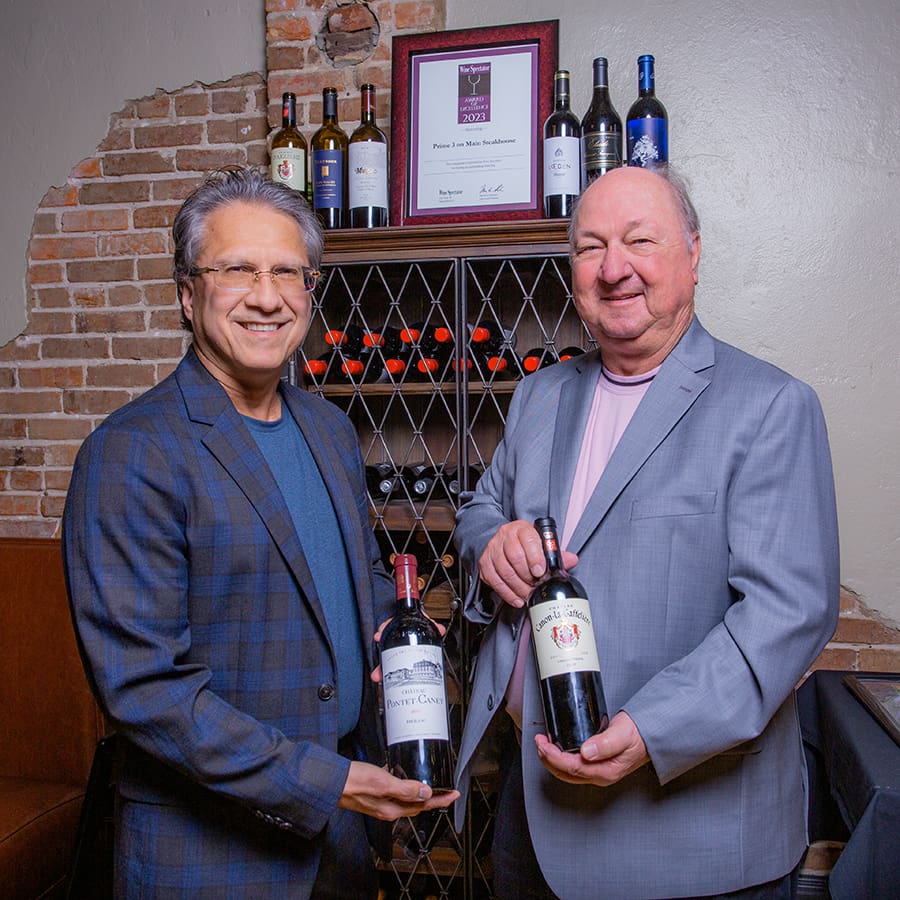 Local restaurant serves food that is well done.
I recently visited Prime 3 on Main Steakhouse, an upscale restaurant in downtown Leesburg. I didn't have to read the online menu beforehand because there was no doubt what I was going to order. 
The king of beef cuts. The Cadillac of meats. 
Yes, I'm talking about prime rib. You know, the one brought to the Christmas table amid cries of "ahhh." The one that ends up on the cover of glossy food magazines. The one that is a carnivore's delight. 
I'm not a frequent diner at steakhouses so imagine my surprise and delight when my meal was served. There's nothing more beautiful than a slow-roasted, perfectly cooked prime rib. Just looking at it made my stomach roar with excitement. A deep, brown crust crackling with marbled white patches of fat with a juicy pink center extending from edge to edge. 
The presentation was impressive. Three large pieces of asparagus were carefully placed atop my 12-ounce prime rib. Of course, being the carnivore that I am, I instantly pushed the asparagus aside and went straight for the meat. 
I grabbed my fork and knife and began cutting. The blade, hitting the golden crust first, sliced through the meat is if it were slicing through butter. I loved the faint but distinct aroma of dry-aged prime rib permeating the room as I cut it. My prime rib was so melt-in-your-mouth tender that I sparingly used the accompanying au jus sauce or creamy horseradish sauce. Thanks to the intermingling of fat and meat, the interior oozed with flavorful juices and resulted in a moist texture that made it impossible to put down the knife and fork. 
Gene Renderer, assistant general manager, explained why prime rib is the restaurant's best seller. 
"Because we use high-quality meat, we go very gentle on our seasonings like salt and pepper," he says. "Some restaurants over-season their meat because they're trying to hide the fact that they use a lesser grade of beef. We want to let our meat speak for itself."
While the prime rib was delicious, I couldn't resist the urge to try one more entrée — the Prime 3 Cheeseburger. This isn't your standard cheeseburger with lettuce, tomato, and ketchup. No, mine came with an 8-ounce Black Angus patty, fried egg, bacon, avocado slices, and cheddar cheese. 
A strange combination of cheeseburger toppings? Maybe. Sometimes, though, you must have an adventurous palate and try something different. Yes, this was the first time I took a bite of a cheeseburger and saw an egg's yellow-colored liquid drip onto my plate. No problem. I just used it as dipping sauce. I was most impressed that the burger's toasted bun did not fall apart despite all the toppings. There's nothing more annoying than biting into a burger and watching everything spill off the bun. 
The restaurant offers plenty of other dishes to entice diners for lunch and dinner: blackened Mahi Mahi, bruschetta chicken, chicken Caesar wrap, shrimp tempura, grouper fromage, ribeye prime cut, and chicken parmigiana. 
Prime 3 on Main Steakhouse is owned by Drs. Dave Sustarsic and Jose Rosado—also a WSET Level 3 Sommelier—of Orlando Health Medical Group FHV Health. These cardiologists had their hearts set on succeeding the minute they opened the restaurant in September 2022. 
"We've put a lot of time and effort in coming up with a great menu, hiring an excellent staff, and trying to keep the level of service up to par," Dr. Sustarsic says. "We have an excellent reputation in the community and we're making people happy."
The elegance of the restaurant is apparent the moment you step inside. There's a beautiful high ceiling with gold tile, a dimly lit dining room with chandeliers hanging from the ceiling, and soft music playing in the background. 
Prime 3 is not only a favorite destination of carnivores but also of oenophiles. That's because the restaurant offers 1,000 varieties of red and white wines. In fact, Prime 3 was one of only 2,000 restaurants worldwide to receive an Award of Excellence from the publication Wine Spectator. The award recognizes restaurants whose wine lists "offer interesting selections, are appropriate to their cuisine, and appeal to a wide range of wine lovers."
That's a point of pride to the cardiologists, who say wine offers antioxidants that are good for the heart. 
If you're going to go for the gold when it comes to meat and wine, then you certainly cannot go wrong with Prime 3 on Main Steakhouse. 
Akers Media Group's James Combs has been a staff writer for several local publications since August 2000. He has had the privilege of interviewing some of Lake County's many fascinating residents—from innovative business owners to heroic war veterans—and bringing their stories to life. A resident of Lake County since 1986, James recently embarked on a journey to lead a healthier lifestyle. He has lost 60 pounds and walks nearly five miles a day. In his spare time, he enjoys target shooting, skeet shooting and watching his beloved Kentucky Wildcats!
Share This Story!