Recipe: Spiced Herb Pork Loin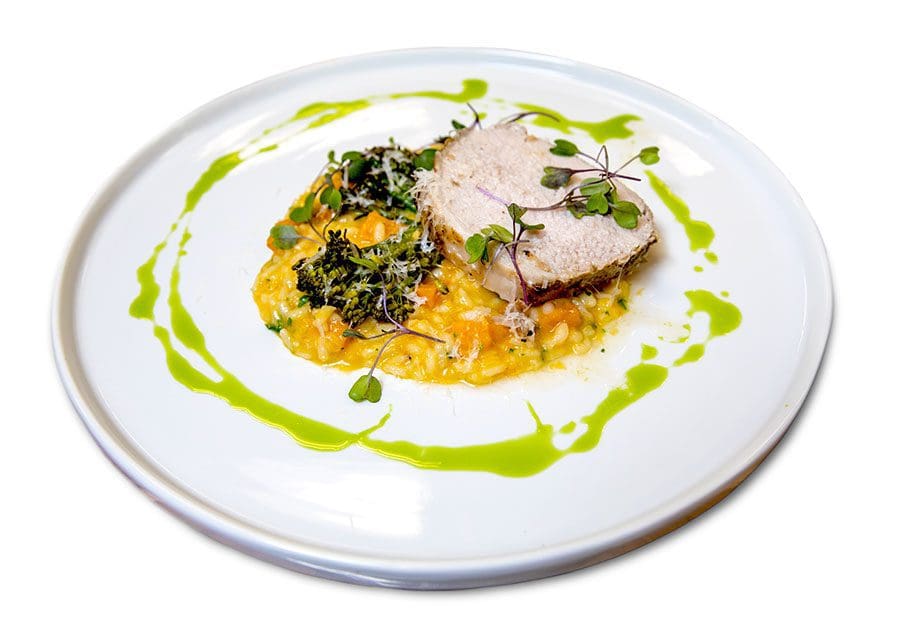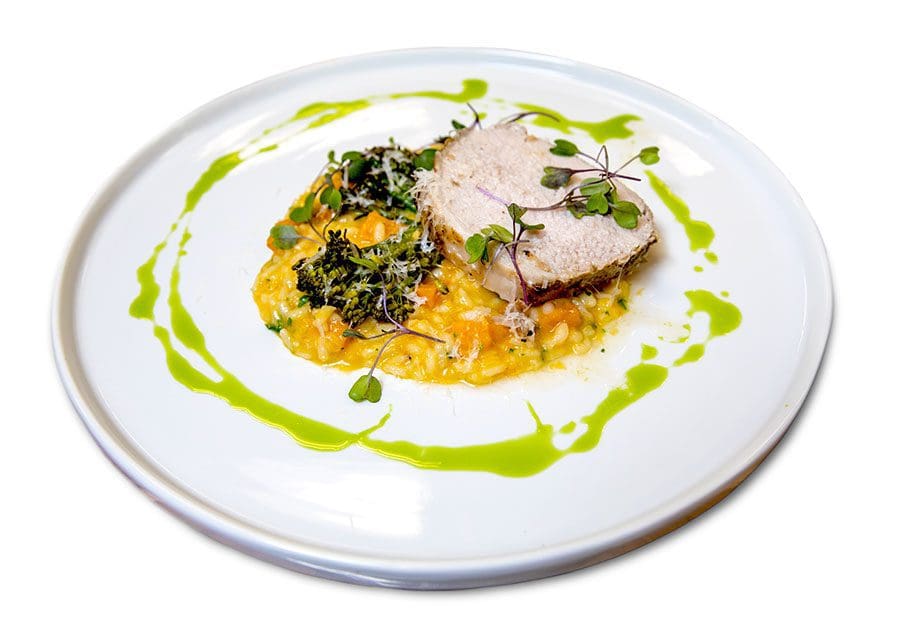 Daphne García Lebrón shared with us her delicious tasting culinary masterpieces. This recipe is for her delicious Spiced Herb Pork Loin, served with Butternut Squash Risotto, and Garlic Sautéed Broccolini.
Read her story as the head chef at The Brownwood Hotel & Spa in The Villages while you enjoy! Bon appétit!
---
Garlic Spiced Herb Pork Loin
Serves: 8 Servings
Ingredients:
2 pounds boneless pork loin roast
2 tablespoons oregano
2 tablespoons garlic minced
Salt and pepper
¼ cup olive oil
Directions:
Pre-heat oven to 350-degrees Fahrenheit.
Crush garlic with oregano, salt, and pepper, and make a paste. Rub the meat with the garlic mixture and olive oil.
Cover and place the pork loin into oven and cook for 45 minutes, then uncover and cook for 15 minutes more. An instant read thermometer inserted into the center should read 145 degrees when done.
Remove roast to a cutting board, cut slices around ½ inch thick and serve over risotto with broccolini on the side/top.
---
Butternut Squash Risotto
Serves: 4 portions
Ingredients:
3 tablespoons olive oil divided into two portions: one for the risotto, the other for the butternut squash mash that goes with it.
1 small yellow onion
½ cup of white wine
6 cups of water (you can use chicken broth or vegetable broth). Divided in two
1 ½ cup of Arborio rice
1 small butternut squash (about 2-lbs), peeled, diced, and divided in two.
1 cup freshly grated parmesan cheese. Save some for garnish.
3 tablespoons of unsalted butter diced

 

Salt and pepper to taste

 
Directions:
Season half of the diced butternut squash with olive oil, salt, and pepper. Place on a sheet pan, then bake at 350 F, about 12 minutes until fork tender and golden brown. Let them rest, then take the other half of the butternut squash and boil in water in a saucepan for about 12 minutes until tender. Retire from heat, drain, and mash the boiled squash with olive oil, salt, and pepper to taste.
Heat 1 ½ tablespoons of oil in medium to large saucepan over medium heat until simmering. Add onion and a pinch of salt. Cook for about 5 minutes, stirring occasionally, until softened and turning translucent.
Add the Arborio and the white wine. Let cook for 1 minute. Add the 4 cups of water, stirring constantly until the water is absorbed. Add the rest of the water and cook again until the water gets absorbed again and the Arborio is al dente. Add the butternut squash mash, the diced roasted butternut squash, the butter, and the parmesan cheese. Stir vigorously for 2-3 minutes until the rice is creamy and shiny. Add salt and pepper to taste.
---
Garlic Sautéed Broccolini

 
Ingredients:
2 bunches broccolini
2 tablespoons olive oil
1 teaspoon minced garlic
Salt and black pepper to taste

 

¼ teaspoon red pepper flakes

 
Directions:
Wash and trim the broccolini. Steam them for about 2 minutes.
Spread broccolini on a sheet pan, then season with oil, salt, black pepper, and red pepper flakes.
Place into 350F degree oven and cook for 5 minutes or until ends start to look roasted.

 

Ready to serve.