Social Club Spotlight: Fight club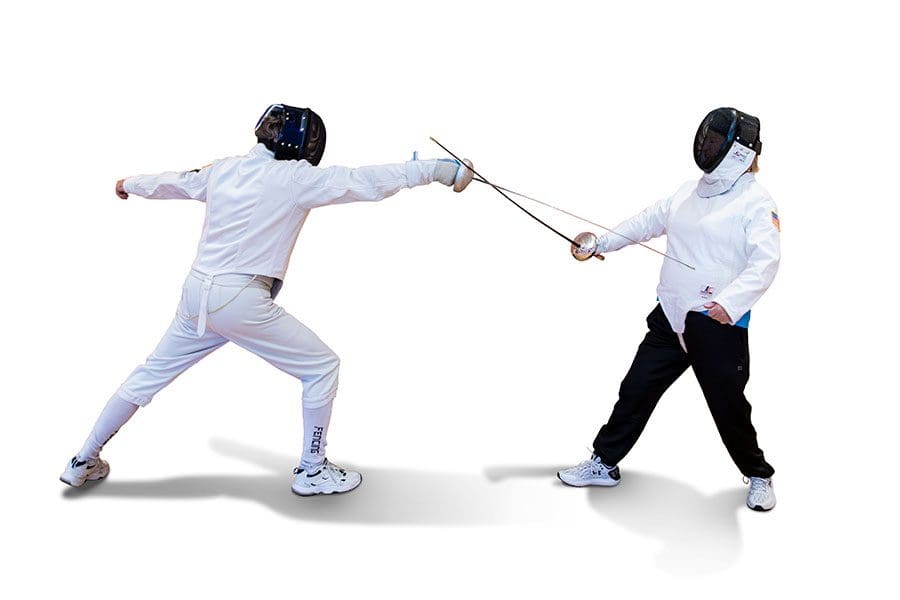 Villagers take a stab at fencing.
Photos: Nicole Hamel
Outfitted in white pants and jackets, the two combatants look bizarrely similar. Their faces are invisible behind the dark screens of their masks. 
With swords in hand, they carefully position themselves in a taped-off area that is approximately 40 feet long and 4 feet wide. 
"En garde," yells the referee. 
Their feet shuffle as they move back and forth, thrusting and parrying in a ballet-like movement all their own. Swords collide. The clang and clank of metal on metal rings out. The action is rapid as the combatants advance and retreat. Swat-clink-swat. One fighter aggressively lunges forward, striking his opponent in the torso. 
An electronic scoreboard buzzes. 
One point.
This isn't a duel-to-the-death sword fight on the deck of a pirate ship. Instead, the match takes place in El Santiago Recreation Center in The Villages, where the centuries-old sport of fencing is alive and well. 
Doreen Lowther, president of The Villages Fencing Club, has one theory as to why. 
"Fencing allows me to get my lioness on," she says. "When you put on your gear you feel like a gladiator inside the Colosseum."
Except these gladiators can conquer an opponent without the crushing guilt of having killed someone's loved one in cold blood. 
"We spend a few hours poking each other with swords and we're still friends afterward," Doreen says while smiling. 
Inspired by the sword-fighting scenes from the old Robin Hood movies, Doreen began fencing at the now defunct Villages Lifelong Learning College. Her instructor encouraged her to form a club so fencers could continue honing their skills outside the class. 
She launched The Villages Fencing Club in 2013. The club follows guidelines established by the U.S. Fencing Association (USFA) and several members are USFA-certified referees. The sport is much safer than it looks. Modern fencing blades have a flat tip and fencers wear a plethora of protective gear, including a jacket, a mask, and gloves. Women are required to wear chest pads. 
"You might get a little black or blue mark, but to me those little marks are a badge of courage," Doreen says. "Nobody is going to get seriously hurt."
Although fencing can trace its origins to the Egyptians around 1200 B.C., the ancient sport comes with a high-tech twist. Electronic body cords run from the vest of the fencer's protective jacket down to the sleeve and plug into the hilt of the weapon. Each touch of the blade in the correct target area results in a beeping sound from an electronic scoring machine placed near the piste, the French word for the strip on which fencers duel. 
Fencers have their choice of three separate weapons, each with its own target area. With the foil, which weighs less than a pound, points are scored with the tip of the blade touching the opponent's torso. The epee is the largest and heaviest of the three weapons, and the entire body is a target area. The sabre is a thrusting weapon resembling a cavalry sword, and unlike the other two weapons, points can be scored with the edge of a blade by striking the torso, head, and arms. 
During club matches, fencers duel for three minutes, enjoy a minute of rest, then duel for another three minutes. The first to reach 10 points emerges victorious. Club members often refer to fencing as "physical chess" or "ballet with a sword" because winning requires a careful balance of brainwork, footwork, and bladework. 
"Fencing involves speed, the ability to change direction, and the ability to think fast on your feet and know what your opponent is doing so you can counter his moves," says Rick Eldon, club treasurer. 
Rick is one of several club members who bring a wealth of fencing experience. He spent four years on Southeastern Massachusetts University's fencing team and returned to the sport after moving to The Villages 10 years ago. Hap Holden, vice president of the club, fenced at Drew University in northern New Jersey, and Laszlo Lipovics, who is the club's teacher, was a fencing coach at Stonybrook University.
In other words, club newbies will receive expert instruction. Just don't expect to become a master jedi on the first day. 
"As a teacher, I want to get them going very quick, but like any other sport, it takes time," Laszlo says. "But once their skillset improves, they'll never want to leave fencing. It's a great sport that can be enjoyed by people of all ages."
That's the key. Few people 60 and older compete in physical sports like boxing or wrestling.
Fencing is an ageless endeavor. 
"I'm 73 and I definitely enjoy the physical and mental benefits of fencing," Doreen says. "And after a few hours of competing against each other, we laugh and have a good time. We all support one another and try to make each other better fencers."
The Villages Fencing Club meets on Mondays at Odell Recreation Center from 11 a.m. to 1 p.m. and on Thursdays at El Santiago Recreation Center from 1:30 – 3:30 p.m. For more information, visit thevillagesfencingclub.webs.com.