Social Spotlight: Art with purpose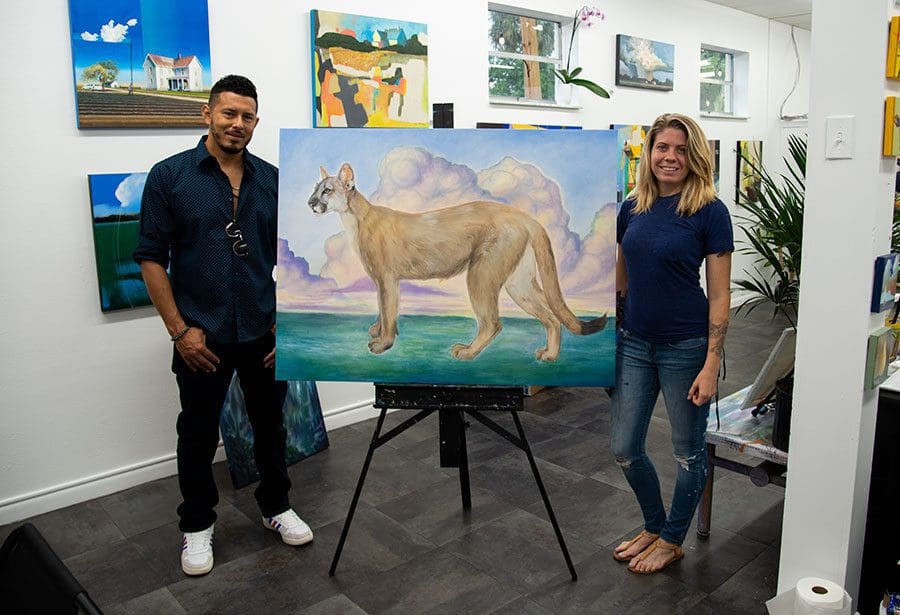 Studio Art Farm's gallery, paintings, classes focused on helping 'earth-bettering' charities for a more peaceful planet.
 Photos: Nicole Hamel
Painting and rescuing animals have become a passion for animal activists and artists PJ Svejda and German Lemus, who opened Studio Art Farm, 120 E. 4th Ave., in Mount Dora last February, a multi-functional studio where they paint, host art classes, show their works and exhibit other artists' works in quarterly gallery displays. 
PJ says the name Studio Art Farm centers around her overall goal to expand from her dog and cat rescue efforts to acquiring more land and space for a farm sanctuary.
"I use my art to facilitate my love," says PJ, adding that 10 percent of art sales go to "earth-bettering charities" involving the environment, animals, and children. 
The entrance hallway into Studio Art Farm features larger-than-life portraits PJ painted for the "We Speak to the Trees" exhibition for the Rainforest Foundation.
"It was to raise awareness on the deforestation issue," says PJ. "My biggest thing is I have been an animal activist and an environmental activist since I was a child, but I went about it in a really aggressive way (in the past), shaming people of 'this is terrible,' and then I realized it was the wrong way to go about it … So, I try to personify nature because I feel if you can see yourself, it touches on those empathy strings."
She hopes her rainforest pieces inspire viewers to ask, 'What if I woke up to my home being torn down? What if I had babies I couldn't carry, what would I do?' All of the birds in her paintings are either endangered or critically endangered in the Amazon Rainforest. 
PJ studied at the Savannah College of Art and Design, where she earned a bachelor's in illustration and master's in painting. She then became an art instructor in Atlanta for 12 years before relocating to Orlando five years ago, where she met German Lemus, one of the seven founding members of B-Side Artists, known for creating many of the colorful murals in downtown Orlando. Originating from Honduras, German's name is pronounced like 'Jermaine,' but he goes by Lemus. 
Lemus began painting at age 6 and studied art in Miami. While in the Army, he did comedic sketches of drill sergeants and superiors that evolved into murals, painting and T-shirt designs. Later, he became an art tutor in a program called "Soldiers to Scholars," where he fell in love with mentoring children. Then, while studying multimedia design and visual arts at a community college, he found the artistic style of Impressionism to be his forte and won numerous awards with larger-than-life tiger paintings that have become his signature work. 
Lemus and PJ paint large murals together and both also enjoy working at Studio Art Farm, where PJ teaches six-week adult classes in oil painting and acrylic painting, while Lemus teaches Bubbles and Brushes, a one-day social painting class where people can enjoy a mimosa while they paint.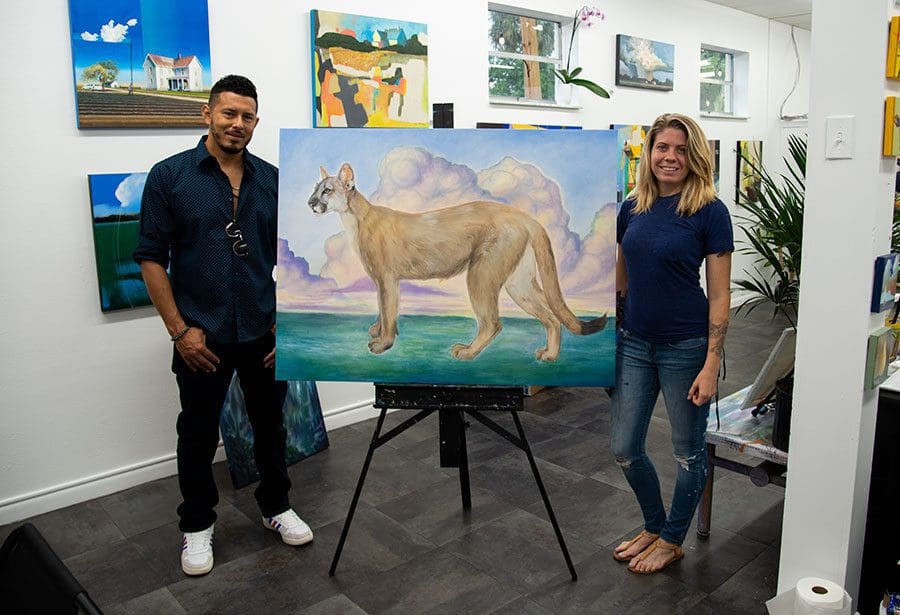 Other talented artists with works displayed at Studio Art Farm include artist Beth Jewett's striking watercolor abstracts, and Gina Tyquiengco, who has taken the concept of painting in black and white with splashes of gold. 
Gina explains the black and white paint represents the dual world she lives in and she identifies the gold in her pieces as "awakening my identity as a woman and an artist." 
"I have never been able to see anyone take three colors and just keep going," PJ says of Gina's numerous pieces.
Studio Art Farm also features a wide array of art available for purchase to fit any budget, including a table filled with original pieces of different mediums and subject matters, including those created in painting classes at the studio. 



PJ's earliest memory of dabbling in art was when she was in preschool. "I remember there were kind of mean kids and I felt very isolated. So, they would go off to the playground, and I would sit inside, and I would draw." 
She still has a self-portrait she drew of herself as a child with a circle head, triangle body, stick arms, and spiky hair. 
"My parents framed it and they laughed because it was cute," PJ says, recalling she thought they were laughing at her work, yet it was a defining moment in her art career. "That really put a bee in my bonnet to get good at it." 
To learn more about the studio and future classes, visit Studioartfarm.com or call 407.376.2228. 
Originally from Anderson, Ind., Theresa worked for The Herald-Bulletin for many years. After experiencing a winter with 53 inches of snow, her late husband asked her to get a job in Florida, and they headed south. Well known in the area, Theresa worked with The Daily Sun and The Daily Commercial prior to joining Akers.
Share This Story!