Spirits: A toast to creativity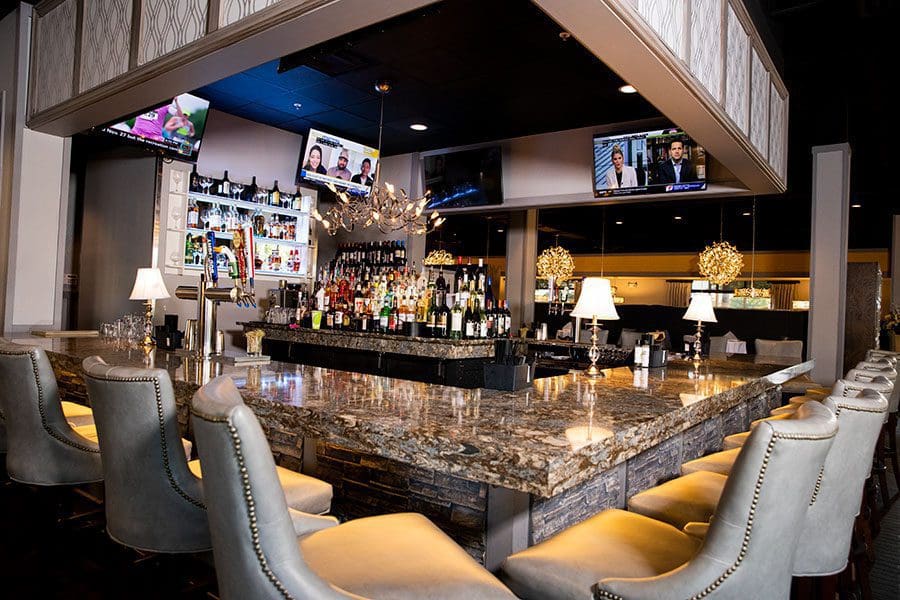 Chop House serves drinks with a shots of innovation.
Photos: Nicole Hamel
Everything can be improved by adding bacon. 
Double cheeseburger? Add bacon. Scrambled eggs? Add pieces of bacon. A hurricane is about to ravage Florida? Add lots of bacon. 
However, some may not realize bacon can beef up one of America's most popular alcoholic drinks—the flexible bloody Mary. 
At least that's how the drink is served at the Chop House at Lake Sumter. The original Bloody Mary I knew with vodka, tomato juice, and celery seems to have evolved. And that's a good thing according to my co-worker Victoria Schlabig, whose bloody Mary was served with large chunks of bacon hanging out of the glass. 
"I am a big fan of bloody Mary's, and yes, I usually opt for one over a mimosa at brunch," Victoria says. "That said, I'm a sucker for a bloody Mary with lots of add-ins. Kind of a pre-brunch appetizer. The Chop House Mary satisfied that, with a celery stalk, seasoned rim, blue cheese olives, cherry tomatoes, and crispy bacon on top. I like a spicy Bloody Mary, which the bartenders happily accommodated."



A bacon-filled bloody Mary is one of many interesting drinks at the Chop House at Lake Sumter, where modern mixology has advanced as bartenders modify classic cocktails to please contemporary palates. 
General manager and mixologist Michael Dillenburg puts a lot of elbow grease and trial and error into concocting tasty drinks. He definitely thinks outside the box. Or, in his case, outside the bottle. Beer drinkers do venture there, but most come for the specialty drinks. 
"What we want to do at the Chop House is reinvent some old classics that have been around since the beginning of time," he says. 
He's not just blowing smoke. He's making it. His smoked cocktail drinks have patrons all fired up, particularly the popular Jackson Ray Old Fashioned. This drink is made with Jim Beam Double Oak Bourbon, orange bitters, and organic maple syrup. The glass is smoked with cedar wood, and he uses a fresh orange peel to squirt the rim of the glass with fresh citrus. 
"Every time they put their glass to their mouth, they get a little bit of that citrus taste, which takes down the punch to the face so to speak," he says. 
The Apple Cider Old Fashioned is another of Michael's cocktail inventions. The combination of Jim Beam Double Oak Bourbon, pure apple cider, maple syrup, and a sliced apple makes for an enjoyable drink. 
"The cool thing about this drink is that it's served with a cinnamon stick that is used as a stir stick," Michael says. "The more you stir, the more cinnamon flavor you enjoy."
Michael also delights in making seasonal cocktails. This winter's selection includes a Pumpkin Spice White Russian, a Caramel Apple Martini, a Pumpkin Spice Martini, and a S'more Martini. 
And what's brunch without a delicious drink? The brunch drink selection includes Bloody Marys, the Chop House Mimosa, and a Blackberry Bliss. 
"We try to be different here and we want our drink selection to be well-rounded," Michael says. 
That's certainly good news for wine connoisseurs, who will undoubtedly be pleased with the Chop House's extensive wine list. Popular white wines—including Pinot Grigios, Chardonnays, and Sauvignon Blancs—can be found from top wine-producing regions in Italy and California. Red wines like Pinot Noirs and Cabernet Sauvignons come from France, Oregon, and Washington State. 
"We serve wines that people can't find everywhere," says Ezekiel Springs, director of culinary operations. "Our high-end wine selection is definitely restaurant-driven."
Visitors can drink inside or on an outside patio. The restaurant's elegant décor features chandeliers, modern art, upholstered chairs, and white linens. On the outside patio, music plays softly in the background without drowning out conversation among friends. Overhanging fans and outdoor heating lamps help guests remain comfortable during Florida's unpredictable winter weather. 
Akers Media Staff Writer Roxanne Brown
Akers Media Staff Writer James Combs
If you're going to enjoy a few drinks among friends, you cannot go wrong with Chop House at Lake Sumter, where creative cocktails and high-end wines are aplenty. 
Just don't forget the bacon. 
---
Chop House at Lake Sumter
1045 Old Camp Road, The Villages
Hours: Mon. – Thu. 11 am to 9 pm 
Fri. 11 am to 10 pm 
Sat. 10 am to 10 pm 
Sun. 10 am to 9 pm
For more information call 352.750.6000 or visit Chophousedining.com
---
Do you know a place where we can drink? → Comment on this article or send story ideas to james@akersmediagroup.com.
Akers Media Group's James Combs has been a staff writer for several local publications since August 2000. He has had the privilege of interviewing some of Lake County's many fascinating residents—from innovative business owners to heroic war veterans—and bringing their stories to life. A resident of Lake County since 1986, James recently embarked on a journey to lead a healthier lifestyle. He has lost 60 pounds and walks nearly five miles a day. In his spare time, he enjoys target shooting, skeet shooting and watching his beloved Kentucky Wildcats!
Share This Story!