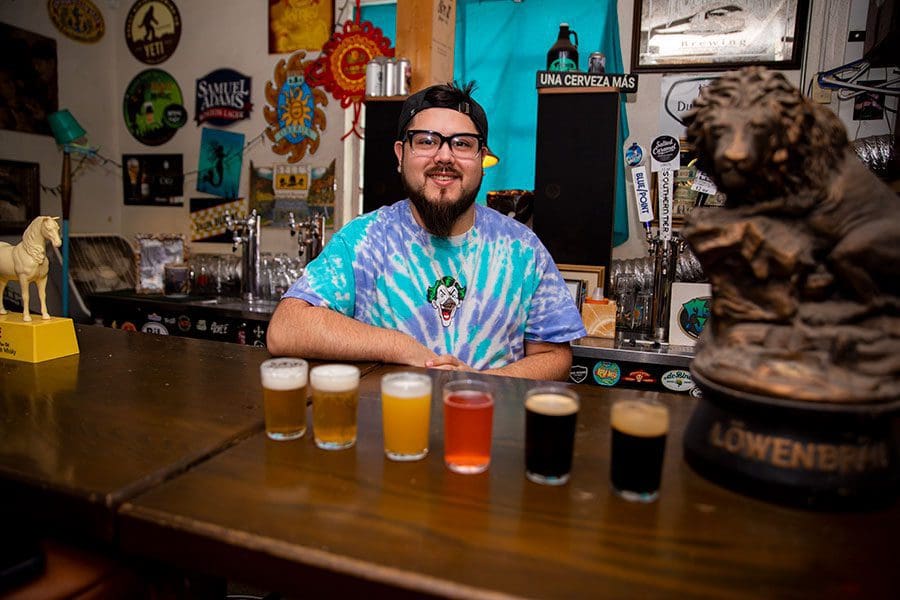 Nothing little about Mermaid Juice's sea of craft beer offerings.
Photos: Nicole Hamel
Daneaux Narrow and his wife considered opening a collectibles and antique store until his newly-acquired interest in homebrewing led them to open Mermaid Juice, a combination brewery/antique shop.
Daneaux became interested in brewing while working for Lakeridge Winery in Clermont, where he began in 2002. By 2003, he was experimenting with crazy wine and port concoctions on his own, mixing mix in coffee, blueberry, vanilla, and oak flavors–until Russ, the assistant winemaker at the time, told him, "You can't do this to wine." 
Russ passed his own home brew kit to Daneaux, who proceeded to use those flavors to make beers. His first few brews were huge hits within the emerging craft beer industry in Central Florida. He says he was ahead of the game in Florida's craft beer community in the early 2000s, and because of this, people were ecstatic to visit Mermaid Juice and not have to make the drive to Orlando or Sanford to try unique flavored craft concoctions. 
"Wine was my passion because I found in wine what I couldn't find in beer, because it wasn't available here yet," Daneaux says, referring to the plethora of ways you can make a unique wine. 
When he first switched over to beer making, he started out with "crazy" stouts and 10-12% Russian stouts because you couldn't find a lot of those here at that time. He also started gravitating towards Belgians and European imports, which are intricate and hard to make. He also enjoys sours, and his favorite beer is St. Bernardus from Belgium. "If I was stranded on an island, it would be my one beer," he jokes. 
Regarding the emerging craft beer scene in Florida, Daneaux says it blew up because of the range of choices available. 
"Stores sell way more boxes of 64 crayons than they do 8 because of the variety. There are thousands of breweries and 10,000 plus types of beers on the shelves at any time, and that's because so many people have different likes and dislikes," he says. There's so much beer out there. Daneaux compares it to wine in France. "I just couldn't host every beer that's available. I turn down a lot of awesome kegs that I just don't have room for," adding that even so, there is always a wide array of choices on tap at Mermaid Juice at any given time. 
Daneaux's "right hand man" and long-time bartender Jason Holbert adds, "Every time we run out of a beer, we replace it with something different. We rotate our distributors so we won't have the same beer around all the time," and because of this, whether you like stouts, porters, sours, ciders, or domestics, you are sure to find something your tastebuds will love. Something that has newly emerged in the market is spiked seltzers, which have been popularized in the last few years, as well as ciders, because both options are gluten free. Mermaid Juice always has seltzers and ciders on tap, and they have coolers stocked with different beverages that are not on tap. 
Style photographer Nicole and I tried a few different beers, and each liked different ones. Nicole was a fan of the Broski Ciderworks Strawberry Lemonade cider, which was very sweet; a nice refreshing, summery drink. The Victory Cosmic Connection 2020 Sour IPA was sour and citrusy, but not quite as bitter as I've found some sours to be. The Civil Society Fresh IPA, which is made in Jupiter, Florida, was not as hoppy as most IPAs tend to be and was a bit sour as well. If you prefer domestics, you should try the Proof Lager from Tallahassee, which I found to be similar to a Budweiser. 
My favorite was the Southern Tier Nitro Coconut Truffle stout, which reminded me of a chocolate-coconutty ice cream and was smooth because of the nitro brewing process. It wasn't overly sweet but was an enjoyable drink and the coconut flavor really came through. Nicole found that it had a nice aftertaste. The Grapefruit Storm Surge seltzer from Big Storm Brewing Co. in Clearwater was light and sweet, and Nicole and I both preferred it over the big brand seltzers we have tried. 
One of the more interesting beers we tasted was the 2015 Bell's Expedition Stout, which is a Russian imperial. Daneaux and Jason like to experiment with aging certain beers, like stouts, so they had us try the 2015 and 2020 brewed versions of the same beer. Although we didn't really enjoy either, we definitely could taste the difference between the two. We found that the 2015 was sweeter and the 2020 was more bitter, but both were very strong. Those who like to try experimental beers should definitely try the two together to compare.
Because Mermaid Juice constantly has new beers on tap, you can check out its updated menu at untappd.com, or on the Untappd app. 
---
Mermaid Juice
458 N. Highland St., Mount Dora
352.556.1030
mermaidjuice.com