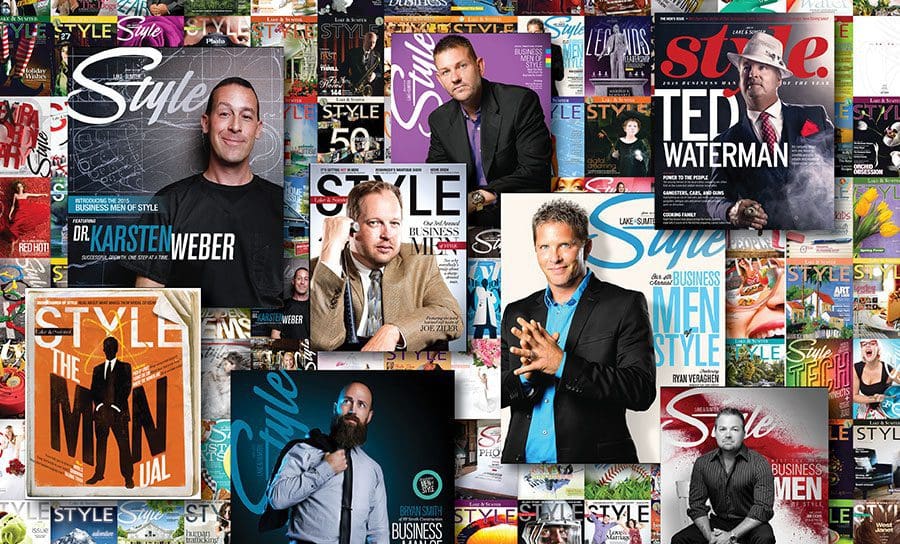 Style reflects back on one of our most highly anticipated issues.
Story: Victoria Schlabig, James Combs, Roxanne Brown, Theresa Campbell
Lake and Sumter Style is reaching a milestone this month. Care to guess what it is? Here, the lyrics of a popular ZZ Top song may provide a hint. 
Clean shirt, new shoes
And I don't know where I am goin' to
Silk suit, black tie
I don't need a reason why
They come runnin' just as fast as they can
'Cause every girl crazy 'bout a sharp-dressed man
Did "clean shirt," black tie," and "sharp-dressed man" help?
No?
OK, we'll serve you the answer on a silver platter. 
We're referring to the popular Business Men of Style. Our publication is celebrating the 10th anniversary of this special advertising section, and we feel this issue represents an appropriate time to reflect back on the past decade. 
The sharp-dressed men featured in Business Men of Style throughout the years represent diverse professions – doctors, chiropractors, Realtors, electricians, financial advisors, business owners, landscapers, and more – however, they all possess the same qualities. They make enormous impacts in their respective fields, open unique opportunities for others, and dare to dream big. At the same time, they care deeply about their families and communities. 
In 2013, we transformed Business Men of Style into an extravagant event by inviting a special group of men to our office to enjoy a fun-filled evening of camaraderie, food, and drinks. We also held a reverse drawing. The winner that year, Joe Ziler of Kevco Builders, appeared on the cover and also received a free four-page inside spread. This concept presented an even bigger incentive for local businessmen to participate in the issue. 
"It's a promotional event that is very entertaining and nerve-racking at the same time," says Kendra Akers, owner and publisher of Lake and Sumter Style. "When our reverse drawing gets down to the last three people, you can feel the excitement in the room. The looks on some of their faces over the years is something I'll never forget."
So suit up and enjoy this ride down memory lane. These sharp-dressed men love getting down to business. 
---

Business Men of Style parties
One of the highlights of the Business Men of the Year gala was a chance for the men to meet and enjoy a relaxing night of appetizers, drinks, and watch the reverse drawing to see who would grace the magazine cover as the Business Man of the Year.
Jessica "Jessy" Flinn, owner and executive chef of Gourmet Today, catered a few of these parties in the arena of the Leesburg Opera House, where Akers Media publishes Style magazine. 
"We love a party and a good theme, and the Business Men of Style mixers have always been both," says Jessy. "One of my favorites for the men was the sports night theme. Bob Tucker had done this amazing backdrop where it looked like you were sitting at a bar and with barstools, and we love to coordinate our foods to match the party."




Jessy recalls that in planning the food for the sports bar party theme, she came up with "the fun stuff like jalapeno popper dip, pepperoni cheese bread, guacamole with all sorts of different fun flavored chips, just all of the fun things we'd want to eat if we were at the bar or at a game."
Another party theme she loved was the nightclub vibe with cool lighting, music, high top tables and chairs. "I loved working with Bob because he creates the coolest layouts in that space," she says, adding that it was fun to come up with foods to complement the theme.
Bob Tucker remembers the first Business Men of Style gala was hosted at Mission Inn Resort and Club and featured a James Bond party theme with high-top tables and vases wrapped with pictures from James Bond movies.
"They were just getting started with it, and the gala parties didn't really explode until after they (Akers Media) moved downtown. Once they had the Opera House building, there was so much to work with and the imaginations just went wild, that was everything from Doug and Kendra Akers' input on the theme, Fred Lopez and the different photographers over the years each had their own little twist on what the theme was," says Bob. "And when I was called in to set up the party, there would be another twist on the imagination. So, it was really just a lot of creativity that went into those events, and there were a lot of behind the scenes things that were literally months in the making," he adds.



Bob remembers the 2019 gala as his favorite, the year of the gangster-themed photo shoot.
"For the party, we converted long tables into pool tables, and we had it decorated like a men's club," says Bob, adding that projectors were used to shine gangster-like images along with the look of a long bar across the wall. Tables were raised high with barstools.
"It was fun transforming the room into a big men's club," says Bob. "It was just one of the coolest parties we did."
---
Reflections of past participants
Bob Tucker
Bob Tucker, a florist and owner of Events by Miss Daisy, has not only contributed to memorable parties as a planner, he's appeared in six magazine issues as a Business Man of Style.


"The photo shoots were always fun because each year there was always a different theme. It was always fun to get into character for the photos," he says. "I always got lots of comments about being in the magazine," recalls Bob. "I walked into Wolfy's, one of the places where they had a magazine stand, and people would come up and say, 'Oh, my gosh, I just saw you in Style, can I have your autograph?' It was hilarious." 
---
Joe Ciceri
Coaches are fond of saying that "practice makes perfect," but when it comes to winning the Businessmen of Style contest, the phrase should be slightly tweaked to "patience makes perfect."
Joe Ciceri, owner of Electrical Works, was a regular participant in Businessmen of Style before finally breaking through and winning in 2017. 



"There are always a lot of other men in the room during the drawing, so the competition is very tough," Joe says. "When I won, I was very surprised and excited at the same time. It was just my turn, I guess." 
Though Joe tends to shun the limelight, he couldn't avoid the dozens of people who approached him after seeing his photo on the cover. 
"People were happy for me," he recalls. "One of the great things about Style is that readers can flip the pages and see people they know, and I think that's why the magazine is so popular. My friends and family were excited to see me on the cover."
For Joe, persistence led to free publicity. 
"It gave me an opportunity to showcase my company on a larger scale because I won the cover and four inside pages," he says. "I enjoyed the overall experience—from the cover shoot to the interview. I thought the final product turned out fantastic." 
---
Joe Ziler
Winning the 2013 Businessmen of Style reverse drawing brings back a flood of emotions for Joe Ziler. Weeks prior to the drawing, his brother, Mike Ziler, died from a self-inflicted gunshot wound. He was only 41 and left behind a 17-year-old daughter, Kara Jo. 
"I remember standing there when it got down to three and closing my eyes and thinking, 'Come on, Mike, help me win this.'"
For Joe, gracing the cover of Style generated lots of positive feedback. In fact, Joe changed his Facebook handle to "Sylin' Joe Ziler," a reflection of his fun personality. 
"The cover was accompanied by a well-written article by James Combs titled 'Home Boy,'" Joe recalls. "The article was a walk down memory lane for me all the way back to my childhood influences in construction, most notably my lifelong friend Mr. Roy Teter, who passed away at 96 the year after the article." 
In 2013, Joe signed up for Businessmen of Style as a representative of his company, Kevco Builders. This year, he is representing the MIKE Endowment, a nonprofit organization he started in his brother's name. MIKE is an acronym for Mental Illness and Kindness Endowment. Through the organization, he has provided backpacks for homeless people. 
"Building houses is what I do," he says. "Helping other people is who I am." 
Readers will notice that in this month's issue, Joe shares a page with Isaac Deas, a licensed mental health counselor and owner of Deas Consulting LLC in Tavares. Joe's organization has funded $15,000 for people to receive free counseling with Isaac during the coronavirus pandemic. To date, more than 60 people have been helped. 
"For me, things have come full circle since I won Business Men of Style in 2013," Joe says. "Isaac was my grief counselor when my brother died and now here we are providing free counseling for others." 
---
Isaac Deas
The namesake of Deas Consulting, LLC describes his appearance in Business Men of Style issues in 2016, 2018, 2020, and 2021 as "wonderful."
Isaac says being featured has resulted in new referrals, but he's also enjoyed learning more about people in the community who have been featured.
"When I get new clients, I always ask, 'How do you know me? How did you hear about me?' A good two dozen have said they saw my picture in Style Magazine," Isaac says, explaining that he also reads the magazine for his own reference.
"Also, I use it a lot of times for my own knowledge, because sometimes I know people, or know I've seen them, but I don't really know what they do, then I see them in the magazine, and I say, 'Oh, that's what you do,'" says Isaac. "It's helped me get to know people in my own community that I otherwise wouldn't have known too much about. It's helped me tremendously, but It's been wonderful for me too."
Isaac can testify to the spectacular reach and vibe of the magazine.



"I've gotten the impression that people really enjoy the magazine because of the variety of people and subjects that are covered, and you're always looking in there to see people that you know. Style has become a household name, which is really good," Isaac says.
Isaac says that his entire experience, from being interviewed and photographed, and selecting which photo to use, has been enjoyable.
Isaac especially loves how the Akers' photographers use music in the studio during photo sessions to relax their subjects, and the most recent photo session for June 2021 was no exception.
"What a wonderful staff. Nicole was very pleasant and helpful, and Douglas has a beautiful sense of humor. But the music is key. I just love it because it kind of just calms you down and makes you feel comfortable and less nervous," Isaac says of Akers' Photographers Douglas Tyler and Nicole Hamel. "My mind was not just on the pictures, but on the music, so I was just vibing."
---



Michael Brashear
Michael Brashear was on the cover of the 2016 issue as the Business Man of the Year. He was dressed in a black suit and purple shirt, which was a far cry from his typical workday attire of shorts, T-shirts, and flip flops, he sported when he owned Anytime Fitness gyms in Lake and Sumter counties and Key West.
 "The photo shoot definitely showed the entrepreneur side of me," Michael told Style in a previous interview. "I did get tons of recognition from the community of being on the cover."
---
Tim Simpson
Tim Simpson, co-owner of Renew Day Spa, appeared in the 2017 issue of Business Men of Style, the same year he and his wife Dina opened their spa in downtown Leesburg with the goal of replicating what they had owned in New York.
 "It was great to get exposure from a male perspective as a business owner, away from the target audience of females," says Tim. "Style magazine is touched by a higher-end clientele, so that definitely helped us get exposure for the spa on a business end."
Tim appeared happily relaxed sitting on a tall stool for his photo shoot.
"I remember there were a lot of rainbow colors in the photos," Tim says of the creative design of the 2017 issue of Business Men of Style.
Once the magazine came out, Tim experienced life as a celebrity. "Oh, yeah," he says with a chuckle, "several people wanted my autograph."
---
Ted Waterman
Ted Waterman graced the June 2019 cover in a cool, smoky gangster-themed photo shoot to promote Umatilla-based Waterman Construction Corp., which he and his wife Gina started in 1993.
 "I was really shocked; I didn't think I was going to win," Ted said after the 2019 gala honoring Lake and Sumter County men and their professions, and also the reverse drawing to determine the cover winner as Business Man of the Year.
"I've gotten teased every time somebody sees me," Ted said in a previous interview about being the 2019 winner. "It was a fantastic experience, and the photo shoot was a lot of fun. Seeing myself on the cover was pretty cool and flattering. And we did get some new jobs from it, as a matter of fact, so the exposure was all good. We're really blessed and we're really happy."
---
Dr. Fernando Serra
Dr. Fernando Serra of Central Florida Plastic Surgery has been participating in Business Men of Style every two years since 2018 and has always had a great experience. "Business Men of Style has been very effective in representing my practice in a really wonderful light, and to be grouped with other prominent men of business in the area just makes me feel good. Ultimately it's been a fantastic program," he says. 


The chance to appear on the cover is an added value in Dr. Serra's opinion, and though he hasn't won the cover – yet – he hopes to one year. He's received many compliments from patients who have seen him featured in Business Men of Style. "After the magazine comes out, because of the beautiful imagery we're portrayed in, I always get people saying, 'I saw you in Business Men of Style, you look awesome doc,' so it's been very complimentary in addition to my regular presence with Lake and Sumter Style," he says. "The photoshoots are a lot of fun, especially with the creative lighting, and the photographer makes you comfortable so it's a piece of cake," Dr. Serra adds.  
---



Larry Blevins
Larry Blevins, CEO of the Village Institute of Plastic Surgery, is celebrating a milestone with us – he's been in all 10 Lake and Sumter Style Magazine's Business Men of Style issues since its inception in 2011. He says the entire experience has been notably fun and beneficial from an marketing perspective.
 "It's one of those annual things that we enjoy doing. It gives us the opportunity to do a little bit of advertising, but in a different way," Larry says. "In our clinic, we normally advertise services or specials, but this is one of those things where we just highlight us as providers."
According to Larry, every year they get at least five messages where people say, 'Yeah, I saw your picture in Style Magazine,' and then, they'll make a comment," he explains. 
As for the overall experience, Larry says it's surprisingly enjoyable and something all the business men in the entire office look forward to participating in each year.


"We don't just get all dressed up; we kind of put a little bit of thought into our look and feel," Larry says, adding that for him, it's a whole new world.
"It's my only time in the year that I get to do some form of modeling or photographs and it's a little comical because it's outside of my normal comfort zone," Larry adds. "But Akers always goes out of their way to make it inviting and pleasant, and we really enjoy it."
Douglas says shooting Larry and the rest of the men in the office has been a great experience because everyone puts thought into the image they want to portray.
Larry says the best part of being in the special edition is what it does for Village Institute of Plastic Surgery patients.
"We really love being part of Business Men of Style, because It allows people to identify with us personally, and actually get to know us, by giving them a little story about us. They get to see us in a different light, other than what they would get from just a normal medical advertisement," Larry says. "It's the perfect personal touch."
---
Creating a masterpiece
For the magazine's employees, Business Men of Style is one of the most exciting and rewarding projects they undertake. Creative minds from the art, photography, and editorial departments come together during pre-planning to ensure the section is executed flawlessly. 
For photographer Douglas Tyler, Business Men of Style allows him to look at photography through a different lens. 
"I really try and figure out where we need to go to make it a good experience, a good day for them, because who knows what's happening 30 minutes before they get to this photo shoot, or who knows what they're planning afterwards," Douglas says. "All I know is for the time I have them, they're in my world and I get to treat them in a way that most people will never get to experience. This is a big magazine that tons of people read, so I just try to make sure that when they walk away from the shoot, they remember it. I want this to be an experience they'll never forget."
2013-Joe Ziler
2014-Ryan Veraghen
2015-Dr. Karsten Weber
2016-Michael Brashear
2017-Joe Ciceri
2018-Bryan Smith
2019-Ted Waterman
2020-Bryan Smith
Kendra waits excitedly to see our famous eye-catching covers. 
"The client mostly inspires the design. We try to create a look that matches their profession or personality. The cover photoshoots always match whatever 'theme' we have decided on for any given year of Business Men of Style, but the businessmen have some room for creativity within that theme. Looking back at our cover features you can see the winners' personalities come through in their photos, thanks to our amazing photographers."