Tavares High Samantha Beatty Is Our Student Athlete Of The Week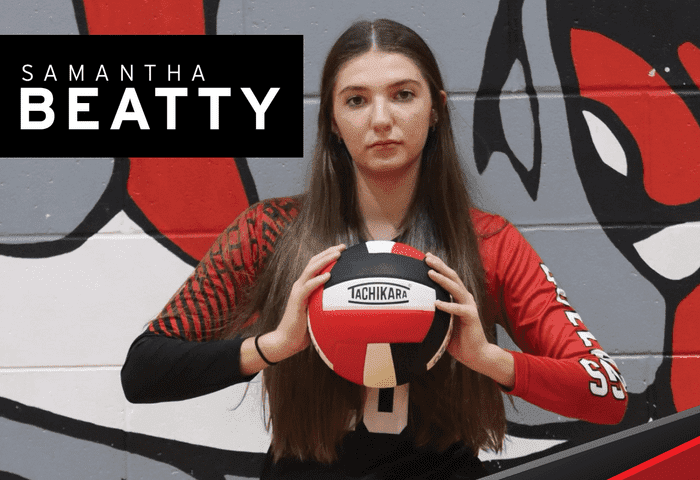 In a week filled with spirited competition we announce, Tavares High School's Samantha Beatty as the Student Athlete of the Week. The 5'9″ junior showcased her exceptional prowess in volleyball, leading Tavares to a remarkable second-place finish in the Class 5A District 7 Championship game earning the #7 seed in the FHSAA state tournament where Tavares will face #2 seed Wesley Chapel.
Beatty's performance has been nothing short of spectacular, capturing the hearts of fans and teammates alike with her awe-inspiring display on the court.
Statistically, Beatty's dominance is undeniable. She commands the team with an impressive 246 kill shots, boasting a formidable 43% kill shot accuracy, proving her worth both in offensive and defensive plays. Beatty's serve game is equally impressive, contributing 63 aces this season, with an ace percentage of 27% and a serving accuracy of 86%.
While her offensive prowess is undoubtedly impressive, Beatty is no slouch on the defensive front, amassing an astounding 163 digs this season. Her ability to keep plays alive by preventing the ball from touching the ground has been a game-changer, earning the gratitude of her teammates.
Although Beatty's individual performance stands out, her synergy with fellow junior, #15 Charli Butts, cannot be overlooked. Standing tall at 6'2″, Butts has notched 164 kill shots, securing her place as a formidable contributor. Additionally, she ranks second on the team in blocks, trailing only sophomore Laila Ellis.
Beatty's dedication to volleyball shines through, as she has remained steadfast in her commitment to the sport. Her unswerving focus on volleyball has led to a standout season, raising the possibility of college recruitment on the horizon. With another year to develop her skills, Beatty's future in the sport looks promising.
Tavares is indeed fortunate to have such an exceptional athlete, and Beatty attributes her success to rigorous practice and the unwavering support of her teammates. In a recent interview on the Sports Hub, Beatty humbly shared, "Without my teammates, I couldn't be the player I am today."
As the FHSAA Playoffs approach, Tavares anticipates Samantha Beatty's continued excellence on the court and wishes her the best of luck in her junior year. If 2024 mirrors the triumphs of 2023, Lake County will undoubtedly be in for another electrifying display of volleyball prowess.
Kyle Coppola was born in Newton, Massachusetts and received his Bachelor of Fine Arts in Communications from Curry College in 2016. After traveling to Florida on a family vacation, he decided he could not get enough of the warm weather and made the move from snowy Massachusetts to central Florida 8 years ago.
For the last decade Kyle has gained valuable experience in social media content creation, marketing and sales, writing, video production, sports announcing and even broadcasting for local radio stations, such as FM 102.9 in The Villages and FM 91.5 in Massachusetts. Every year he volunteers at The Villages Charter High School as a play-by-play sports announcer for the football games as well as a public address announcer for the basketball games, including the annual Battle at The Villages Tournament.
Outside the office Kyle is a husband and father to two beautiful girls along with their cat. In his spare time he likes to spend time with his family, travel, play golf and swim. He is also a huge sports junkie and even bigger motorsports fan and loves to attend racing events when he can.
Share This Story!