That's what friends are for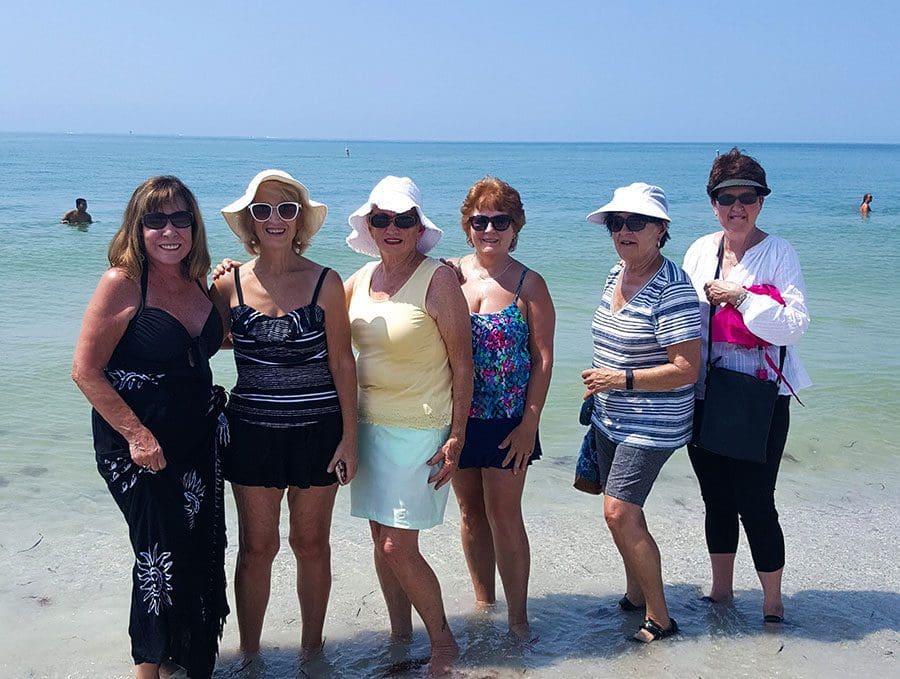 Singles in The Villages find ways to connect during coronavirus pandemic.
With a multitude of clubs throughout The Villages intended to either aid Cupid with his job or introduce future besties, opportunities for dating, fun and mingling are plentiful.
The ongoing COVID-19 coronavirus pandemic however—though not successful in shutting it completely down—has most certainly slowed the social scene and made it a tad bit more challenging, especially if it's a larger group setting one is after.
Just ask Arlene Kaplan, president of Sumter Singles, a decades-old club at The Villages. "All of our normal activities have stopped because we can't get into the recreation center where we were normally meeting at because of this COVID," Arlene says. "I mean, where are you gonna go? Everything's closed."
Many of the club's members were actively participating in gatherings and activities, but since March, monthly get togethers are on pandemic-induced hiatuses dictated by the governor's multi-phased reopening mandate for larger crowd venues like recreation centers, event halls, clubs, bars and more.
Arlene says about 200+ Sumter Singles members (out of 600-700 total), regularly met at the Lake Miona Recreation Center on the fourth Sunday of each month for their club meeting and entertainment. About 40-50 members would also meet for cards and games on the second Sunday of each month and for a discussion group the third Sunday. Those meetings have also stopped.
Some members were also regulars at dinner events—dubbed Dining Out with Arlene—rotated between various local restaurants each month.
Arlene says those dinners are the only facet of regularly planned indoor activities that have resumed, though on a smaller scale. "When times were good, we had about 50-75 people come out to these dinners and now there's a waiting list because I can only take 30," says Arlene, adding that in July, the dinner was held at Sammy's Italian Restaurant and in August, at Wolfgang Puck.
Arlene also mentioned that seniors are required to follow CDC social distancing guidelines and wear face masks at dinners.
"When we started the dinners back up, it was interesting to see who was willing and not afraid to come out, but the majority of people were happy about at least restarting some activity," Arlene says. "When I released the information about it, within an hour, I was already to capacity."
Some seniors, in very small groups, have been taking turns meeting at one another's personal homes to do things like read and discuss books, play cards, do jigsaw puzzles, watch movies; anything to just enjoy interaction with others to offset feelings of isolation or loneliness.
Outside activities and small private get-togethers have become the new norm through the pandemic. Arlene says that twice-a-month golf scrambles, shuffleboard and bocce ball have grown in popularity in the past few months. Those wanting to keep active with a buddy or two have formed walking clubs.
"When times were good, we had about 50-75 people come out to these dinners and now there's a waiting list because I can only take 30."

—Arlene Kaplan
Indoors or out, the AARP concludes that keeping socially active is a key factor to senior health, a fact reiterated on its website aarp.org. A 2010 study summarized on the website at notes that, "Loneliness was a significant predictor of poor health. Those who rated their health as "excellent" were over half as likely to be lonely than those who rated their health as "poor" (25% vs. 55%).
The Knowledge Networks online survey conducted by a national AARP representative sampled 3,012 adults age 45 and older, between May 26 and June 2, 2010.
Mary Ann Garback, a Villager and member of Sumter Singles, agrees that keeping the lines of communication open with others is vitally important. She and five of her closest friends have attended and hosted in-home get-togethers and even a few driveway parties or lawn concerts, which she describes as "great fun."
"We get out there on golf carts and we bring our own chairs, beverages and snacks and just hang out in front of people's lawns and enjoy the evening together," Mary Ann says.
Jim Browning, president of the 30-year-old The Villages Singles Club—the oldest singles club in the community—says about 225 of 600+ members regularly attended the Club's twice-a-month meetings at La Hacienda Recreation Center before the pandemic. There, they normally enjoyed dinner, dancing and more.
Jim says the focus for The Villages Singles Club is friends and companionship, more-so than full-fledged, serious dating, though some people may choose to date.
Today, the situation with the club is the same as with other clubs – the only activities being re-introduced are monthly dinners and outdoor activities.
"The pandemic hasn't hurt my appetite any," Jim says, explaining most members share that sentiment. "We miss our twice-a-month gatherings; but even if we did decide to meet with fewer people, there'd be no room for dancing so we're just waiting for things to open up. We're just on stand-by."
Arlene says it's not just singles in need of get togethers —married couples need social interaction with other married couples too.
Because of that, Arlene also leads a married couples club in the same spirit, arranging monthly meetings filled with discussions, entertainment and other fun activities, monthly dinners out on the town and even breakfasts between husbands.
Ironically, Arlene does so much planning, hosting and organizing events and meetings for others that she has no time for dating herself, pandemic or not.
"I'm just that type of person, I just want to help people. I'm one of those. That's who I am," Arlene says.
For Mary Ann, it is essential to remain social by getting together for platonic fun and friendly activities, or with a special someone for a romantic date, in spite of current stresses.
Mary Ann says even in her prime years, she enjoyed the excitement of dating. That doesn't change with age, she says.
"We have continued to be social during this time. For some seniors in The Villages, the activities these clubs provide are the only type of contact people have, and though people have had to adjust to doing things differently, it's important to keep the human side active, if you know what I mean. But equally important is just staying active and keeping in contact with others," she says.
In August, Mary Ann's birthday proved fruitful. She enjoyed a champagne toast with nine other friends at one of her best friend's homes, then dinner out with the gang.
Connie Montanese, who hosted the champagne toast for Mary Ann, says she thought it would be a nice thing to do for her friend, but she kept it small [10 people as per CDC guidelines] with the intent of staying safe, health-wise.
"Birthdays are special to Mary Ann. She not only goes out of her way to celebrate yours, but she expects the same thing," Connie says tongue-in-cheek and with a chuckle.
Additionally, Connie says she feels it is important to do little things for people when possible to make them feel remembered and cared for despite the pandemic, as long as health and safety guidelines are being followed.
That is why Connie, who is also the activities director for Sumter Singles, emails members periodically, especially the newer members; "Just to let them know we haven't forgotten about them."
She says some people use Zoom or FaceTime to connect with others during the pandemic, but emails and texts are more popular options for most of the people she knows.
Personally, Connie says that during the closures, she has been participating in Thursday night card games with her closest friends and has continued to go on dinner dates with her special someone, though they admittedly choose outside seating as much as possible.
"I must say I miss our monthly meetings and especially our discussion groups and I miss going out to dinner at busy restaurants and navigating through people to try and get up to the bar to ask for a drink, but it is what it is for now," Connie says.
And Mary Ann agrees.
"It's nice, we're making things work, but it's not the same as being in the room with a lot of other people on a big dance floor or at monthly club meetings with dinner and entertainment; it's just not," says Mary Ann.
Originally from Nogales, Arizona, Roxanne worked in the customer service industry while writing independently for years. After moving to Florida in 1999, Roxanne eventually switched her career path to focus more on writing and went on to become an award-winning reporter for The Daily Commercial/South Lake Press newspapers for 16 years prior to coming on board with Akers Media as a staff writer in July 2020 – her dream job come true.
Share This Story!