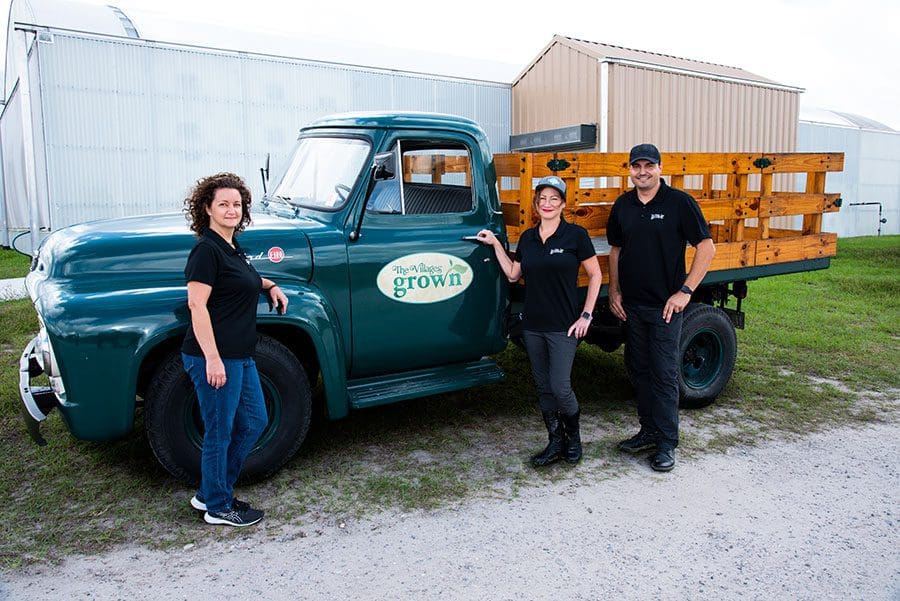 Support your community, buy local, and enjoy the freshest veggies available, grown in your neighborhood.
Photos: Nicole Hamel
The Villages management team's long-time desire to create a local food system to help residents achieve healthy, full, and long lives has come to fruition in the form of The Villages Grown.
The project is an 84-acre plot of land designated for growing fresh, non-GMO, herbicide and pesticide-free produce, 365 days a year.
Seed2Source – an agriculture and wellness consulting company founded by Managing Partner Jennifer Waxman; also the executive director of The Villages Grown – is the visionary behind it.


She says the goal is establishing a food system to best benefit residents of what is the largest retirement community in the world.
"A lot of Villagers, as we all know, are seeking to live their best lives, their healthiest lives, and it's no secret anymore that food is medicine. To know that we are here as their local food system with their name on it, with a solution [to health] that's so delicious, so they [the Villagers] are getting reinvigorated and excited about eating vegetables," says Jennifer.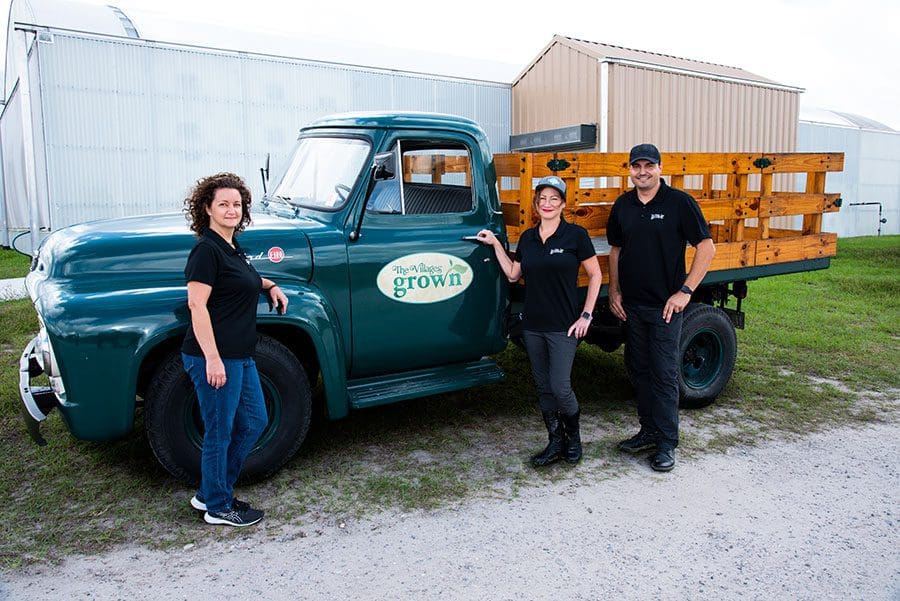 Jennifer is an expert on the "food as medicine" approach, based on eating more greens and vegetables as a preventative health measure. After receiving an MBA from Rollins College with a focus on agribusiness in 2000, she travelled the world working with farms, greenhouses, and controlled environment agriculture (CEA) technology.
"We all just started with a brainstorm and realized that we could really change the world with this project, and we believe we can," she says.
For now, the goal is to change the way residents of The Villages eat. The Villages Grown is the intersection where agriculture meets wellness. "When you separate the two, we become ill, and that's the state of the world. So that's what Seed2Source's vision is as consultants, and that word got out and resonated with The Villages," says Jennifer, who hopes the food as medicine approach benefits everybody's physical and mental well-being.
"It's going to be a tremendous project for that," she adds.
What is The Villages Grown?
The Villages Grown is a Controlled Environment Agriculture (CEA) operation that grows a variety of produce. Most CEAs are category pillars in which only one product – such as leafy greens or tomatoes or herbs – are grown.


The Villages Grown is growing six types of tomatoes – specifically heirloom – as well as a variety of lettuces, collard greens, microgreens, herbs, and different types of cucumbers. Jennifer, Director of Operations Adam Wright and Director of Production, General Manager Tracey Herrera, and Wellness Dr. Bill Huggins, are excited to offer chemical-free, "clean tech" vegetables, herbs, and microgreens to Villagers and surrounding communities.
The Villages Grown launched in 2018, started construction in 2019, and by the summer of 2020, the farm was semi-operational. Phase one consisted of nine acres of greenhouses being fully planted by the end of November. Those nine acres will yield roughly six million pounds of produce in one year.
A total of 40 acres are dedicated to greenhouse space. "We'll move pretty quickly and take on several iterations of phases which will position us to be one of the largest operations in the Southeast of its kind, which is exciting," Jennifer says.
Numerous greenhouses allow growing 365 days a year. Not being beholden to seasons means that a consistent product is delivered over and over again. That excites Jennifer.
"Our first thing we teach someone when they tell us they don't like vegetables or don't like tomatoes is that they probably have never had a real one. We're so disconnected from our food supply, by the time you're eating a general tomato on your plate it might have been harvested, in inventory and transit for up to five weeks. It is tasteless, it's not delicious. They [other farms] are gassing it, coloring it, doing so many things to preserve it, and we do none of that," Jennifer says.
Local artisans have also gotten involved with The Villages Grown, using their farm products to make "amazing culinary wellness products such as fermented vegetables, vegan meat solutions, jams," and so on. Many of these products can be found at Brownwood Market and the Mobile Airstream Market that cruises neighborhoods in The Villages.
"We have a whole line of perfectly curated products for optimal wellness that are all plant-based, to make it exciting for people," Jennifer says.
The company also implemented hydroponics, a method of growing plants, usually crops, in water, as opposed to soil or fertilizer.
Jennifer emphasizes that vegetables are harvested and made available to consumers within 48 hours, whether business-to-consumer or business-to-business, "which means the nutrient values and shelf life is still intact."
What are microgreens?
"Microgreens are the first food category in the world to be categorized as medicinal food," says Jennifer. "This has been backed up by Johns Hopkins University and Memorial Sloan Kettering Cancer Center, who were the first research bodies to go out on a limb and say that this is a medicinal food due to phytochemical compounds that fight chronic diseases."
According to Jennifer, John Hopkins and Sloan Kettering lost significant Big Pharma money when they published the studies, but they knew it was an important thing to do.
The Villages Grown leads with microgreens in its mission statement because they are one of the easiest – and most beneficial – things to incorporate into your daily diet. To give you an idea, the nutrients in a cup of broccoli microgreens grown the right way is equivalent to eating a bushel and a half of full-grown broccoli, Jennifer says.
She explains that microgreens are the second phase in a plant's life cycle after it sprouts, which she compares to a three-year-old who has stopped crawling and is running and full of energy, about to have a growth spurt and grow up. "It's the same thing with a plant, and that's why the energy and nutrient levels are at its optimal peak at that time, which is why that is the best cycle in a plant that we should be consuming as food," she says.
The Villages Grown grows microgreens with hydroponics in 14-day cycles. Using hydroponics produces an acre of microgreens each week.
Microgreens are typically seen as a garnish because they are visually beautiful on the plate, but Jennifer says they also have an enhanced taste and amazing smell. The Villages Grown is trying to re-educate and change views on microgreens as only garnish, because the nutrient values are so high. A third-party nutrient analysis is being done to prove that the microgreens are, in fact, medicinal and full of value. The goal is to have everybody consuming a cupful of microgreens each day.
In order to make even better use of the greenhouse space, The Villages Grown has implemented a vertically integrated hydroponics model in the microgreens house, which means there will be "shelves" up to the ceiling to create much more growing space, thereby multiplying yield.
Where can I find The Villages Grown products?
The Villages Grown already supplies a number of restaurants, and increased distribution is planned. Vegetables are also sold to the hospital system, assisted living facilities, and even local school systems. Chef Jack Braton of Turners Kitchen + Bar in Leesburg is what Jennifer calls one of their "tasting test pilots."
John LaPierra and Julie Greenwalt

Turners is well-known for being farm-to-table. It gets the majority of its ingredients from several local farms, as well as from Turners' own farm in Yalaha. Jennifer and Adam are valued customers of Turners and often bring Jack complementary samples of staples to test and give feedback on. On occasion, Jack also buys tomatoes from The Villages Grown.
"It's an excellent farm. The product that we've received has been first rate," Jack says. "Any time that you're growing food locally as opposed to importing it is a good thing."
Jack adds: "Anybody that would say otherwise just doesn't understand community-supported agriculture. The more we can source right here in our neighborhood the better off we all are. I believe that and that's why I've stood by that idea since the day we opened our restaurant."
La Hacienda Catering also started a relationship with The Villages Grown in July that continues today. During weekly meal deliveries, they advertise The Villages Grown. If a customer wants to buy a box of fresh produce from The Villages Grown, La Hacienda picks up the box and sells it to the customer, which saves a visit to the store. Customers are able to get that box with their weekly meal delivery if they like.
La Hacienda often purchases fresh staples from The Villages Grown for catering orders, salads and other meals. La Hacienda has also purchased tomatoes to make stewed tomatoes or marinara sauce.
"Freshness, better taste, the longevity of the product is better because it is so local. We get product from them within a couple of hours from harvest basically," says La Hacienda Catering office manager Beth Parker.
"I believe the local access to fresh grown, consistent product will benefit anyone who values farm-to-table style eating," Beth adds. "Their microgreens are amazing. The taste is definitely different than anything you could buy in the store. They're fresh, I know they're nutritionally potent, and I love adding them to all kinds of salads, wraps, just even as a side to a cooked meal. They're delicious."
You can find The Villages Grown produce at Brownwood Market in Paddock Square and the Mobile Airstream Market, which you can track online. Produce from The Villages Grown is close within your reach, every day of the week, and you're sure to find your favorite vegetables there all year round.
---
Where can I buy the freshest produce?
The Villages Grown
TheVillagesGrown.com
352.775.7333
Brownwood Market
2666 West Torch Lake Drive, The Villages
352.775.7866
Hours: Open Sunday from 10 a.m. to 2 p.m. and Monday – Saturday from 9 a.m. to 4 p.m.
Mobile Market
For location and hours visit
thevillagesgrown.com/mobile-market
Originally from Buffalo, NY, Victoria graduated from Canisius College in 2018 with a bachelor's degree in English and Writing. In August of 2019, she relocated to Eustis, Florida, and soon began at Akers Media Group assisting with social media projects. Later that year, she was promoted to a full-time writing position at the company and has since found her niche telling the stories of so many of Lake and Sumter County's awesome people.
Share This Story!