This Month in History: A sweet 65th anniversary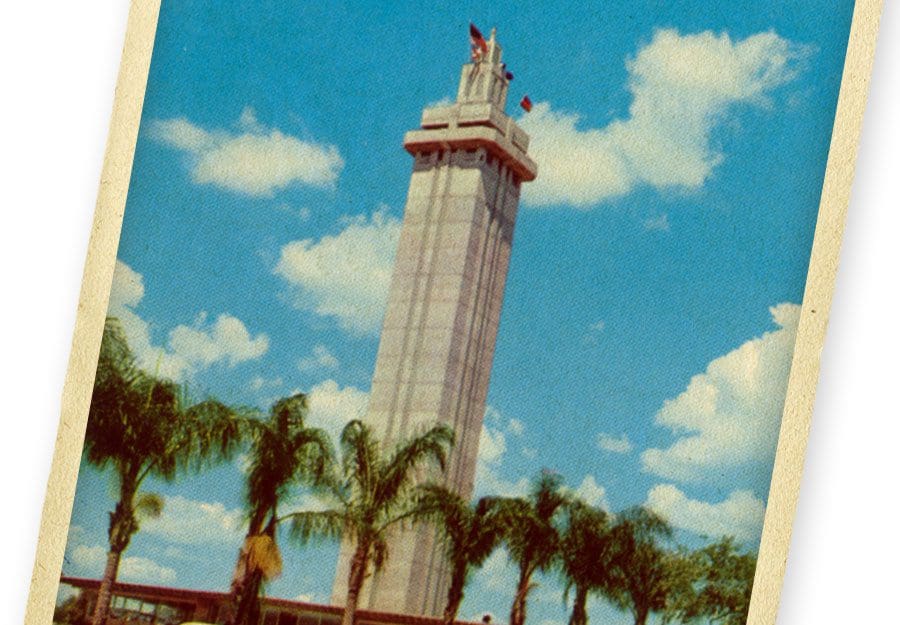 Visitors have always been juiced about visiting the historic Citrus Tower.
On July 14, 1956, representatives from Silver Springs and Cypress Gardens made their way to Clermont to celebrate the opening of the Citrus Tower, a tourist attraction dedicated to the area's once booming citrus industry. The 226-foot-tall structure is located at 141 N. U.S. Highway 27, where orderly rows of orange groves used to stretch as far as the eye could see. Today, tourists receive a bird's-eye view of a landscape of a different kind by taking an elevator ride to an observation deck and looking out into the vast horizon. 
When the Citrus Tower opened, giant theme parks had not yet found their way to Central Florida. In those days, tourists found thrills through roadside attractions featuring snake handlers, alligator wrestlers, and swimming mermaids. 
That said, the Citrus Tower was immediately a big hit. Each year, approximately half a million vacationers from around the country would stop in for amazing views and much more. In those days, the attraction also featured a gift shop and soda fountain, a restaurant and cocktail lounge, a glass-blowing studio, a candy-making factory, and an exhibit where guests could see the entire handling process for fresh fruit. Visitors received free samples of fresh-squeezed Florida orange juice and loaded up bags of the vibrant fruits to take back home.
Of course, taking the elevator ride to the top of the tower was the big highlight. The inside of the elevator door is painted with interesting facts about the structure. 
The Citrus Tower contains 5 million pounds of concrete.

 

The Citrus Tower contains 149,000 pounds of steel.

 

The tower is 543 feet above sea level and is equivalent to a 22-story building.

 

From the observation deck, visitors can see eight counties and more than 2,000 square miles.

 
When the elevator door opens at the top, guests step into a 360-degree, glass-enclosed observation deck, where helpful signs inform them about what natural and structural landmarks can be seen in each direction. To the west is the Clermont Chain of Lakes. Lake Apopka, the state's largest spring-fed lake, and Sugarloaf Mountain, the highest point in peninsular Florida, are to the north. Magic Kingdom's famous castle and Epcot Center's iconic Spaceship Earth arise from the south, and Orlando's skyline can be seen to the east.
Currently, visitors who stop in, besides riding to the top, can sit in the lobby and enjoy a film on what the Citrus Tower was once like, purchase souvenirs, or enjoy a cup of coffee or snack at the Citrus Coffee Co.