Villager writer a thriller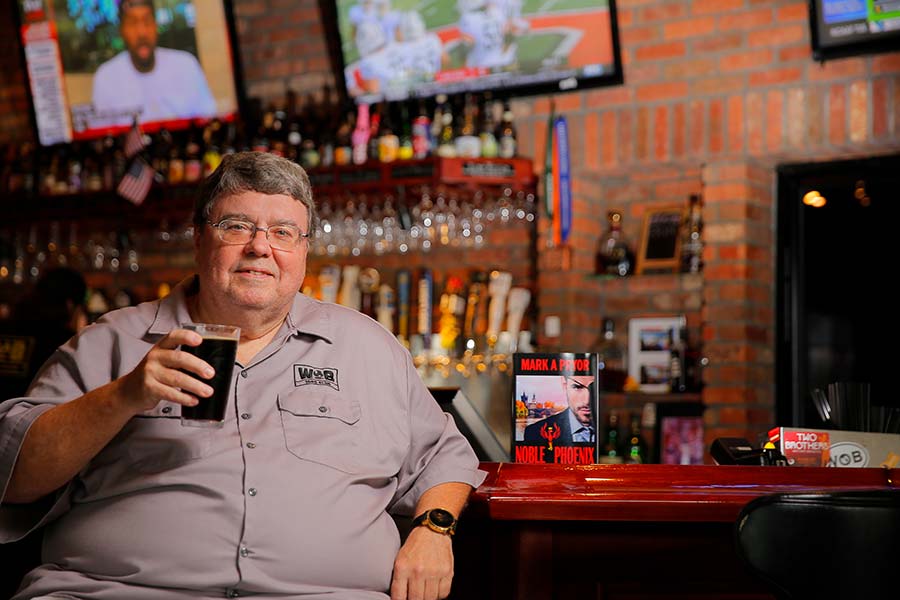 When he's not working on his novel, Mark A. Pryor is looking for his next favorite beer.
Vital Stats
First novel is "Noble Phoenix: An International Thriller," available at Amazon, GoodReads, Barnes & Noble.
*********
Has traveled to 44 states and 35 countries, and enjoys visiting breweries and brewpubs.
*********
He and his wife, Diane, live in the Village of Tamarind Grove.
*********
Programmed his first computer in 1966 and spent career in the computer industry.
*********
Describe your book briefly: Viktor Prazsky nearly loses his life at an early age during a violent demonstration in Prague, Czech Republic. An experimental medical procedure saves his life and leaves him with a powerful mental ability. Squaring off against Viktor is the grand master of a well-funded organization who has unleashed assassins and terrorists across Europe. The confrontation becomes personal, threatening Viktor, his family, and the love of his life. Can Viktor save the world from Armageddon?
Have you incorporated your career into your writing? I never had time to write a novel before I retired. My experiences from nearly 50 years in technology contributed to my writing, as did my travels for both business and fun.
Are you planning another book? I am writing my second novel, "Cyberian Affair," which I hope to publish in 2018. It opens during the American primary election. A small team of security experts takes on Russia, leading to murder and a full-scale cyber war.
Favorite author? Right now, I am one of the many "Ice and Fire" fans that is anxiously awaiting the release of G.R.R. Martin's next novel, "Winds of Winter." My favorite thriller authors include Robert Ludlum, Tom Clancy, Clive Cussler, Dan Brown, Lee Child, and Brad Thor.
Where did your interest in beer originate? In the mid-'70s, I joined a beer club and learned to enjoy quality beer. Soon, I began to read everything I could about beer and brewing, and I made a point of trying new styles and brands. Over time, I have sampled thousands of different beers.
Favorite beer? Probably my favorite IPA is Dogfish Head 120. My favorite pilsner is Pilsner Urquell. My favorite stout is probably Left Hand Barrel-Aged Wake Up Dead. For Trappist ales, it is Rochefort 10. In general, my favorite beer is usually the one I just tried for the first time.
Favorite cities? Vancouver, British Columbia; Brugge, Belgium; Prague, Czech Republic; and Fira, Santorini, Greece.
Favorite country, outside of the U.S.? Australia (only been there once, and want to see more of it).
Favorite spot in The Villages? World of Beer (of course).