Villages Charter School Boys Weightlifting Team Take Home State Championship Medals!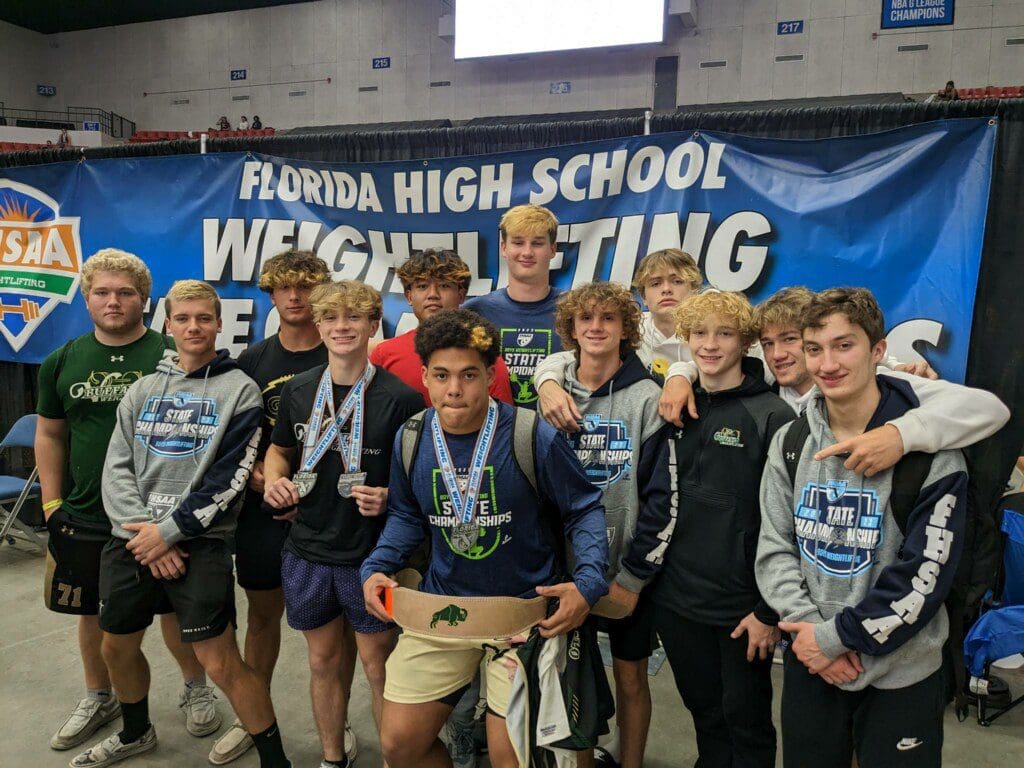 Villages Charter School Boys Weightlifting Team Take Home State Championship Medals!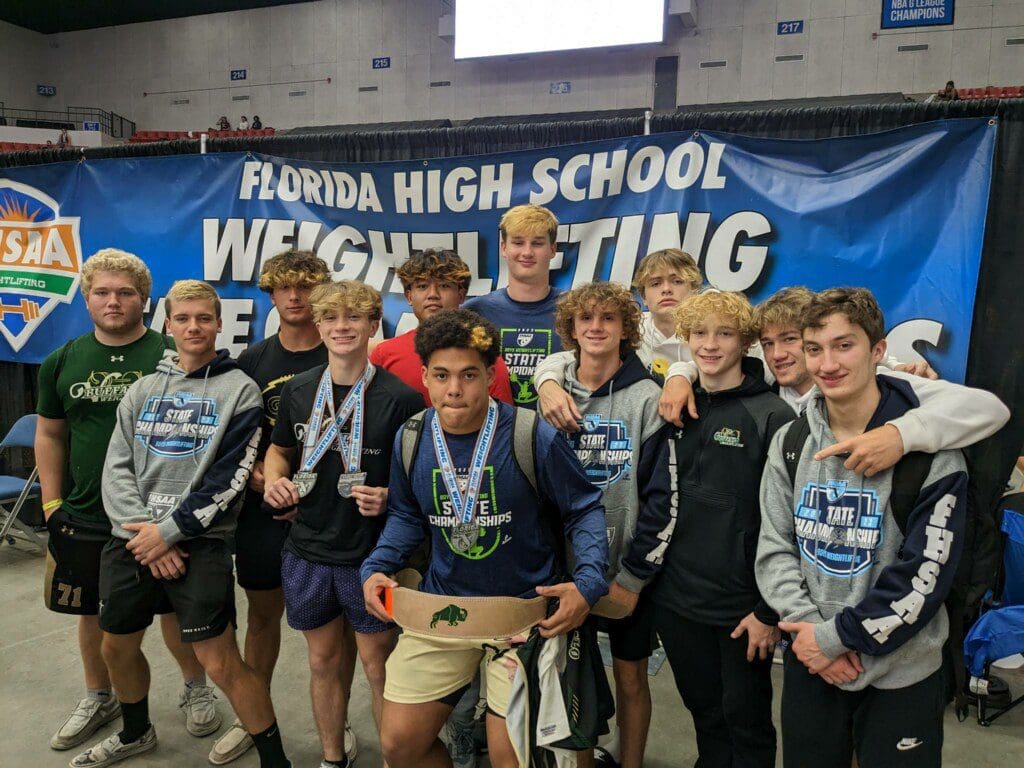 3 Villages Charter School Weightlifters Brought Home Medals! 
The Villages Charter School had their best year ever this season. While Leesburg and South Sumter stole the show this year, The Villages continue to improve their weightlifting team year after year. This season The Buffalo sent a total of 12 athletes to the State Championships in Lakeland. While only 3 of them took home medals this was a fantastic year for a Buffalo program that is on the rise.
129lb Group: Kristian Sarakinis (Junior)
Sarakinis was nearly able to bring home a state championship medal but had to settle for 2nd place in the traditional weightlifting class. Sarakinis put up a total of 460lbs in his quest for a state championship but was ultimately defeated for the second year in a row by the same athlete. Christian Simmons, from Union County put up an incredible 505lbs and won the state championship.
Sarakinis nearly became the second Buffalo athlete to win a state championship. The only one to date who accomplished that feat is Ellis Poploski who graduated last year. Poploski was a member of the Football team and had incredible power. It's something Sarakinis tries to replicate and he certainly is a powerhouse. Sarakinis not only medaled in Traditional but the Olympic category as well.
Sarakinis was able to bring home a 6th place medal in the Olympic category having put up 345lbs of total weight.  Overall it was a terrific outing for Sarakinis. He continues to improve every year and the state runner-up medal was a huge step in the right direction for this Junior. Although it's the second year in a row Sarakinis has finished in 2nd he was going up against one of the all time greatest weightlifters to ever do it in this category Christian Simmons. Sarakinis will return for his Senior season next year and will look to lead the Buffalo to an even better year!
119lb Group: Caleb Schoel (Sophomore) 
Caleb Schoel is only a Sophomore but he had his best season yet! Schoel is a standout athlete, he is one of the most impressive lifters on the Buffalo roster. Schoel was able to take home a 4th place medal in the traditional category. Schoel put up 370lbs. That was nearly good enough to take a podium spot but he just barely missed it by a hair. Schoel also came in 7th in Olympic lifting and although it was not good enough for a medal, it will drive Schoel to perform even better next season.
Schoel was a big part of the team's success to get to this point in the season. He battled all season long including through the District and Regional rounds. It was because of his lifting that The Villages was able to take home runner-up finishes in both the District Tournament and the Regional Tournament. This young athlete has so much potential. He will continue to grow and mature as an athlete. Look for Schoel to be a force in 2024!
219lb Group: Maleek Williams (Sophomore)
Another Sophomore on the list who medaled for The Buffalo includes Maleek Williams. He was in one of the toughest weight classes in the state championship. The 219lb category was stacked with talent. Williams put up a respectable 475 lbs in the Olympic category which placed him in 6th position. That would be good enough for a medal. Jackson Sovercool from South Sumter High put up 555lbs to win this weight class.
Williams has nothing to hang his head about. A 6th place medal in this class was an incredible accomplishment. Williams is only a Sophomore and was also the backup running back on the football team this year. He has nothing but potential in front of him. Just like Caleb Schoel this Sophomore will come back next season ready to improve on an already terrific 2023 campaign.
Villages Weightlifting is Growing
We talked with the head coach of The Villages weightlifting team Guice Myrick. Coach Myrick said that "This sport is exploding with popularity. Years ago we would only get 25 or 30 weightlifters to show up to a practice. Now we got 90 this year! Although not everyone made the team it warms my heart to see so much interest in this ever growing sport." The Villages sent their largest group of athletes to States this year with 12.
Coach Myrick said "Certainly the new school will help us next year. Right now we have a lack of time in the weightroom with all teams that need it. It can be a challenge to schedule it. Next year we will have multiple weight rooms which will help us tremendously." Coach Myrick is not only the weightlifting coach for The Villages he is also the PE Weight Trainer now in his 11th year. Myrick is also the Defensive Coordinator for The Villages Football team in his 6th year.
New equipment on the way! 
The New Villages High School is in its finishing stages. The new weight rooms and facilities will allow The Villages to continue to improve their weightlifting team. In the next few years it will be interesting to see if they can compete for state team championships. Congratulations to all the athletes who medaled and we look forward to seeing them next season!
Photos Provided By:
Guice Myrick
Kyle Coppola was born in Newton, Massachusetts and received his Bachelor of Fine Arts in Communications from Curry College in 2016. After traveling to Florida on a family vacation, he decided he could not get enough of the warm weather and made the move from snowy Massachusetts to central Florida 8 years ago.
For the last decade Kyle has gained valuable experience in social media content creation, marketing and sales, writing, video production, sports announcing and even broadcasting for local radio stations, such as FM 102.9 in The Villages and FM 91.5 in Massachusetts. Every year he volunteers at The Villages Charter High School as a play-by-play sports announcer for the football games as well as a public address announcer for the basketball games, including the annual Battle at The Villages Tournament.
Outside the office Kyle is a husband and father to two beautiful girls along with their cat. In his spare time he likes to spend time with his family, travel, play golf and swim. He is also a huge sports junkie and even bigger motorsports fan and loves to attend racing events when he can.
Share This Story!