Women for Hospice donate $50K to Cornerstone Hospice Foundation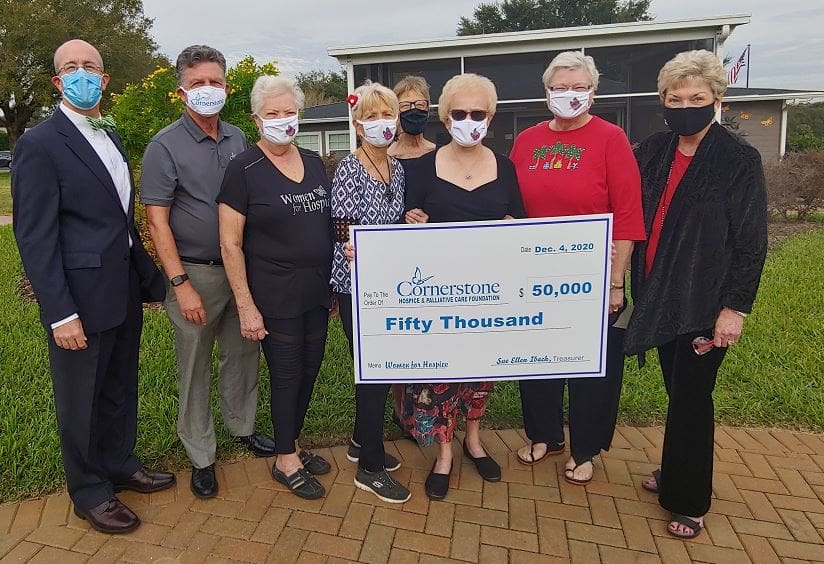 During a remarkable year when the pandemic curbed most fundraising opportunities, Women for Hospice continued their tradition of giving with an annual gift of $50,000 to the Cornerstone Hospice Foundation.
Over the last 32 years, Women for Hospice has been raising money to support local hospice programs. This recent donation increased the Lake County ladies' groups cumulative giving total to $2,875,000.
"We continue to be blessed by the loyalty and generosity of Women for Hospice members,"  Chuck Lee, Cornerstone Hospice president and CEO, says in a news release. "Their belief in Cornerstone has helped us do great work this year. Thank you to the members for continuing to support our mission and for making better end of life experiences of those we serve."
Women for Hospice typically raises money through monthly luncheons, member events and proceeds from the Hospice Hope Chest resale shop in Mount Dora.
"In a year without our monthly luncheons and with the Hope Chest closed for months due to Covid-19, the gift is reflective of the good financial management of our board of directors," said Genene Rawls, Women for Hospice chairwoman.
About Cornerstone Hospice
Cornerstone Hospice is a leading community-owned provider of end-of-life care in Central Florida and North Georgia. For over 35 years Cornerstone has set the standard for hospice care as we serve more than 7,000 people each year in Lake, Sumter, Orange, Osceola, Polk, Hardee and Highlands counties in Florida and Cherokee, Cobb, Coweta, Fayette, Forsyth, Fulton, Gwinnett, and Hall counties in Georgia. For more information, to donate, or to volunteer, call 866-742-6655 or visit www.CornerstoneHospice.org.