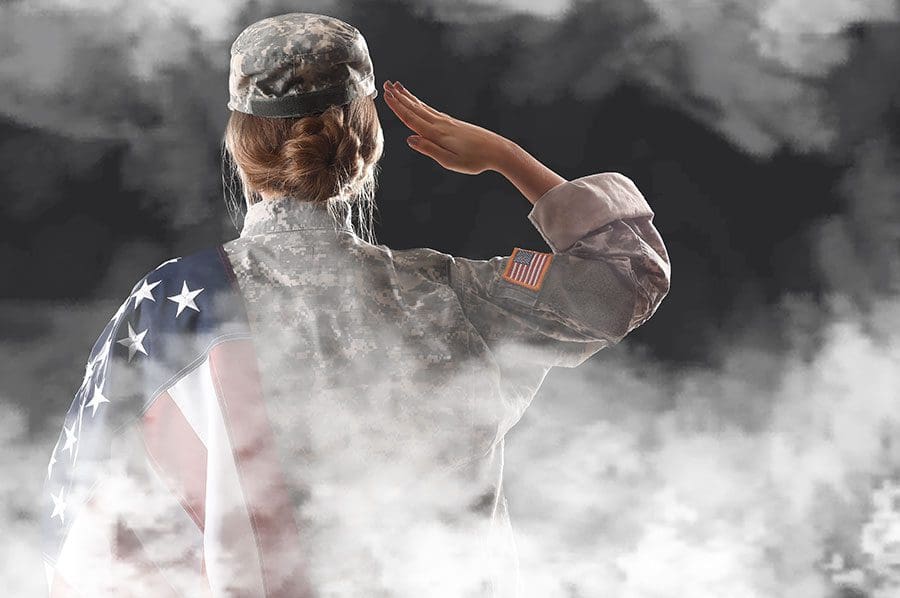 Villagers for Veterans' big project: building a transition home for female veterans in Lake County.
Villagers for Veterans continues to do more than its name implies since being formed in 2015 as a nonprofit to raise funds to help severely wounded military veterans.  
This extraordinary volunteer organization sees a need, addresses it, and devotes all efforts to make it happen. Case in point: getting building estimates toward their goal of building and operating "Ashley's House," a 4,000-square-foot transitional group home to be constructed on Grove Street in Eustis dedicated to the memory of First Lieutenant Ashley White-Stumpf, 24, who was killed by an improvised explosive device during combat operations in Kandahar Province, Afghanistan on Oct. 22, 2011. 
"The house will be an all-female veteran transition home offering women veterans a temporary safe haven while also providing job training, counseling, and much needed female camaraderie as they work towards self-sufficiency in a secure and loving environment," says Marie Bogdonoff, founder and CEO of Villagers for Veterans.
The group noted on its Villagers for Veterans website that many veterans find it difficult to transition from military to civilian life, and that some find themselves facing severe financial hardship, PTSD, and the threat of homelessness. 
Even though there are transition programs provided by the military, Villagers for Veterans members discovered many of these programs are predominately geared towards men, while female veterans find themselves isolated, with fewer options than their male counterparts and face challenges unique to women. According to a study performed by HUD and the VA, female veterans are more likely to be homeless than their male counterparts. They are also four times more likely to be homeless than their non-veteran sisters.
The Department of Labor, Women's Bureau determined that "sex-segregated residential centers staffed by qualified individuals who are sensitive to the needs of female veteran culture" was a top priority because many women have faced domestic abuse and military sexual trauma, therefore living in a co-ed transition housing facility promoted by the military is not a safe option. In one documented case, a woman who experienced sexual trauma was housed in the same facility as a male sexual offender.
"We identified a critical gap within the Veterans Administration to meet the serious needs of the ever-growing population of women veterans to have a stable environment," says Villagers for Veterans founder Marie Bogondoff, who adds that women need a place where they can feel safe "while working to create a new beginning and pathway to a successful future." 
Marie is hopeful for a late fall groundbreaking for Ashley's House. 


Villagers for Veterans Gala photos by Nicole Hamel.
Villagers for Veterans hosted its inaugural New Beginnings Gala at Lakeside Inn in Mount Dora on April 11 where they revealed plans for Ashley's House and introduced Ashley's family from Ohio, including her parents Robert and Debbie White, twin sister Brittany, and her brother Josh.
"We are so honored," Debbie said to the gala crowd of plans for a female transition house to be named in her daughter's memory. "Ashley was very quiet, genuine, passionate person and that is all she ever wanted to do was take care of whoever she was taking care of, and I am hoping that is what this house accomplishes, to take care of the women who need taken care of, because they mean everything, the veterans mean everything." 
Josh praised and thanked Villagers for Veterans for "taking it next to the level" in doing something different and needed for female veterans. 
The next fundraiser for Ashley's House will be Villagers for Veterans' seventh Orchid Gala, from 5 to 9 p.m., Aug. 7, with the theme "A Night in Havana" at the new Brownwood Hotel & Spa. 
"People of these communities are super generous, and we hope that they will support this endeavor with cash donations, building products and services and by attending our many upcoming fundraisers," says Marie, adding in order to move forward on Ashley's House, items needed are cash, building materials, electrical, plumbing, lumber and anything else that helps the group be successful.
Villagers for Veterans' mission: to ensure veterans receive the tools and assistance needed for healing, a return to normalcy and an independent lifestyle. 
 "This first house being built under our New Beginnings program will hopefully become the footprint for future homes," says Marie. "We realize the need is huge, but we need to start small so that we can make sure it is a success."
She adds that the New Beginnings Gala will become an annual event, and the next one is slated April 9, 2022, at Eustis Community Center, "and we want the community to be a big part of it." 
Marie is eager to see Ashley's House come to fruition. 
"The most exciting thing is the fact that we will meet a great need," she says. "Women veterans are so very special and having Ashley's family bless us with the permission to honor Ashley's sacrifice is very humbling. It will serve to remind these women of the amazing sacrifice and it will give us the opportunity to thank them for their service." 
Author Gayle Tzemach Lemmon penned the compelling book, "Ashley's War: The Untold Story of a Team of Women Soldiers on the Special Ops Battlefield," a New York Times' bestseller which is in pre-production for a movie to be produced by Reese Witherspoon, Bruna Papandrea, and Natalie Krinsky. 
In 2010, the U.S. Army created Cultural Support Teams, a secret pilot program to insert women alongside Special Operations soldiers, Army Rangers, Navy SEALs and other special operations teams on sensitive missions in Afghanistan. The Army reasoned that women could access places and people inside Afghan homes that male soldiers could not and that female soldiers could play a unique role on Special Ops teams, accompanying male colleagues in questioning Afghan women. They could search adult women for weapons, gather crucial intelligence, and build crucial relationships—woman to woman—in ways male soldiers were unable to do in an Islamic country. 
"I'll be with the Rangers, not kicking down doors or anything, but as an enabler. I'll be going into more dangerous areas, getting much closer to real combat, but I'll be with the best of the best." ­­— First Lieutenant Ashley White-Stumpf

Photo courtesy of Catherine White.
The CST's work would take place in the midst of night raids aimed at capturing the weapon makers, fighters, organizers, funders and insurgency leaders with whom the women lived as mothers, wives, sisters, daughters, and grandmothers. 
Ashley was commissioned in the U.S. Army as a Medical Service Corps Officer after her graduation from Kent State University. When she heard about the CST program, she was running drills at the local armory in Goldsboro, North Carolina, where she was serving as a medic with the National Guard. She saw special ops recruiting posters that urged the women to join the mission "and become part of history." 
Ashley passed the grueling tests to become part of the elite unit of females hand-picked from the Army to serve in the highly specialized and challenging role. 
She was assigned to the 230th Brigade Support Battalion, 30th Heavy Brigade Combat Team, North Carolina National Guard, Goldsboro, N.C., and served as a member of the Cultural Support Team attached to a Joint Special Operations Task Force in Afghanistan. 
"I'll be with the Rangers, not kicking down doors or anything, but as an enabler. I'll be going into more dangerous areas, getting much closer to real combat, but I'll be with the best of the best," Ashley quietly told her brother Josh, who recalled the conversation in the book "Ashley's War." She continued, "And I am going to be with an amazing bunch of girls who all made it through this pretty tough selection and training process. It's a pretty incredible team." 
Catalyst for starting Villagers for Veterans: Marie Bogdonoff attended a Christmas party at Walter Reed Medical Center on Dec. 7, 2014 for veterans recuperating from injuries and was stunned to see many warriors were still recovering from devastating injuries. The trip motivated Marie to start the nonprofit, 100% volunteer group Villagers for Veterans to help severely injured vets regain their independence.
Ashley kept the details of her deployment a secret from her parents. She didn't want them to worry. She had them believing she would be setting up medic tents in Afghanistan. 
The book also tells of Ashley's youth, the sweet love story of Ashley meeting and marrying her husband Jason, whom she met during her first months at Kent State University, and of the special bond she formed with fellow female soldiers in the CST program. 
Ashley was the first CTS member killed in action. Her name was placed on the Army Special Operations Memorial Wall of Honor alongside Army Rangers she served with in the unit. She was posthumously awarded the Bronze Star, the Purple Heart, the Meritorious Service Medal, the Afghanistan Campaign Medal, and the Combat Action Badge.  
On Veterans Day 2013, one of Ashely's fellow soldiers spoke of her dedication at the National Infantry Museum ceremony: "When Ashley White-Stumpf became an angel, she was at the apex of her life. She was a newlywed with an incredibly loving and supporting husband. She had just purchased her first home. She had a good job and an amazing family. And yet Ashley asked, "What can I do, how can I make a difference?" 
Think about that for a minute. How much better would this world be if every person, at the happiest, most fulfilled point in their life, thought not for themselves, but for the good they could do for things bigger than themselves?" 
It is a question for each of us. Author Gayle Tzemach Lemmon ends "Ashley's War" with those eight words.
"When I was reading the first chapter of the book, it gave me chills and backflashes," recalls Kathryn Wilgus, retired lieutenant commander of the U.S. Navy, who serves as vice president of Villagers for Veterans. 
Kathryn was an operating room nurse in Kandahar, Afghanistan and also deployed to Mazar-e Sharif, Afghanistan as a medical embedded training team member and female engagement team member that went on some special ops to interact with the Afghan National Army and police. 
Unlike Ashley, she says, "I didn't have to go knocking on doors." 
Kathryn began her military career in 1987 as part of the U.S. Army Reserve Delayed Entry Program and enlisted as an operating room technician. Some of her other key deployments were to Landstuhl, Germany in support of Operation Enduring Freedom; and a deployment on the United States Naval Ship Comfort for their Continuing Promise Mission to Antigua, Columbia and Panama. She retired in 2016 with 20 years combined military service. 
​Kathryn cherishes serving as the board vice president of the Villagers for Veterans where she has promised on the group's website to be a "force of nature" to move mountains and achieve great things for Veterans in The Villages as well as the Central Florida and greater Orlando area.
Other board of directors for Villagers for Veterans are Paul Immordino, treasurer; Stephanie Gradford, military liaison; Sonya Kurfliss, secretary; Kevin St. Amant, Veterans Affairs director-at-large.  
To learn more about Villagers for Veterans' services, programs and activities, visit VillagersforVeterans.org or call 516.220.5068.
---
Some of the group's notable projects: 
Presented disabled Army Sgt. Pam Kelly with a new smart home on the historic side of The Villages after a major fundraising campaign. Pam suffered a devastating injury in 2002 while training for deployment to Iraq which left her permanently paralyzed with very limited use of one arm.
Brought actor and veteran activist Gary Sinise to The Villages twice in 2019. He is best known as Lt. Dan in the movie "Forrest Gump." Gary made an appearance to promote his best-selling book, "Grateful American: A Journey from Self to Service," and returned with his 13-piece Lt. Dan Band, performing at Lake Sumter Landing. The Gary Sinise Foundation aims to entertain troops, perform at USO shows, and raise money for disabled vets. "The point is, each and every one of us can all do something to empower Veterans and make their lives better. It doesn't have to be a big thing. You just have to take the time to care," Gary says on the Villagers for Veterans website. 
Villagers for Veterans successfully raised $100,000 for an all-women Honor Flight to take place in early 2022. 
The group spearheaded a USO-themed event at Paquette's Historical Farmall Tractor Museum in Leesburg to benefit Project SOS, which provides food to veterans and their families in the Ocala National Forest. 
Villagers for Veterans is currently selling memorial bricks, ranging from $75 for a 4×8 brick to 8×8 bricks with logos for $175. The bricks will form the base of the flagpole at the women's transition home in Eustis and be used to create a pathway from the house to the reflection garden. 
Meetings and events: 
Villagers for Veterans' meetings have resumed on the third Tuesday of each month, 6 to 8 p.m. at Lake Miona Recreation Center. Meetings focus on upcoming events, and members are to bring their own snack and beverage. Speakers, movies and more are featured at the meetings. 
Villagers for Veterans' monthly bingo is back on the second Monday of each month from 6 to 8 p.m. at Wildwood Community Center. Doors open at 6 p.m. Admission is $5 at the door. 
The seventh annual Orchid Gala, "A Night in Havana," begins 5 p.m. Aug. 7, at Brownwood Hotel & Spa, 3003 Brownwood Blvd., The Villages. Music will be provided by Latin Fusion, and the gala will feature dinner, cash bar, silent auction, and a special appearance by the Hula Hands in Aloha. Tickets for the gala are $75. Proceeds from the gala will benefit Ashley's House, the first transition home for female veterans to be built in Eustis.