Fork on the Road: Good sports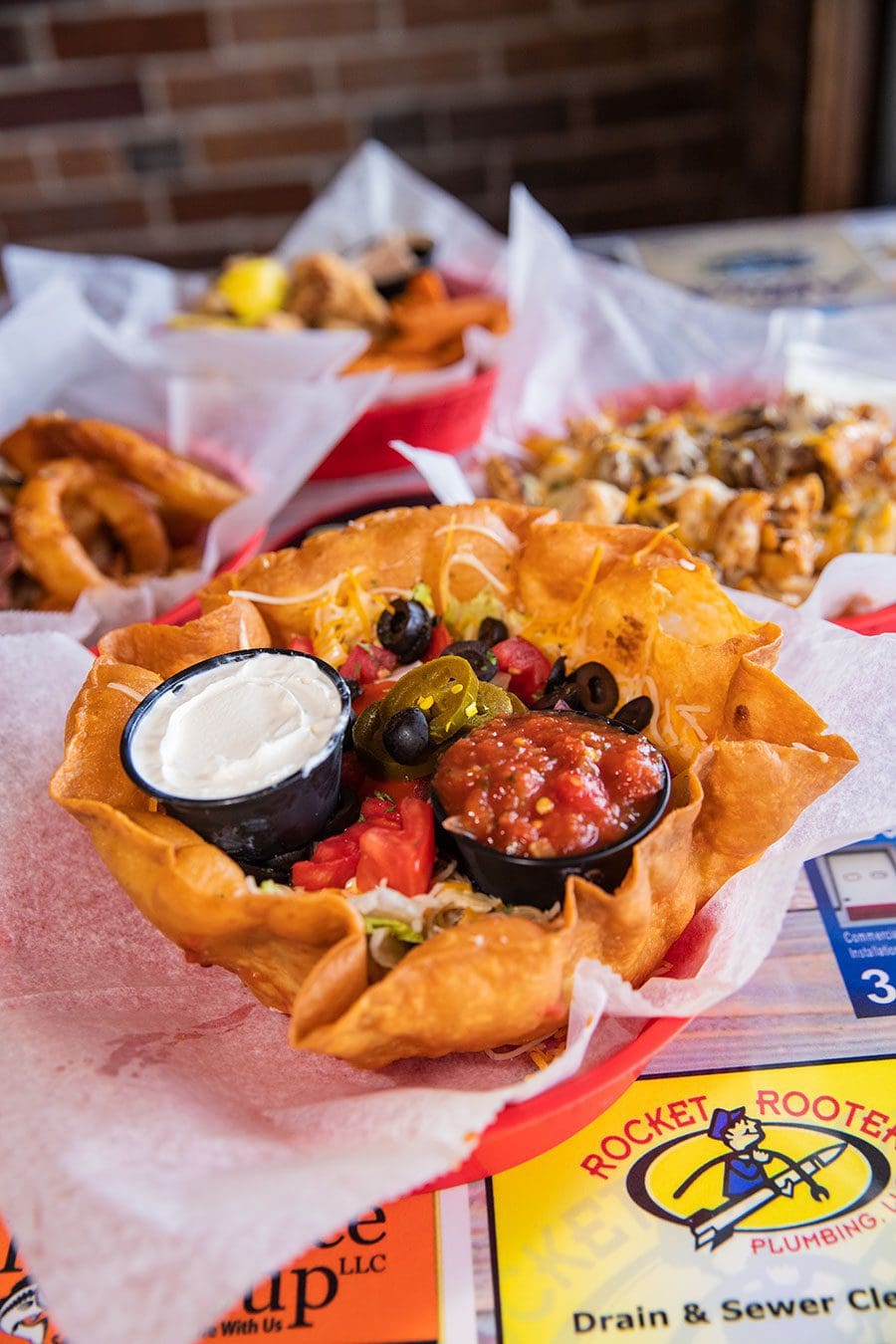 Gators of Umatilla scores lots of points on delicious food.
Photos: Anthony Rao
At Gators of Umatilla, the infamous Boobie's Burger tastes as good as it sounds. 
OK, get your mind out of the gutter. This isn't what you think. 
The burger, named after owner Beau Patteson, is topped with a half-pound patty, thin-sliced corned beef and extra Swiss cheese. Not surprisingly, it has become one of the restaurant's most-treasured menu items. 
"My husband's name is Beau, and I call him Boo for short," says his wife, Christina Patteson. "I combined the two names and his nickname ended up being Boobie. Customers love to order the burger because they get to say boobie. It creates lots of laughs."
The Pattesons, who opened the restaurant in 2017, have been game-changers in the sports bar industry by taking the quality of food up a few notches. Now, they're scoring touchdowns and hitting homeruns with menu items that feature distinct tastes, and lots of creativity behind each dish.
Quality food is a point of pride for Christina, who has spent most her life serving as cook and general manager of other restaurants. 
"It doesn't matter that we're a sports bar," says Christina, a 1991 graduate of Mount Dora High School. "Food should be the showcase of any restaurant, not the fact that we have 14 television sets. We feel our menu is large enough that there is something for everybody."
That's an understatement. Even the state's most iconic creature has slithered out of swamps and rivers to make its way onto the menu. Guests can start their meal with Cajun gator tail. Unlike some restaurants where gator tail is mostly breading or too tough and chewy, Gators of Umatilla serves up large, soft, meaty pieces with light, golden-brown breading and just the right amount of crunchiness. 
The Swamp Fries might be a more appealing appetizer choice for those leery about digesting bite-size pieces of Florida's most-popular reptile. A bed of fries is drizzled in ranch dressing and covered with cheddar cheese, shrimp, steak chicken, and bacon. The plate is so filling that it can be ordered as the main meal. 
Hamburger junkies who hop from restaurant to restaurant in search of the delicious burger will feel elated. Gators of Umatilla offers a variety of burgers and serves each one with a half-pound, Black Angus patty.  The Cowboy Burger is topped with hickory-smoked bacon, cheddar cheese, onion rings, and barbecue sauce. Equally popular is The Bison, which comes with grass-fed, all-natural buffalo, seasoned and seared to perfection. Christina is partial to The Trina, which is named after… well… her. It features a half-pound beef patty served on a bed of crispy iceberg leaves with extra tomato, pickles, and onion. 
The menu offers other favorites such as quesadillas, salads, and entrees like country fried steak, meatloaf, grilled chicken, pork chops, and chicken wings. 
The Pattesons do not skimp on quality. 
"We make our own potato salad, we make our own cornbread, and we make our own homemade chili and queso," Christina says. "We order our french fries and lunch meats through quality distributors. At the end of the day, we don't want anyone to leave here unhappy or hungry."
Few ever leave hungry, especially ones who come for the all-you-can-eat haddock on Fridays. Nor do they leave unhappy, particularly the crowd that comes in for bingo on Tuesdays and Thursdays or the ones who come for Monday night poker. 
"I'm passionate about food and I'm passionate about people," Christina says. "Nothing makes me happier than seeing people enjoying themselves and having a good meal without spending a fortune."
Like any smart restaurateur, the Pattersons, who moved to Umatilla in 2015, have entrenched themselves in the community. They are active in school functions and fundraisers and support animal shelters. The couple offers discounts for military veterans, seniors, and children. 
"Owning a restaurant is a busy career that never stops, but it's also very rewarding," Christina says. "I meet a lot of great people. We're here for the community and the community is here for us. We invite everyone to come here and try us out."
The Boobie's Burger alone should entice everyone to take her up on that offer. 
---
Gators of Umatilla 
9 N. Central Ave., Umatilla
352.669.6969
Gators of Umatilla provides catering for special events and offers a private dining area to host banquets. The restaurant also has a full-service bar.