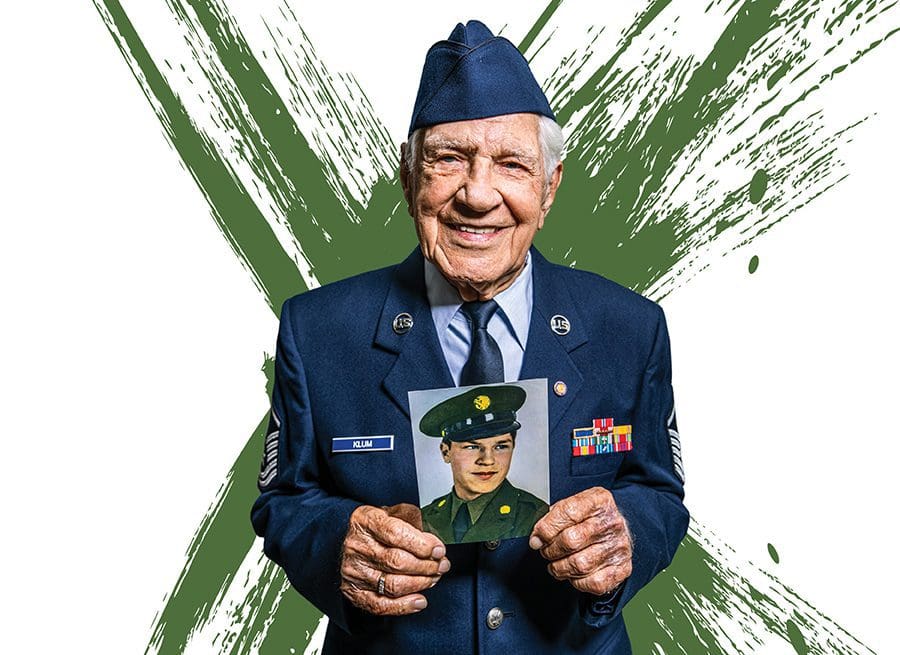 Proud Warrior
At age 99, Frank Klum relies on a strong memory to enthusiastically share vivid details of his World War II experiences after enlisting in the Army AirCorps two days following the bombing of Pearl Harbor. 
"I remember on the day of Pearl Harbor my friends brought a radio to me and said, 'We're at war! The Japanese are bombing us.' I had already planned to join the military, and they asked me if I was still going into the service. I said, 'Nothing will stop me.'"
Nothing stopped Frank when he served in the 97th Bomb Squad of the 47th Bombardment Group. He walked away from a train wreck while traveling to a base in Oklahoma, survived intense bombing from German planes while stationed in North Africa, and returned from his first and only bombing mission – aboard a B-25 Mitchell Bomber that took out a bridge in Valence, France. 
Highlights of his service included seeing General George S. Patton while stationed in Tunisia and watching comedian Bob Hope perform in southern Italy. 
After the war, Frank reenlisted and remained in the military until 1962. He earned numerous medals, including the Bronze Star, Good Conduct Medal, American Defense Service Medal, and the Presidential Unit Citation. 
Frank, who later spent 22 years with the U.S. Postal Service, turns 100 in January. 
"I don't really know how I lived so long," says Frank, who has resided in Clermont since 1998. "I guess it's because I've been active my entire life."