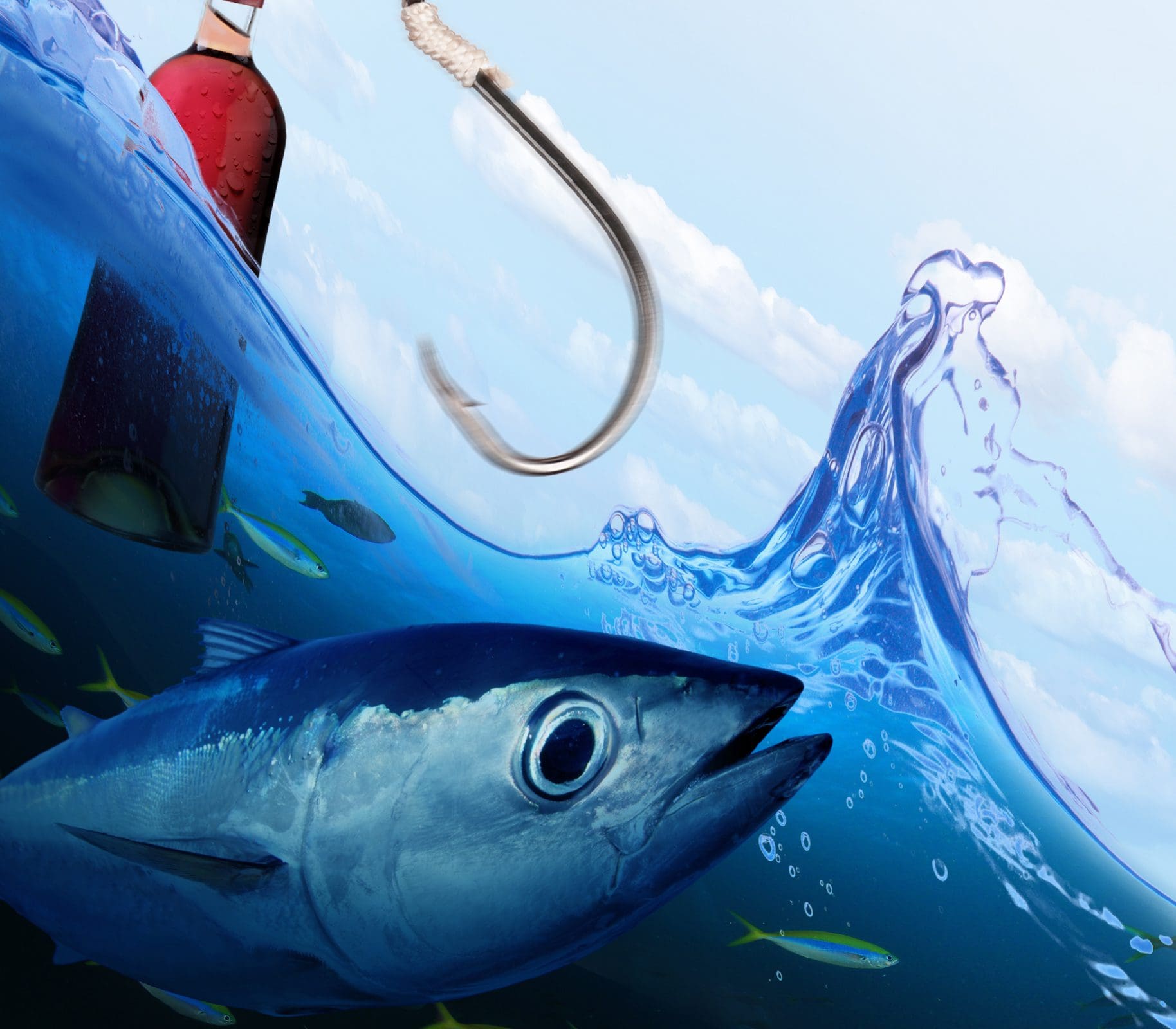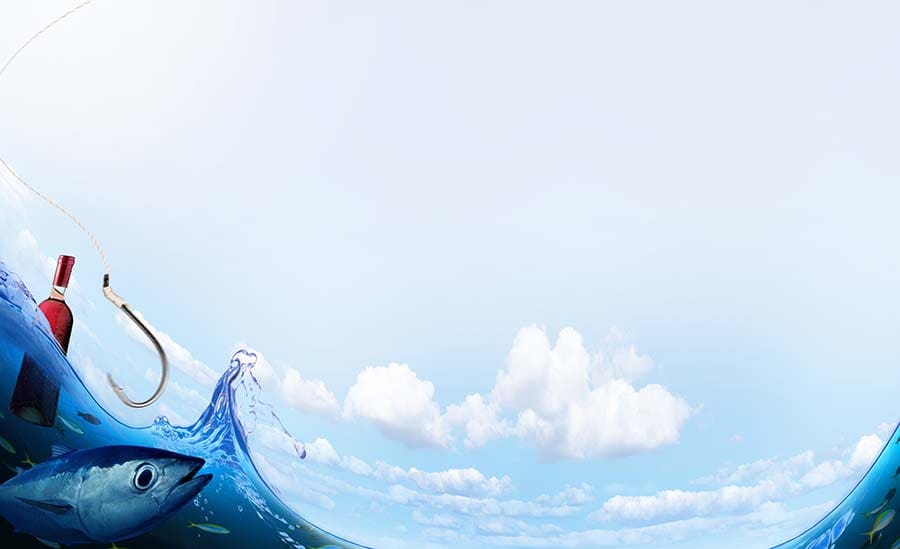 Think outside the Chardonnay box when selecting wines to pair with seafood—different varietals can enhance the flavors of both the fish and the wine.
Pairing food and wine is sort of like alchemy—the simplest dish can be exotic if the wine is a good match and enhances the food. A poor match, however, results in disappointment with both the wine and the food. 
It's not just about the fish itself when choosing a wine. Consider how sauces and spices will influence the flavor. Blackened grouper needs an aromatic, fruit-forward wine, like an Alsatian riesling to temper the spicy, full-on flavors. A grouper filet pan-fried in butter or olive oil meets its match with a Loire Valley sancerre from France.  
If you've read Saluté for a while, you know the pairing I write about most often is grilled salmon with pinot noir. I had no idea how much better salmon could taste when served with a soft, fruity red wine until I tried them together. 
Since the beginning of summer, I've been experimenting with pairing newly released wines with different kinds of fish. I've found some white wines are too bold and actually overpower a light fish. Food and wine should complement and enhance each other, not compete for attention. 
If I had to pick just one varietal to accompany fish dishes, it would be a dry rosé—the most food-friendly wine I know. It's a perfect fit for most summer menus, and I've had dry rosé with grilled mahi-mahi, grouper cakes, and tuna steaks, and the crisp, dry wine worked with all three. 
But don't limit yourself to one varietal of wine. The fun is in experimenting with how wines and fish combine to bring out the best flavors of both. Here are some other fish-and-wine combinations to achieve the yin-and-yang effect, bringing a whole new taste dimension to your summer meals: 
FRESHWATER BASS
Bass, as well as perch, trout, and brim, are less salty than ocean-going fish; therefore, they can stand up to a chardonnay but preferably one that is unoaked. When this mild, flaky fish is prepared simply, like frying or baking, choose a wine with less acidity.
Suggested: Blindfold 2016 California White from the Prisoner Wine Co. The label is a little strange, but if you were blindfolded and tasted this wine you would have a hard time deciding exactly what you were drinking. That's because it's a blend of chardonnay, roussanne, viognier, chenin blanc, muscat, and vermentino. In other words, something for everyone, but it paired well with several kinds of fish. Suggested retail price, $30.  
MAHI-MAHI 
This summer, mahi-mahi seems to be on every restaurant menu, replacing grouper as the mild fish of choice. Found in off-shore temperate, tropical, and subtropical waters, mahi-mahi has a thick skin that should be removed before cooking and a translucent pinkish flesh and a bright red bloodline. 
The wine you choose to drink with mahi-mahi will depend on how you prepare the fish. If you grill or bake it, select a white, aromatic wine like a French sancerre or a fruit-forward sauvignon blanc. If you prepare the fish with a cream sauce or a tomato-based sauce, you won't go wrong with a rosé.
Suggested: Nobilo Icon 2016 Sauvignon Blanc from Marlborough, New Zealand. Established in 1943, this winery produces consistently good wines, both sauvignon blancs and pinot noirs. This complex wine has fruit flavors of melon, tropical passion fruit, and citrus. It meets its match with pan-seared fish. Suggested retail price, $22.   
YELLOWFIN OR AHI TUNA
Meatier and oilier than most white fish, tuna steaks need wines that will stand up to their special flavor profiles. Pan-searing or grilling seem to be the preferred methods of cooking so the fish flavors will be dominant. 
Suggested: 2017 Bila-Haut "Les Vignes" Rosé by Michel Chapoutier from Southwest France. This blend of grenache and cinsault delivers red fruit and has crisp mineral flavors with a hint of citrus. It pairs well not only with tuna steaks, but also grouper cakes and salmon. Suggested retail, $15. 
FLORIDA SCALLOPS 
Although not a fish, bay scallops in July can't be ignored on summer menus. After all, scalloping is one of Central Florida's favorite summer pastimes. The tender morsels are easy to cook: just toss in a pan with some wine, garlic, and lemon juice, and sauté for a minute or so. The delicate flavors need a light but rich wine. Think silky instead of acidic. 
Suggested: 2015 Robert Mondavi Fumé Blanc, Napa Valley, is a lush, mouthwatering wine that is refreshing and silky. Mondavi created Fumé Blanc wines from a blend of sauvignon blanc and Semillon that other winemakers have since copied. This one, however, continues to be a favorite, especially with bay scallops. Suggested retail price is $20.
Tasting notes defined
ELDERFLOWER
In May, the wedding cake for Prince Harry and Meghan Markle was lemon elderflower. Small, white elderflowers grow on elderberry bushes, which are found throughout the United Kingdom, northern Europe, and in parts of North America. The English infuse elderflowers into cordials and have even fermented elderflower wine. In grape-based wines, the pungent aromas—a cross between herbaceous and floral notes—are often found in dry, cool-climate wines such as sancerre from France's Loire appellation, and sauvignon blanc from the Marlborough region in New Zealand.