Meet a Villager: Different strokes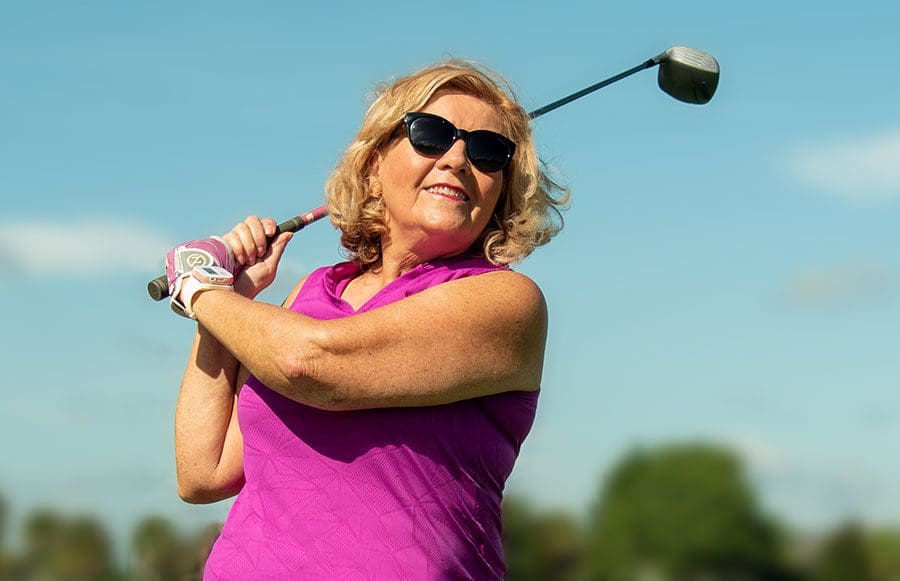 Villager meets her bucket list goal of playing golf on all 76 courses in The Villages from May 2018 to March 2021.
 Photo: Nicole Hamel
Villager Marlene Dignan has a passion for golf; however, she had no interest in it decades ago. "I didn't like it at all," she says. 
She was back home in Pittsburgh for Father's Day the first time she golfed. Her family had started an annual golf outing before a meal of ribs at her brother's home. 
"I just wanted to be with them," she recalls. "I never really got connected much with the ball." 
After moving to Arizona in 2005 and working as a Realtor, she decided to give golf a second shot when a title company offered free golf lessons. In the process, Marlene became friends with Rose, another new golfer. 
"We played a couple times a week in the summer when the rates were the lowest and fell in love with the game. Because we were newbies, our way of determining the winner was the amount of golf balls we found in the shrubs and sand," she says, grinning.
From Arizona, Marlene and George, her husband of 44 years, moved to Florida. They first settled in Palm Harbor, where Marlene enjoyed playing golf. Once George learned of The Villages and more golf opportunities for his wife, he arranged for them to stay in Brownwood to experience The Villages lifestyle for a weekend. 
The rest, as they say, is history. The Dignans fell in love with The Villages and chose to the move into a Mount Vernon villa in the Village of Liberty Park. 
"I said to myself, 'I'm going to golf all the courses here in The Villages and it will become my new bucket list.'" 
Marlene made it happen. The first course she golfed was Gray Fox, a part of Fenney, on May 5, 2018, and she completed her goal on March 23, 2021, golfing on Osprey at Evans Prairie Country Club. 
"I learned I loved playing the championship courses because I love to hit them long. For me, 162 yards was the longest and farthest I have ever hit," she says. "But the more you play, I believe the better you get."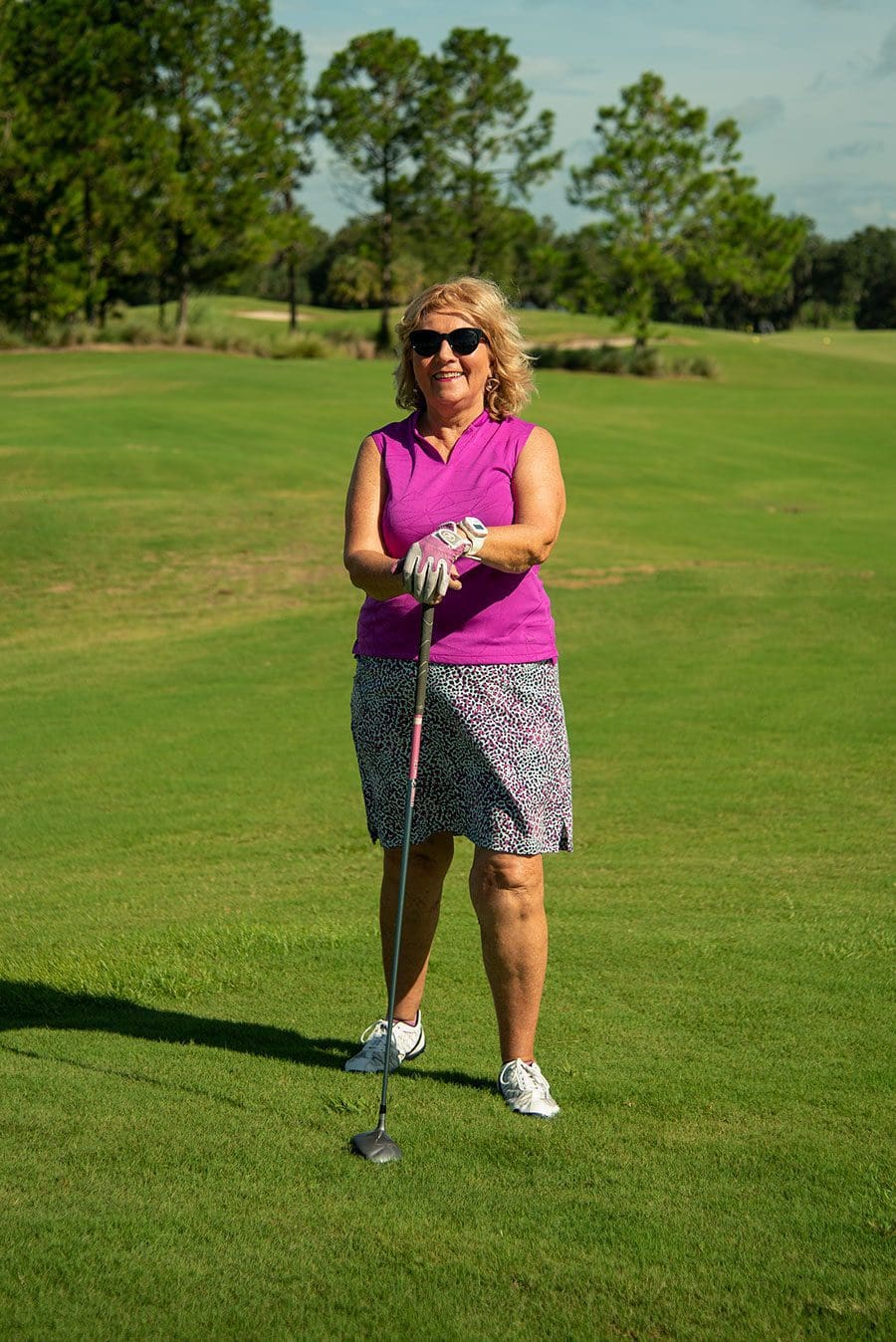 She's never had a hole in one, but she has had birdies.  
Marlene's favorite championship course was Mallory Hill's Amelia, for "the twists and turns of the course," she says, of hitting to the unknown when the course turns left and hitting uphill and downhill.
"The executive course I still love the most is Volusia because of the most wonderful view of The Villages from holes 2 and 3. I also love playing Amberwood. It is tucked away in the woods, almost to Road 42, north of The Villages. And in the Village of Fenney, Gray Fox is my favorite of being all alone in the woods with no houses, cars or distractions." 
Marlene now aspires to form a group with other Villagers who have golfed all 76 courses. 
"Perhaps we could be one of the first to go and golf the new courses together. Wouldn't that be fun?" she says, eager to experience the new courses to be built in The Villages. "I know there are more professional players than me, but I just love to get out there." 
Those interested in the being part of the golf group are encouraged to email Marlene at we2blessed@gmail.com. 
When she's not golfing, Marlene enjoys organizing monthly neighborhood gatherings and block parties. She and her husband also cherish golf cart rides around The Villages, listening to music on the square at Lake Sumter Landing, and playing bocce ball together. 
"It's just so beautiful here, and having golfed all of The Villages, it's kind of neat because there is a lot to see," she says. 
Originally from Anderson, Ind., Theresa worked for The Herald-Bulletin for many years. After experiencing a winter with 53 inches of snow, her late husband asked her to get a job in Florida, and they headed south. Well known in the area, Theresa worked with The Daily Sun and The Daily Commercial prior to joining Akers.
Share This Story!