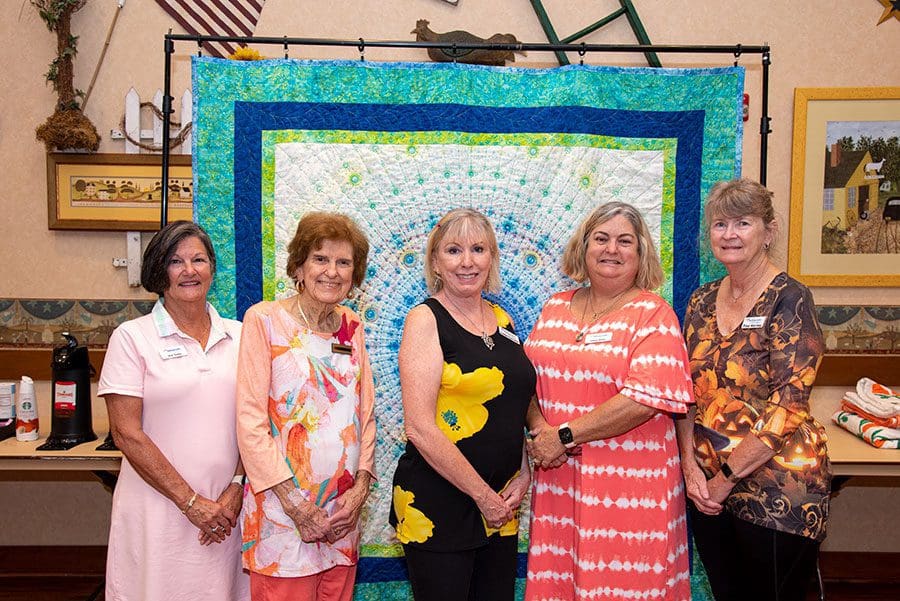 Sometimes, something as small as a quilt can carry a big message of love.
Photos: Nicole Hamel
They warm arms. They warm legs. 
And, most importantly, they warm hearts. 
Members of the Mulberry Quilters Chapter of The Villages Quilting Guild enthusiastically use their skillful hands to sew beautiful quilts and sow seeds of goodwill. The recipients of their generosity include child victims of human trafficking, terminally ill hospice patients, hardworking first responders, heroic military veteran, and abandoned dogs. 
Recently, the 67-member group made 17,000 facemasks that were distributed throughout the United States, as well as Mexico and Haiti. They also donated 100 quilts to the Child Advocacy Center in Gainesville, 40 wheelchair quilts to The Villages Hospice House, and 42 quilts to a local fire station. 
The group tracks its expenses. In 2020, the Mulberry Chapter of The Villages Quilting Guild's charitable projects totaled $60,000.  




Oftentimes, members work alone inside their homes. Finding enough space can be challenging. Their living room floors are covered with brightly colored squares of cloth and their walls are covered with yards of thick fabric. They may spend as many as 30 hours making a quilt before it's sent off to someone they'll likely never meet. 
But that's perfectly fine with Carolyn Aymond, who serves as secretary of the club. She thinks nothing of giving hers away. 
"You have to let go of the quilts," Carolyn says. "Once you give a quilt to somebody it's theirs. You cannot control how someone uses the quilt. But we do know it provides comfort to that person, and the person receiving the quilt knows we put a lot of love into making the quilt. I don't mind giving them away because I can't keep them all anyway."
Sometimes, the women hear firsthand how they are making the world a little warmer and more colorful. In October, a representative from the Child Advocacy Center spoke at a club meeting and talked about the prevalence of child abuse. In 2020, the CAC in Gainesville received more than 2,000 reports of child abuse. Fifty children were rescued from human traffickers.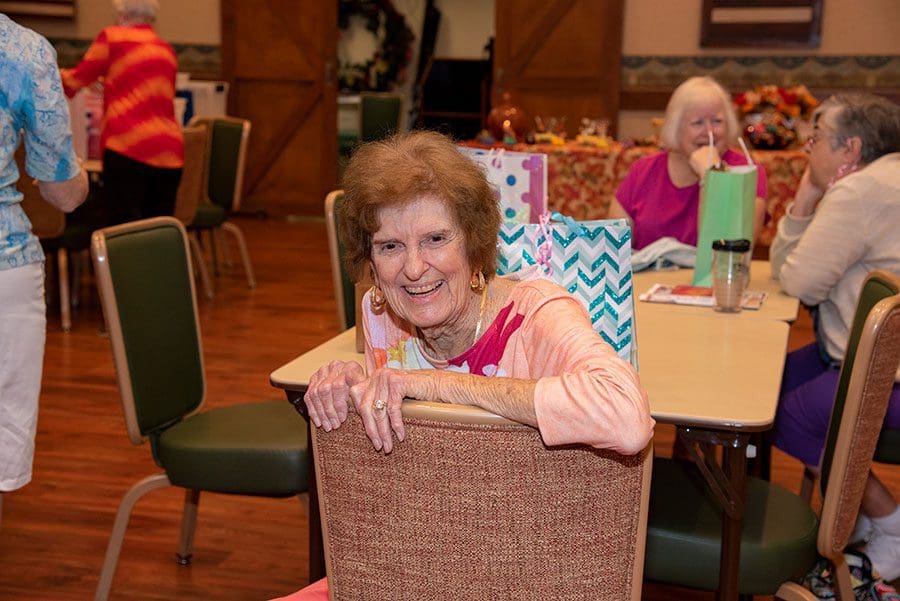 For those children, a quilt is something to hold onto. Just the warmth of covering their body is comforting. 
"These children have to endure the stress of being interviewed by police officers and social workers," says Dale Angione, who formed the Mulberry Quilters Chapter of The Villages Quilting Guild in 2003. "When they come in, they have a choice of picking one of our quilts or picking from a box of toys. Nine out of 10 times they choose our quilts. They enjoy having something bright and colorful to wrap themselves in."
Every cut, stitch, and tie in producing a quilt is a reminder to the needy that they're loved and never forgotten. 
"It's great to use our artistic talent to make someone's life better," says Barbara Morse, who has been a member of the club since 2010. "I especially love when one of my quilts is given to a child. For them, the quilt feels like protection."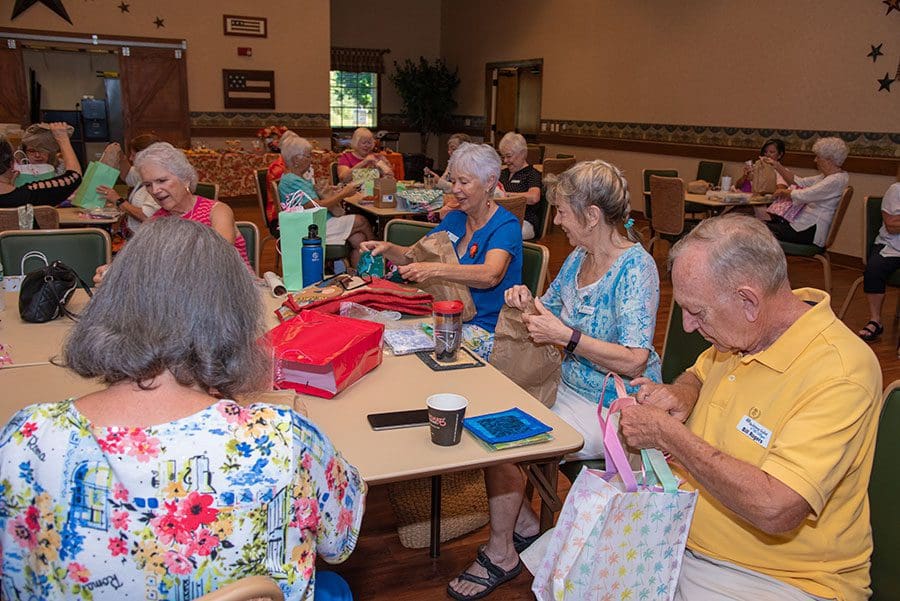 Here's the kicker: adults like them just as much. In fact, Fire Station 10 in Marion County contacted the group and requested quilts for their firefighters. 
"One of the young men said that we can't tell you enough how much the quilts mean to them," says Althea Walker, who handles the club's charitable affairs. "It's the right thing to do."
Doing the right thing sometimes means paying out of pocket for necessary equipment such as sewing machines, fabric, batting, pins, needles, and thread. That doesn't entail cutting corners. 
"Quilters are generous with their time and pocketbooks," Dale says. "If they find fabric in a kit they don't like, they will go out and buy their own fabric in order to make the quilt look appeasing. If you put time and energy into a quilting project, you want it to look good. Just because our quilts are being given to poor people or people in dire straits doesn't mean they should be presented with something that doesn't look nice."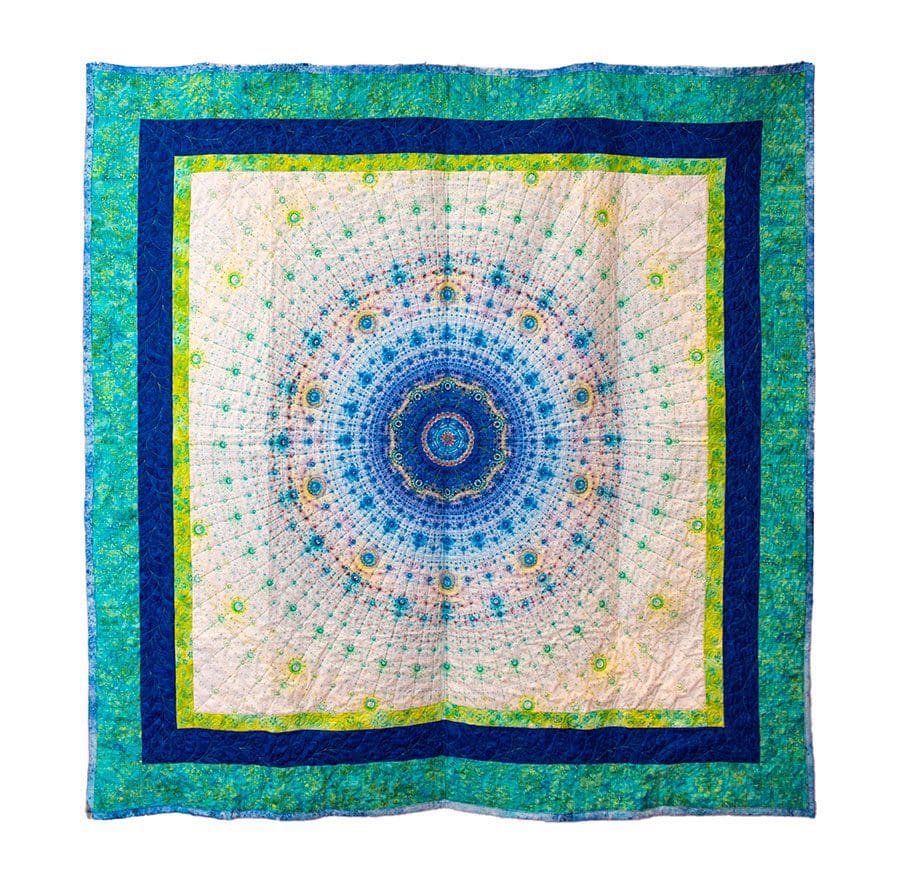 The art of quilting
The Mulberry Quilters Chapter of The Villages Quilting Guild is one of 29 quilting guilds in The Villages. The group meets every Tuesday at the Mulberry Recreation Center at 9 a.m. 
Quilting can be traced back to ancient Egypt, and members continue the legacy of their forebearers, though their hobby has evolved into more of an art form. They combine imagination and meticulous sewing and tying skills to create beautiful artwork in the form of fabric. 
Dale took up the hobby in 1996 and retired one year later after spending 35 years as a schoolteacher. She began taking quilting classes at Commack High School North in New York.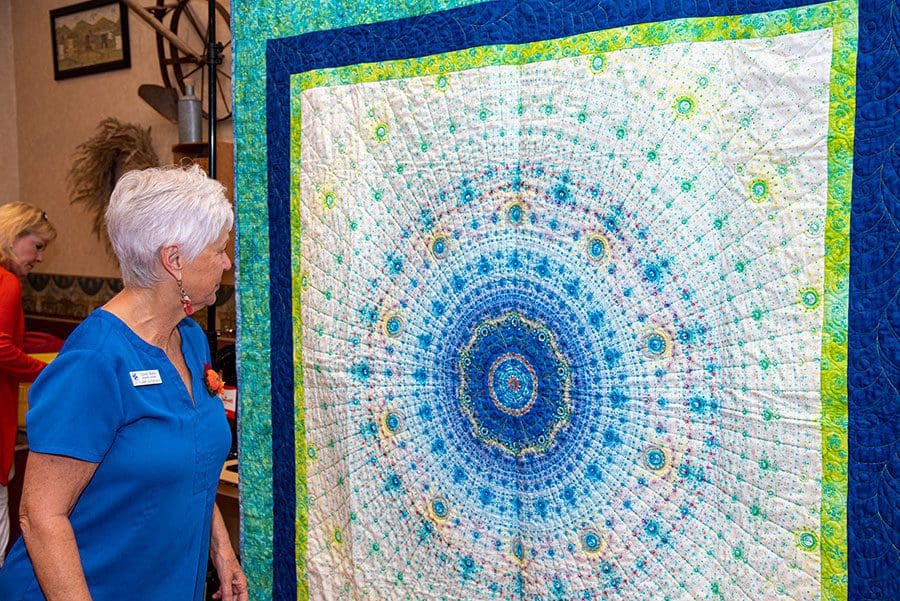 "I'm not the kind of person who sits for very long," she says. "I need something to do to keep my mind active." 
After moving to The Villages, she became a member of the Quilting Bees, which met at Paradise Recreation Center. 
"When Mulberry opened in 2003, I was excited to have a new recreation center and decided to start off fresh by forming a new quilting guild," she says. "We had 26 sign up the first day, and before the month was over, we had reached our full capacity of 65." 
Dale started attending classes at a quilt shop in Leesburg and before long found herself teaching quilting classes inside and outside The Villages. She has seen the hobby progress significantly in the past 25 years. 
"The quilting world has just exploded," she says. "There are so many more tools available to use. Quilting is constantly changing and moving. That's why I love quilting."
Dale typically makes between eight and 10 quilts a year. Some are simple. Others are more elaborate. 
Diane Lyford
Dale Angione
"Sometimes, I'll spend an entire year on just one quilt," she says. "I'll start on it and then put it away. Then I come back to it. The quilts that are intricate take much more time. I do them in pieces. I love designing the quilts—following a pattern and picking out different colors I want to use. I'm also able to utilize new techniques and the new tools coming out." 
Barbara is equally passionate about the hobby. She joined the Mulberry Quilters in 2010, fulfilling a longtime desire to learn the art of quilting. 
"Quilting is not hard to learn when you're surrounded by people who are willing to share their knowledge with you," Barbara says. "Though I had sewing experience, I had never sewed garments. I really love quilting because even though it takes time to make a quilt, you can see results more quickly. You choose colors and then designs within those colors. It's a very creative hobby."



Barbara says that her favorite quilt is "the last one I just finished." However, one of her first quilts she made featured a yellow brick road pattern in pink given to her newborn granddaughter. That same year, she also made her mother a quilt using the same pattern but in yellow and green. The quilts looked completely different. 
"My mom loved it and still has it today," Barbara says. "In fact, she keeps it on her chair. The quilt is important to her. I love giving my quilts as a gift to my family members because it put my heart and soul into it. I put a piece of myself into every quilt I make."
For Barbara, some quilts have sentimental value. Hanging in her home is a quilt designed with various blocks, each one depicting a special memory from her mother's teenage years. The quilt is affectionately named "Homefront: Memories of my Mother 1939-1947."  
"I had my mother pick out the blocks that meant the most to her story," Barbara says. "On the back of the quilt are pieces of fabric that tell the story of each individual block."
Of course, while the hobby itself is rewarding, there's something special about donating their handcrafted work to people in need.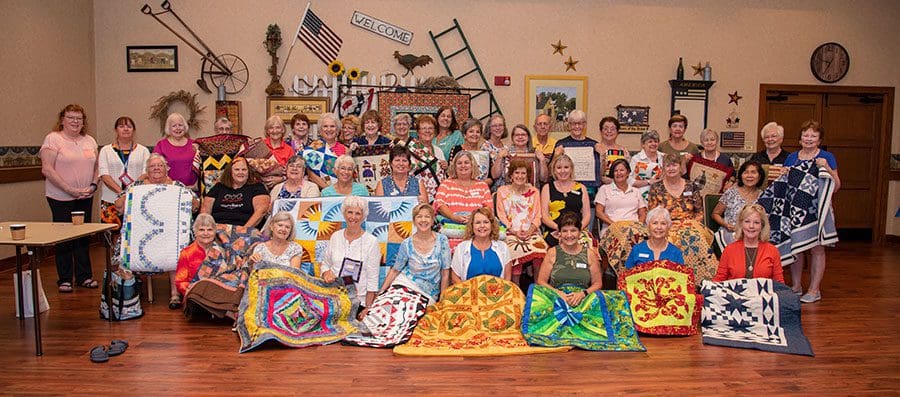 "We live in The Villages and we're retired, so we are happy to give back," Carolyn says. "We have eight hours in the day and seven days a week. We don't just want to play. There are a lot of people hurting who don't have enough money to buy for their kids or afford school clothes. We love putting a smile on their faces." 
---
Quilting by the numbers
The estimated size of the quilting market in 2020 was $4.2 billion, up from $3.8 billion in 2014.
The quilting market is expected to grow by $5 billion by 2026.

 

The U.S. has between 10 million and 12 million quilters.
The average quilter is a retired woman in her 60s.

 

Ninety-eight percent of quilting consumers are female, and 65 percent are retired.

 

The average quilter has been enjoying the hobby for more than 10 years and spends six hours each week working
on projects.

 
Source: Quilting Trends Survey Results 2020, Quilting Trends Survey Results 2021 
---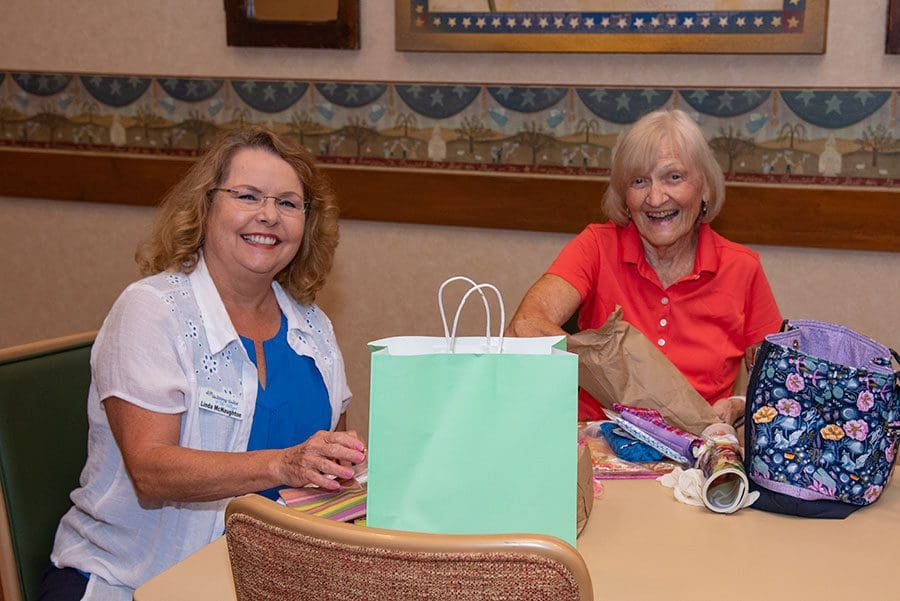 10 fun facts about quilting
Quilt is derived from the Latin word culcita, which means "stuffed sack."
The earliest depiction of quilting was discovered in Egypt in 3400 B.C. It was an ivory figurine of a pharaoh wearing quilted clothing.

 

The earliest-known quilt made in America is from 1704.
When settlers expanded into the western United States, quilts were used as window coverings, doors, and walls for temporary housing.

 

Though sewing machines were invented in 1790, hand quilting was still more popular for the next 100 years.

 

Quilting enjoyed a rebirth in the 1960s when the counterculture movement encouraged people to get back to their early industrial roots.

 

In 1971, Jonathan Holstein opened the first quilt exhibition in a major museum. It was titled, "Abstract Design in American Quilts."
The most expensive quilt ever sold was a Civil War-era piece purchased for $254,000 in 1991.

 

Dedicated quilters buy, on average, 99 yards of fabric a year. That's one yard short of the length of a football field.

 

Dedicated quilters spend eight hours online per week visiting quilting sites and groups.

 
Source: factretriever.com 
---
Show and Tell
Photos provided by Barbara Morse


















Akers Media Group's James Combs has been a staff writer for several local publications since August 2000. He has had the privilege of interviewing some of Lake County's many fascinating residents—from innovative business owners to heroic war veterans—and bringing their stories to life. A resident of Lake County since 1986, James recently embarked on a journey to lead a healthier lifestyle. He has lost 60 pounds and walks nearly five miles a day. In his spare time, he enjoys target shooting, skeet shooting and watching his beloved Kentucky Wildcats!
Share This Story!