Social Club Spotlight: Color me happy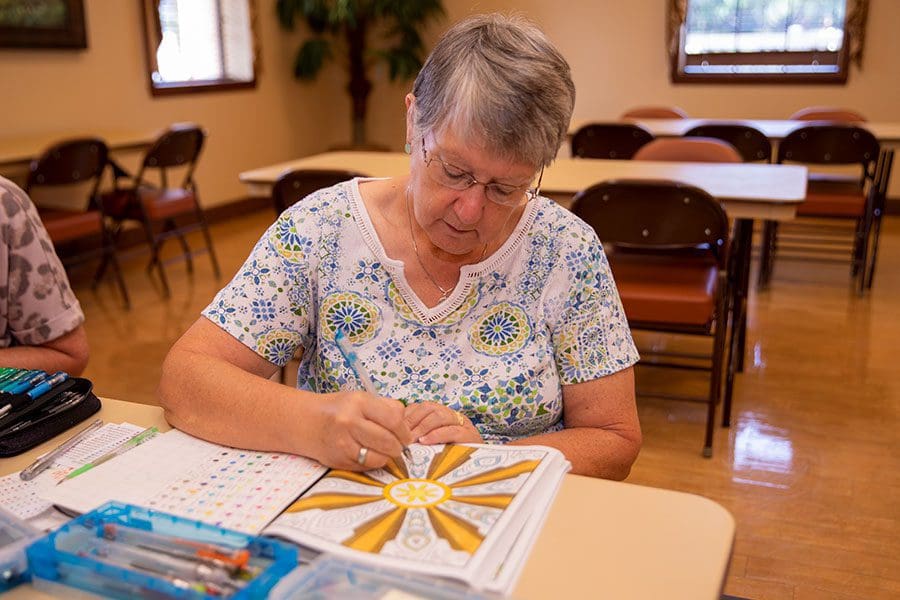 Villagers get together to encourage one another's coloring tendencies.
Photos: Nicole Hamel
Ninety-seven-year-old Norma Carlo has not worn make-up for years, so her daughter had questions when mom recently asked for several pallets of eye shadow in a variety of bright and vibrant colors recently.
Norma explains that the shadow was not for her face, but rather, for coloring.
"There are all kinds of things that can be used for coloring, including gel, chalk, colored pencils and yes, eye shadow. I'm always up for trying new things," Norma says, flipping through her own coloring book and pointing out beautifully finished pages done using eye shadow she applied with cotton balls and Q-tips. 
Norma, a member of the The Villages Grown-Up Coloring Club, was the first in the group to try the technique. Today, eye shadow pallets of all kinds are a common sight at meetings.
Club founder Kathy Jones admits that eye shadow may sound like an odd coloring tool, but says it works wonders, especially for producing a perfect cloudy effect.
"I saw a video of a lady using eye shadow to color, then Norma began using it and it looked great. She showed us some of her work with it and I went out and bought some immediately," Kathy says, explaining that there are no restrictions when it comes to coloring.
"Just like with any art, it's always an experiment and that's what my group does all the time; they experiment with colors, with coloring tools, with blending," she adds.  
Before the The Villages Grown-Up Coloring Club was officially formed in 2015, Kathy never thought about coloring. But that all changed when she came across an adult coloring book at an airport gift shop.
Kathy says the book drawn by well-known Scottish illustrator and coloring book artist Johanna Basford intrigued her so she purchased it.
And just like that, the club was born.  
"I saw that it was such an elegant presentation of a book. It wasn't something for children, it was really sophisticated, which is how I ended up thinking, 'This is so much fun. Why don't we have a club?'" Kathy says. "That's what we do in The Villages, we have hundreds of clubs and I thought there were probably lots of people who would enjoy coming out to color."
Kathy says coloring became a nationwide trend around that same time and dozens of members of The Villages joined up and began discovering its many benefits.
Norma says coloring relaxes her and gives her something to do to pass the time, not just during meetings, but at home. 
"It's something I really enjoy doing, especially in the evenings," she says.
Diane Pitts, who has been part of the group from day one, says coloring helps her get through tough days. She especially likes working on extremely detailed pages like mandalas, with tiny elements to fill in.
"This is very relaxing to me and I do the really intricate pictures when I am going through times of crisis," Diane adds.
Michelle Nelson, another longtime member, says she loves how coloring gives her a creative outlet, even though she does not have an artistic bone in her body.
"I'm not an artist. I can't draw the picture, but I can color it and bring it to life in that way and this definitely helps me relax," Michelle says. "My ideal set-up for coloring is to put on some music, sit in a room by myself and color. You just completely lose track of the time and the only thing you are really thinking about is coloring in that green leaf, that flower, that butterfly wing, so it's really relaxing, very Zen."
Even so, Michelle says she also looks forward to the social aspect of club meeting days.
"I've come to this group and never even taken a coloring book out of my bag or put a pen to paper, because this is one of my circles of friends. We just talk to each other, visit each other's tables, check out what they are working on, check out everyone's new supplies and books they've bought and it's just a nice time," she says.
Besides that, Michelle says the best things about coloring are that anyone, anywhere can do it, and without spending much money.
"Perhaps the coolest thing about coloring is that you can color with your grandkids, so a 97-year-old can do it with a six-year-old. It spans all ages, plus men can do it, women can do it, young, old, whoever, and it really can be a very inexpensive hobby," she says. "You just need a coloring page and some cheap coloring tools. You can make it very expensive if you want, like with any hobby, but it's not necessary."
Michelle adds: "People all over the world color and it's very interesting to see how different people color the same page."
Members of The Villages Grown-Up Coloring Club meet from 10 a.m. to about noon on the second and fourth Mondays of each month in the Paradise Recreation Center's Charlie Chaplin Room. 
Members also enjoy outings to fun places throughout Florida, lunches and other activities they plan together on occasion. 
To learn more, visit the club's Facebook page by searching "Grown-Up Coloring," or call Kathy at 352.205.2739.  
---
Editors' Note: Lake and Sumter Style Magazine talked with/photographed Grown Up Coloring Club members featured in this story on June 14 during their monthly meeting in The Villages. Since then, we have learned that on July 10, Norma Carlo passed away. We are sorry to hear that, but glad to have met Norma, and we extend our deepest condolences to her family and friends.