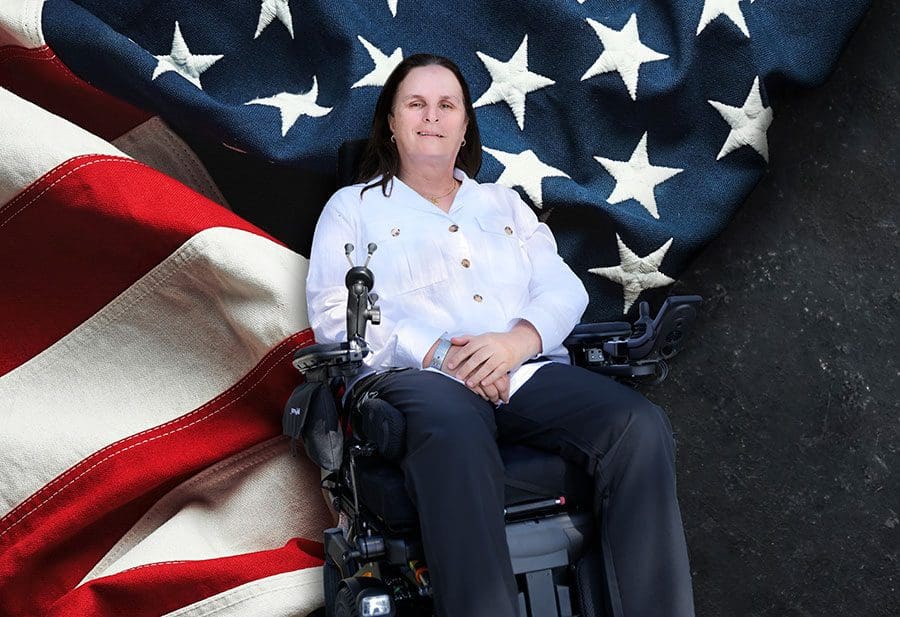 Villagers for Veterans give all for all who served.
All gave some, some gave all.
Some are prisoners of war in damaged bodies and altered minds.
Many of the imprisoned are MIA – missing in action. Off society's radar. They are phantom veterans because they carried purses before they toted M4 carbines.
"The military is more male dominant than female dominant when you're looking for help. As far as veterans organizations go, there's not one that says, 'We're here for the female vets,'" says Sgt. Pam Kelly, who suffered a devastating injury in 2002 while training for deployment to Iraq.
Her spine, head and both shoulders were crushed when a piece of equipment fell on her. Doctors did the best they could, sending her out into the world as a quadriplegic with best wishes, precious little support, and fingers crossed that the 17-year veteran would find help to heal her shattered spirit.
"I thought I would have a lifetime career in military, but I lost everything. I basically lost my soul. I lost my life."
Pam assumed she'd have all the help she needed as she sought a new life. She was wrong.
"In the beginning, I didn't know too much when I started trying to use the VA and other organizations. It was me and the rest of the males. I would apply for services but I felt like my application would always go to the bottom. I was getting frustrated."
Women have served in the military since the Women's Armed Services Integration Act kicked open GI Joe's door in 1948, but combat roles were not fully opened to females until 2015. 
And the 1.6 million women who have served are still being treated like second-class soldiers when it comes to access to healthcare.
Case in point – north Texas has the largest population of female veterans in the United States, yet the Dallas VA has just one gynecologist on staff.
No wonder female vets feel overlooked. Pam certainly did as she attempted to re-enter life in south Philadelphia.
"I became isolated, shut myself away from the world," she says. "I had to find a better way than just hiding from the world."
Unbeknownst to Pam, the seed of an idea for a better way was germinating 135 miles to her south.
"It started in January 2015 as a result of visit to Walter Reed, where I met 15 of the most catastrophically injured veterans. I knew I wanted to do something to help, so I started a nonprofit," says Marie Bogdonoff, a resident of The Villages. 
The nonprofit, Villagers for Veterans, has been a godsend for women veterans, including Sgt. Pam Kelly.
"Villagers for Veterans is a very wonderful organization," Pam says from the smart home the organization built for her. "Marie Bogondoff is very caring. She takes this seriously and there's no one like her. She's become part of my family, she's like a second mother. She's very near and dear to me."
Maire is $1.5 million serious about providing lifelines for injured women vets. That's how much the organization she founded has raised in six years. 
Marie will need every penny – and lots more – to achieve all she's set out to accomplish. 
"Our goal is to procure, build and remodel Lake County properties into transition homes that provide a temporary safe haven for six deserving women," Marie says. "We considered housing more women, but six is manageable. We want to make sure we can give them services they need to move forward."
The ambitious plan involves much more than putting a roof over six heads and providing them with female comradery they can't get at a VA facility filled with men. Job training, schooling and counseling will be provided.
"We will help them work toward self-sufficiency in a secure and loving environment," Marie says. "We want to get them on the road to independence."
Fittingly, the program is called New Beginnings. 
There's a good chance at least one of the deserving women will leave the street to get on the road to self-sufficiency. Homelessness is a growing problem. According to the National Coalition for Homeless Veterans, "The number of homeless women veterans has doubled from 1,380 in FY 2006 to 3,328 in FY 2010."
"I've seen it in south Philly," Pam says. "Homelessness is a big problem where I'm from. Just riding the streets, you see homeless vets everywhere."
There are a handful of transitional homes for veterans in Florida, unfortunately none are exclusive to females. 
"Homeless women veterans is an issue we knew we needed to address because there are only a few transition homes for vets in Florida and women don't feel comfortable being in among all those men," Marie says. 
Villagers for Veterans is in the process of purchasing an ideal lot in Eustis and building its first transitional home for women vets. "First, we were looking to buy and remodel, but the cost of remodeling would be so expensive. It will actually cost less to build something new," Marie says. "It's a safe area with access to public transportation and its close to the Tavares VA."
Obviously, there's a lot riding on New Beginnings, which is just the beginning. "We hope to have homes in other communities as well," Marie says.
Transitional housing is the front-burner project, but Villagers for Veterans has, and will continue, to help in other ways.
Providing service dogs is another arm of the outreach. Villagers for Veterans has sponsored 10 such dogs in partnership with Patience Service Dogs.
The group has purchased and provided custom-built, motorized all-terrain chairs to 29 veterans at a cost of nearly $16,000 apiece. "The all-terrain chairs give them a lot more independence than wheelchairs give. A lot of the younger vets are able to enjoy the beach, fishing, and hunting," Marie says.
'Hate' and 'dislike' are the opposites of 'enjoy,' and Army veteran Sammy Lugo, a below-the-knee amputee, frequently experienced both negative feelings before receiving an all-terrain chair from Villagers for Veterans.
"When I'd go places with friends I'd feel like I was holding them back from having fun. After 15 to 20 minutes of standing it starts to hurt," Lugo says. "I went to Busch Gardens with my nieces and I would have to sit and rest. Sores start to open up if I'm on it too long – blisters on my amputation. With a manual wheelchair, it's good for the upper body to a point, but it's very tiring."
Sammy's all-wheel drive electric chair does more than ease his pain, it carries him to places his two legs once did.
"I can get out in the countryside and enjoy it. Grassy areas, wooded areas, trails, and a lot of riding around the neighborhood," Sammy says. "It's almost like having an ATV, without a really good suspension. It's a very cool chair. It's awesome to have it. I've enjoyed it."
Sammy's an all-day kind of adventurer, but he hasn't been able to drain the battery of his Zoom chair. He's rolled about 15 miles in one outing, and recently traveled 31 miles of the Santos Trail.
Villagers for Veterans is all about getting people where they want – and need to go.
That's why the group raised $100,000 during last year's pandemic for an honor flight for 126 women veterans to visit the Women in Military Service Memorial at the entrance of Arlington National Cemetery. If all goes well, the flight will take place this spring.
"The memorial is rarely visited," Marie says. "There's millions of women vets and only 300,000 registered. So a lot of women need to tell their stories."
So what's Marie's story? First of all, she's not a veteran. But she can relate to the wounded.
"As a child, I had polio, so I have my own mobility issues," says Marie, who worked as a controller for a New York car dealership before finding her true calling. "When I met some of these kids I could relate. It's been a great learning process."
And that's about all Marie will say about herself. "We've had huge success in The Villages. There are so many people supporting me."
Sgt. Pam Kelly agrees, but to her, Marie is Villagers for Veterans.
"She's just a heartwarmfelty person," she says, inventing a word to describe how wonderful Marie is. "What she does is just amazing and she does it seven days a week, 24 hours a day. And she does it for others. You can't say that about many people. There's no one else like her. She's a woman of her word, she's one of God's angels."
For Pam, support is the component that lifts Villagers for Veterans above other organizations. And The Villages is the perfect place for someone needing support. "I wanted to live in The Villages because of the golf cart paths, the ability to get around," Pam says. "They call it the bubble here. I'm in a good bubble."
Pam lives on the historic side of the community in a two-bedroom smart home Villagers for Veterans gifted her last summer. It is very much a dream dwelling to the brave soldier. "I didn't know how blessed I was going to be until I saw it. It's a lot more square footage and I can move around in my power chair without tearing up the door frames."
Pam can also "park" under countertops, which makes it much easier to use her 'good' arm, her left, which she only has limited use of. She also appreciates having a garage with a 10-foot high ceiling for her customized van.
For Pam, life is good. But it's still incredibly difficult, a reality you'd never guess if you encountered her tooling around The Villages on her adaptive bike, zipping along in her motorized chair, or working out in the pool.
"I always have a smile on my face. I have pain every day, but I'm not going to show it," Pam says. "It's a good day. I'm happy and hopefully I can make someone's day. I'm blessed to be where I am right now. Attitude is gratitude." 
Gary Corsair began writing professionally while attending high school in Greentown, Indiana. He's spent most of the past 46 years in writing, reporting, editing and producing roles for newspapers, magazines, TV, and radio. He's served as publisher and editor of three newspapers, TV news director, and executive producer of two documentaries about The Groveland Four. Gary's earned more than 65 awards for journalism excellence.
Share This Story!