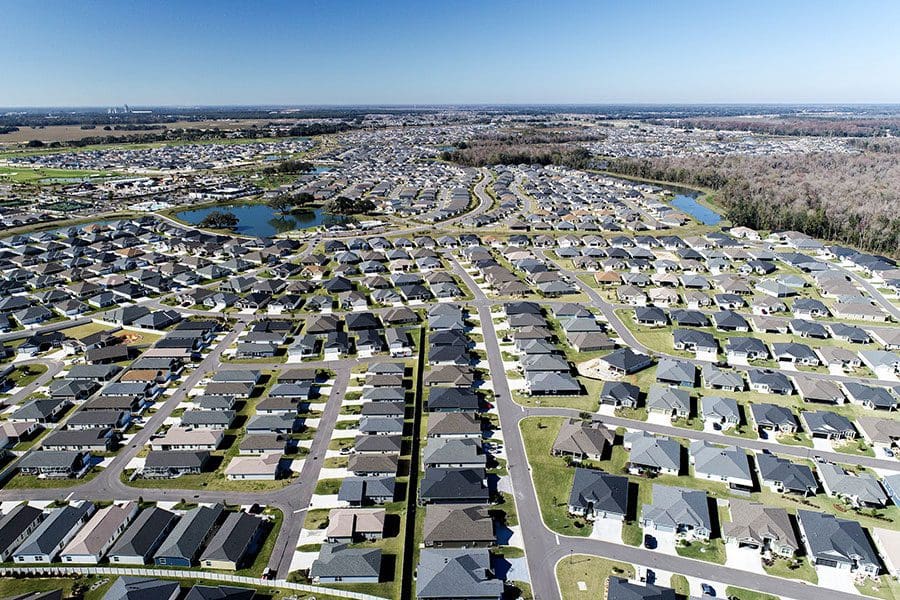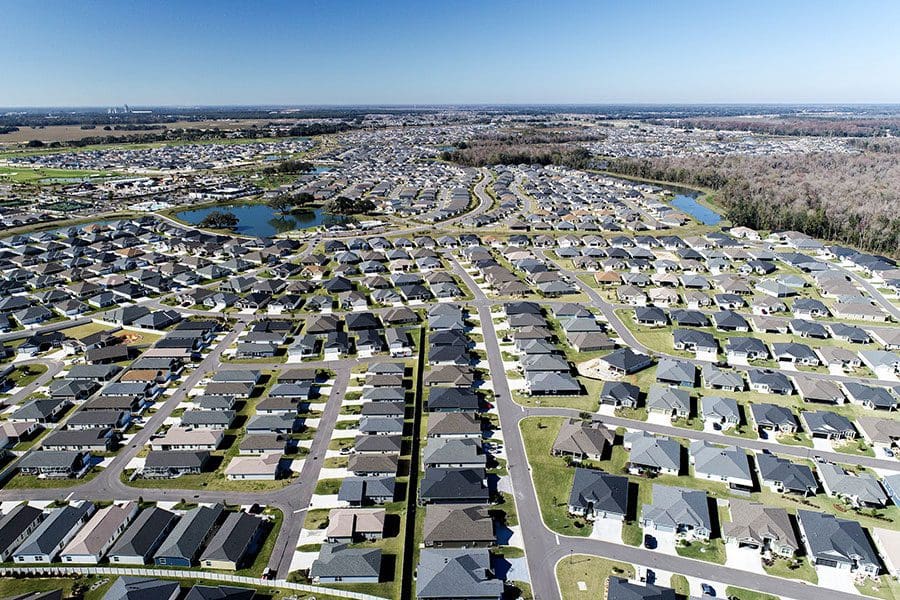 The Villages is destined to grow for more decades to come, thanks to the grandchildren, great-grandchildren of Villages' original founder.
Aerial photos courtesy of Don Wiley
The Sunshine State has long beckoned folks from up north to move to Florida, and the late Harold Schwartz, a Michigan businessman, knew that well. In the 1970s, he advertised Orange Blossom Gardens, a small trailer park in northwest Lake County, as a place where retirees could go and "live like a millionaire on a retirement budget." 
Harold was initially selling homes with his business partner Al Tarrson, according to a Villages video. 
"Harold was 72 at the time when Al said, 'Let's sell the place or buy me out. I'm ready to retire. How about you?'" Harold's granddaughter Jennifer Parr says on the video while joined with her siblings Mark Morse and Tracy Mathews.
"Our grandfather Harold said, 'Gary, go check the place out. See if you think there is anything there.' At the time I think there was 1,500 acres and they were selling 30 homes a year. My dad (H. Gary Morse) came down and said, 'Dad, I think we can make a go of this place.'" 
Gary took over operations in 1983 and by 1991 the development's name was changed to The Villages, with the community expanding with more homes, golf courses, swimming pools, town squares with free nightly entertainment, movie theaters, shops, restaurants, etc., all built with the idea of a place retirees could live the dream in "Florida's Friendliest Hometown." 
According to the U.S. Census figures, The Villages was the fastest-growing metro area in the country, growing 39% from 93,000 in 2010 to 130,000 in 2020. 
The mega retirement community is in three counties, several municipalities, and there are no signs of The Villages slowing down any time soon as Mark, Jennifer, Tracy, and other members of the Morse family are committed to The Villages' brand. They also have over 15,000 employees, which is bound to grow too.
"People want to know about the future of The Villages, and it is right here. We are doing it every day," Tracy says on the video, adding the younger generations of the Morse family are actively involved, too, living and working in The Villages in various and different capacities, "bringing incredible talent to the table and we are very proud of all of them." 
"It's not the final chapter," Mark adds on the video. "We're going to be around, our kids are going to be around, and we have a lot of work here to do for a long time."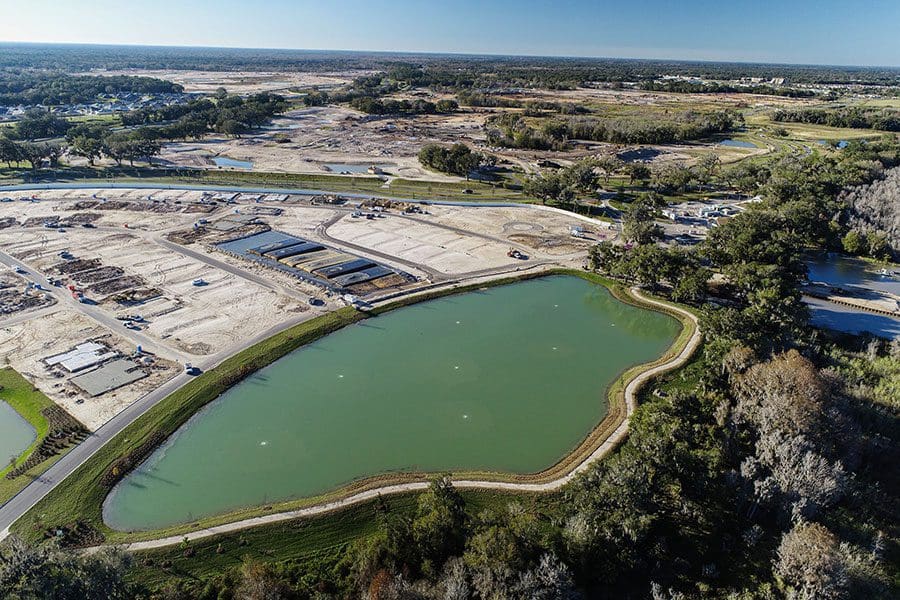 Building homes 
Villager Don Wiley, a Navy veteran and retired construction project manager, marvels over the well-coordinated system of The Villages' construction of new homes, which averages about 350 homes a month. 
"It's a well-oiled machine, and the coordination is just absolutely phenomenal … Here, they do the foundation and a day or two later the blocks. When they're done, they move down the street," Don says, adding the construction process resembles a smooth assembly line with different contractors keeping each other informed of when specific work is done at a unit and it's ready for the next crew. 
"They got very tight schedules; they are able to keep the quality up because if they slack off, they don't get work … I've met second- and-third-generation workers saying, 'My grandfather poured concrete when Harold was around in the 1980s and 90s,'" adds Don. "The Villages provides a lot of financial stability for construction workers." 
Don keeps up on construction of the new village neighborhoods as he shoots residential construction photos, aerial-view videos, and does drone photography for new Villagers' homeowners who contract him through his company, Gold Wingnut Productions, LLC. 
He also uploads Villages residential and commercial construction projects on YouTube and has generated nearly 15,000 subscribers. 
"People come here, they buy a lot, contract to build a home, and then they have to go back up north. So, I watch the home for them as it's being built. I try to shoot every house three times a week," Don says, adding his current clients are from Washington state, Wisconsin, California, Pennsylvania, Virginia, etc., who are having custom homes built in The Villages, ranging from $500,00 to $1 million. 
"They like the fact that they get a bird's-eye view of what is going on," says Don. "The customer that I have from California is totally delighted with the value they are getting. They are moving from a much smaller home to a very large designer home that has been highly customized. It's absolutely gorgeous. The pool is gorgeous and they're right on the golf course." 
Being a retired construction project manager, Don looks for obvious problems that might occur during the construction process. "When I walk into a house, I look at it with a different eye than the average resident," he says, adding there's rarely a problem that needs addressed.
Don enjoys going to Villages open houses once the homes are built, and he says the amenities are impressive to see, everything from high quality luxury flooring, tile, very little carpet, granite countertops, marble, and tile backsplashes. "It used to be basic, boring light fixtures. Now the people doing the designing and styling really have taken it up a couple of notches."  
He says the market is "hot" of Villages new and preowned homes.
"Twenty to 30 prime lots get released at noon and five minutes later they are all gone. It is just absolutely insane, but The Villages have a product that people want," says Don. "I think people have gotten tired of the policies and politics up north and said it is time to retire, or they realize that they can work from home. If I can work from home, why not do it where I'm going to retire?" 
Sharon Bassett, broker with Bassett Premiere Realty, Inc., The Villages, says the appeal of low housing costs, no state taxes, and Florida's beautiful weather attracts buyers from all over the world. 
 "The retirees of today are seeking homes and communities that provide an active and fulfilling lifestyle," Sharon says. "They are looking to enjoy popular amenities like pickle ball, tennis, swimming, golf, restaurants, and traveling in golf carts. This area boosts several communities providing a Disney-like playground for mature adults."
Kara Wisley, Realtor with Berkshire Hathaway Realty in Mount Dora, learned the popularity of The Villages when her company had a listing in the community. "It was crazy with 15 offers the first four days, and it sold for $20,000 over list price." 
Bidding wars of buyers paying $100,000 over asking price has happened, too, which doesn't surprise Don. "Late last year a courtyard villa in my neighborhood sold for nearly $40,000 over asking price, and it sold prior to the public listing of the property." 
He says the villa he and his wife Debbie purchased in 2013 has gone up 80 percent. "I'm not looking at it as an investment monetarily, I'm looking at that investment as into my health and happiness." 
Don also is involved in The Villages' local government, chairman of community development while he serves on District 10 Board of Supervisors of the Community Development District (CDDs), which are special-purpose local governments, structured to allow developers the ability to issue low-interests bonds to build infrastructure and amenities for the district. 
"As a district supervisor, I have to maintain a level of neutrality," says Don adding he is not pro-developer or anti-developer. "All I care about is what is good for the residents."
Future projects
There are 90-some named Villages neighborhoods, along with several currently under construction in the area south of State Road 44, and others being planned that have not been officially named.
One of Don's recent construction update videos shows aerial views of new businesses and amenities popping up around the southern part of The Villages, and the new neighborhood villages of St. Johns, Sawgrass Grove, Richmond, Hammock at Fenney. 
It is an amazing process watching The Villages grow," says Don. "Based on what we know they have acquired, we are looking at another 20 to 25 years of building that they have coming, and that is going down south of County Road 470 for about eight miles. This is a massive construction project and I have not seen a scale like this from the time I was in the construction industry for 20 years."
In 2021, The Villages opened the Brownwood Bridge to Magnolia Plaza, and celebrated the opening of Ezell Recreation Center, which is themed with golf décor to commemorate the history of golf in The Villages and long-time course architect Kenny Ezell. 
"The current generation of the developer that is running things, they have taken a different approach," says Don. "They are more interested in maintaining as much of the natural area as they can, so there is a lot more greenspace around here in the new sections." 
He touts the new walking trails in the community, including in the Village of Chitty Chatty, which he says has a walking path all the way down to County Road 470. "It's what people are wanting for that kind of physical activity and The Villages is responding to it." 
On the Villages' website it notes their newly released designer homes – their most popular series of homes—is in the Village of Chitty Chatty, which has "a picturesque setting of the Chitty Chatty Preserve," and the homes feature their most popular requested enhancements of larger expanded homesites with garages large enough to accommodate up to four cars or toys. In addition, the homes have expanded lanais to extend the living space outdoors with comfort to enjoy the natural setting of the neighborhood.
Pendant lighting, tile backsplashes, and enhanced finishes are noted as being in the homes throughout the neighborhood, including all electric appliances and smart home technology. 
Shopping and dining is listed as being conveniently located nearby at the Lake Deaton Plaza that is also adjacent to the Rohan Recreation Complex, including the Soaring Eagle Softball Fields and Air Gun Range.
The Village of Monarch Grove is another neighborhood filled with greenspace of the natural Florida landscape, where The Villages website notes the homes are surrounded by beautiful waterways and pathways, connecting Villagers to lifestyle opportunities at Riverbend Recreation Center, Rupert Canine Park, and Swallowtail Recreation Area.
The site notes residents can enjoy a scenic ride or stroll to Everglades Recreation Complex, the convenience of nearby golf, shopping, and dining. At the designer homesites at the Village of Marsh Bend, residents can watch the sun rise over Hogeye Preserve and Lowlands Executive Golf Course from their backyard. 
By taking a stroll along Hogeye Preserve Pathway, Villagers will be able to stop by Ednas' On The Green for a meal, and the Village of Marsh Bend also has the Everglades Recreation Complex, Cattail Recreation Area, Marsh View Pitch & Putt, and soon the Magnolia Shopping Plaza.
More in Lake County
And while the bulk of The Villages growth has been in Sumter County, soon Lake County and the Leesburg area will benefit from the community's expansion plans. The Villages' economics incentives package for a $100 million mixed-used district was approved by Lake County officials, and the district will reportedly be located on about 435 acres at the intersection of Florida's Turnpike and County Road 470. Some of the commercial space is projected to be used for a healthcare-focused multi-use complex, anchored by a UF Health regional hospital. 
Back in 2017, the City of Leesburg sold 1,000 acres to The Villages for residential and commercial use, which is expected to include about 14,000 residential units. Don says the some of the already named neighborhoods planned for the area are Village of Newell, Village of Lake Denham, and Village of Dabney.
"I don't think that is the last of what we will see of Lake County," he says of The Villages' expansion plans.
Middleton in 2023
The Villages, on its website, also reveals plans of an all-new community—Middleton by The Villages. It is in the works to offer a variety of housing, shopping, dining, and recreation, specifically designed to meet the needs of the families and business partners who work, serve, and care for residents of The Villages community, and it is projected to come to fruition in 2023. 
Middleton will reportedly feature single-family homes, apartments, townhouses, even brownstone-type of housing options, all in a variety of styles and price ranges. The website noted the planning teams are also working with the renowned architectural firm, SchenkelShultz to expand The Villages Charter School by building a second K-8 campus as well as an expanded state-of-the-art high school and athletic center. 
The Villages Charter School currently operates on County Road 466 in The Villages, and when the second campus is built, students from both K-8 campus locations will come together into one all-new high school located in Middleton. The new schools will be connected through a park-like setting with surrounding shops, dining, and entertainment locations. The Villages is envisioning a splash park, ice cream shops, children's boutiques and more for Middleton, along with a connectivity of paths for walking and golf car tunnels. 
Don says the golf cart tunnels for Middleton have already been built.
The Villages says on the website since it opened The Villages Charter School in August 2000, it has attracted great employees working in The Villages community: "We know where our families choose to live, work, and play is equally important. As we look at what is on the horizon for The Villages in our newest southern locations such as Sawgrass Grove, Eastport, and the future Wellness Village, it makes perfect sense to expand our school and housing options for all the employees who support our community." 
Don believes the next two decades will be great for The Villages, and he envisions the community founders would be pleased by the growth.
"I believe Harold would be happy they are continuing his plan. From my research of Harold Schwartz, he was a businessman. He understood customer service, and he understood making people happy. He also understood how to run a business," says Don. "I think Harold Schwartz and Gary Morse would be very proud of their children, grandchildren, and now great-grandchildren that are involved in this company. They have taken a dream, it's a passion obviously, and this is their business to build homes, to build communities. They're making a place people want to come to and call home." 
Originally from Anderson, Ind., Theresa worked for The Herald-Bulletin for many years. After experiencing a winter with 53 inches of snow, her late husband asked her to get a job in Florida, and they headed south. Well known in the area, Theresa worked with The Daily Sun and The Daily Commercial prior to joining Akers.
Share This Story!