In the Kitchen: Just take it outside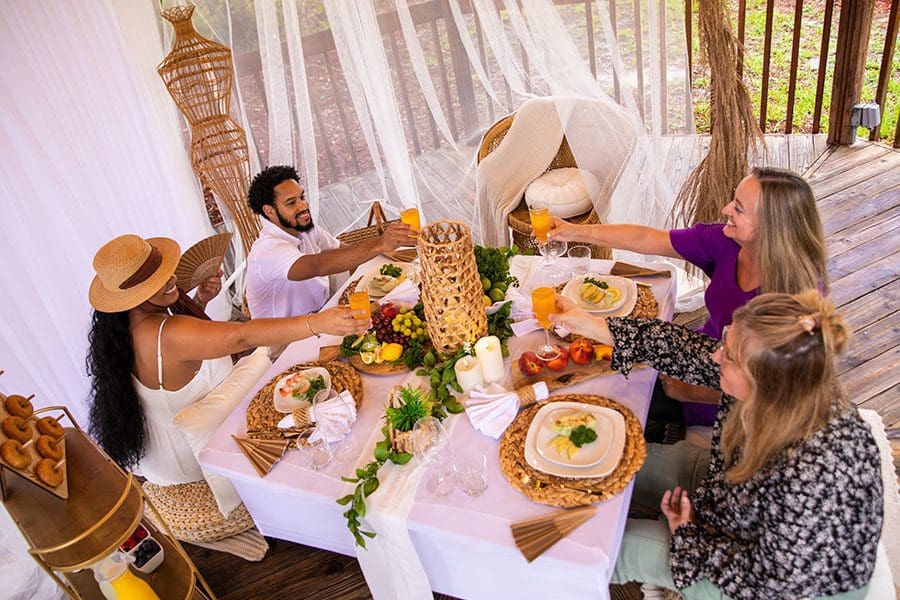 Luxury picnic planners and local chef share tips on creating a picnic to remember.
Photos: Nicole Hamel
Nothing says fun summer get-together quite as perfectly as a picnic, and whether the venue you choose is one of Lake or Sumter's spectacular parks, a nearby beach, or your own backyard, you can make it as simple, or as lavish, as desired.
All it takes to pull off the perfect picnic is good food, good company, and a little advanced planning.
Alexus Smiley and Jillian DeAnnuntis, two Central Florida-based professional luxury picnic planners, have some tips for planning a basic picnic. And for those who want to surprise someone with a luxury picnic setup like those taking over TikTok, Instagram, and other social media feeds, they also share what they can do to make it happen. 
"For me, it's really all about the experience. It's about something everlasting, that stays with you, that stands out and something you can always come back to," Alexus says. "Planning a picnic is a great opportunity to express yourself and to be creative in a different way."
Alexus says the first thing to do when considering having a picnic is finding the perfect spot.
"You want somewhere that's got a little bit of shade," she says, adding that you may not want food or bodies in direct sunlight, especially with the Florida heat.
Alexus says the next thing is to make a checklist, explaining that the checklist should include reminders for things to bring, like a large blanket or sheet to spread on the ground, disposable dinnerware and utensils, ice and coolers, ice packs, napkins, wet wipes, trash bags, bug spray, games, and most of all food.
"The cool thing about picnics, is that as far as food goes, you can pretty much bring anything," she says, though her favorite picnic foods are brunch-like items like fresh cut-up fruits and vegetables with different dipping sauces, salads, chips, small cakes and any finger foods like deviled eggs, wings or sandwiches.
Jillian says the perfect picnic item, and one that is also trending at the moment, are charcuterie trays.
Jillian says people can create their own combinations of the meats, cheeses, crackers, fruits, nuts and dips that go along with them, or have one made to order. 
"If you don't know what exactly to make or bring and you don't want to plan a big elaborate meal, charcuterie to me, is perfect for a picnic because it has everything," Jillian says. 
The Roaming Gourmet's Chef Ze' Carter, a longtime Leesburg chef and instructor at The Kitchen Cooking School, says, "You have to make sure whatever you bring is easy to eat and can be held properly, meaning keeping hot foods hot and cold things cold."
Chef Ze's idea for the perfect picnic food is a twist on Asian spring rolls using no-cook rice wrappers, but filled with various fresh fruits, vegetables, lettuce and herbs; served with different dipping sauces.
"Making your fresh spring rolls is easy. I promise by the last roll you will make some visually appealing and delicious ones," she says.
Alexus says drinks, which can be added into her luxury picnic packages, should be refreshing and thirst quenching like lemonade, fruit infused waters, or even mimosas; beverages that can easily be made and brought by the pitcher.
Regardless, she says the main thing to remember is that the true purpose of a picnic is enjoying yourself and your company.
"You want to keep things simple when you're doing these basic picnics because you're just really out there to enjoy the nature and to just to be outside. You don't want to be lugging too many things that can take away from the overall experience," Alexus says. "It's all about creating a memory that lasts forever in your mind and heart."
If looking for a little more 'razzle and dazzle' however, Alexus, owner of a company called Poetic Picnic (poeticpicnics.com) and Jillian, who owns The Picnic Fairy (picnicfairy.com), are standing by.
Alexus, explaining that her company's name is a play on one of her favorite movies called Love Jones, where the main character (a poet), believes love is poetic, started her business in January. 
Alexus says she was blown away by instant success, and an extraordinary response to her offerings, especially come February when for Valentine's Day, people were still looking for unique and romantic experiences away from large crowds or busy indoor spaces following the pandemic.
Alexus' company is based out of Orlando, but she, with help from her fiance Dominick Jackson, service all of Central Florida, including Lake and Sumter Counties and beyond.
Alexus says she was looking to start a unique home-based business when she began thinking of things she loved doing, like eating at nice restaurants, and about how much of a treat being outdoors was in Minneapolis, Minnesota and the mostly winter-like weather most the year growing up there.  
"The idea for the picnic company came from understanding the importance of being outdoors, of getting fresh air, and being in Florida, it's easy, because if you don't do something today, it's gonna be nice tomorrow," Alexus says. "Minnesota people love outdoors. We really cherish summer and spring, so when it's nice out, you'll see everyone outside. No one is in their house, everyone's just outside trying to enjoy the weather."
Today, her passion is creating luxury outdoor picnics complete with fancy décor like matched color schemes, cloth napkins, wine goblets, fluffy pillows, blankets, flowers, greenery, special lighting, and more.
"I love to go out to eat, I love to be in a restaurant, I love the atmosphere, I love to have fancy dinners, and nice cutlery, and just be somewhere where it's just beautiful, so I kind of took that, and added that to outdoors," she says, noting that she can set up picnics in various themes or color schemes.
Alexus says she tells people that after an unprecedented year behind us, fun, time out for themselves, and a little luxury, is just what's needed.
"I do thrive in areas where people can just kind of share their vision with me, so I can make it come to life," Alexus says. "Our idea of luxury can be different across the board, but I just want people to know that whatever luxury looks like to them, they do deserve that, for sure. To me it looks like beautiful picnics on a beautiful sunny day."
For Jillian, the revelation was similar in that she realized how hungry people were for fun and creative ways to spend time together, especially since her company was born in October 2020, right in the midst of the pandemic.
Jillian says eating out was still taboo, so people were trying to find and create outdoor activities to pass the time.
"I saw a company in California doing something like this and I thought it would be something great to offer here in Central Florida," says Jillian, whose company, based in Clermont, services all of Florida, including Lake and Sumter Counties.
She adds, "Everybody was desperately trying to get together, but in a safe way still, so it was a good time for it."
Jillian says she runs The Picnic Fairy with help from her daughter Gianna, but the company spans state lines. Her sister runs a Picnic Fairy branch in New Jersey, and her mother and cousin, in Puerto Rico. 
"It's all about creating memories and just slowing down to enjoy nature, spend time together with family and friends and having a beautiful experience," Jillian says.
Both Alexus and Jillian say they can create the perfect picnic setting for birthdays, engagements, anniversaries, baby showers, office parties, small weddings, and any other special occasion.
We here at Style magazine feel that Lake and Sumter counties are perfect for outdoor picnics, with dozens of beautiful family friendly parks to consider.
The only thing to remember is that when securing a spot, make sure to check with the city where it's located about special rules or regulations they may have in place for outdoor get-togethers.
And if contemplating what food or drinks to bring, these following recipes are just a couple to get your picnic started.  
---
Alexus Smiley's recipe for Peach Bellini 
INGREDIENTS:
Champagne flute
Peach purée or nectar (this can be bought at your local grocery store.) If you want to get fancy, you can cut the skin off, pit your peaches and blend them to make your own purée.
Fresh peach, cut up for garnish.
1/2 teaspoon of simple syrup to add sweetness (optional)
Prosecco or sparkling wine.
DIRECTIONS: 
Fill champagne flute with 1/2 Peach purée and 1/2 sparkling wine or Prosecco, add simple syrup if desired, and garnish with peach. Saluti!
---
No-cook Picnic Spring Rolls by Chef Ze' Carter
Following the package instructions for rice spring roll wraps, fill a bowl large enough for the wrapper to fit in without folding with warm water. Make sure you have your ingredients planned and prepared. Dip wrapper one at a time into the warm water for 2-3 seconds to
slightly soften. 
Lay the wet wrapper flat. Place your prepared ingredients in a row across the center, remember what you place down first will be on display once the roll is wrapped. After your themed ingredients are placed add lettuce, leaving about 2 inches uncovered on each side of the wrap. 
Fold the uncovered sides inward, like a package, then tightly roll the wrapper, egg roll style. Repeat with the remaining ingredients.
Peach Avocado Wrap
Thinly sliced fresh peaches and avocado and use butter lettuce in a wrap.
Apple Pie Wrap
Granny Smith apple sliced thin then lightly dusted with cinnamon and romaine lettuce in a wrap. Dip in caramel sauce found in the produce section in the grocery store.
Other wrap ideas:
Peach Avocado with Honey Mustard Dill Sauce
Cucumber Shrimp with Peanut Sauce
Caprese with Balsamic Reduction
Strawberries and Cream with Chocolate Dipping Sauce

 
---
Honey Mustard Dill Sauce
INGREDIENTS:
1/4  cup dijon mustard
1/3  cup honey
1 teaspoon dried dill weed
DIRECTIONS: 
Mix all ingredients together in a small bowl, let stand for 15 minutes and serve. Store in a covered container. will last up to 3 weeks in the fridge.